Documentary Filmmaking: One Long Journey to the Boston Underground Film Festival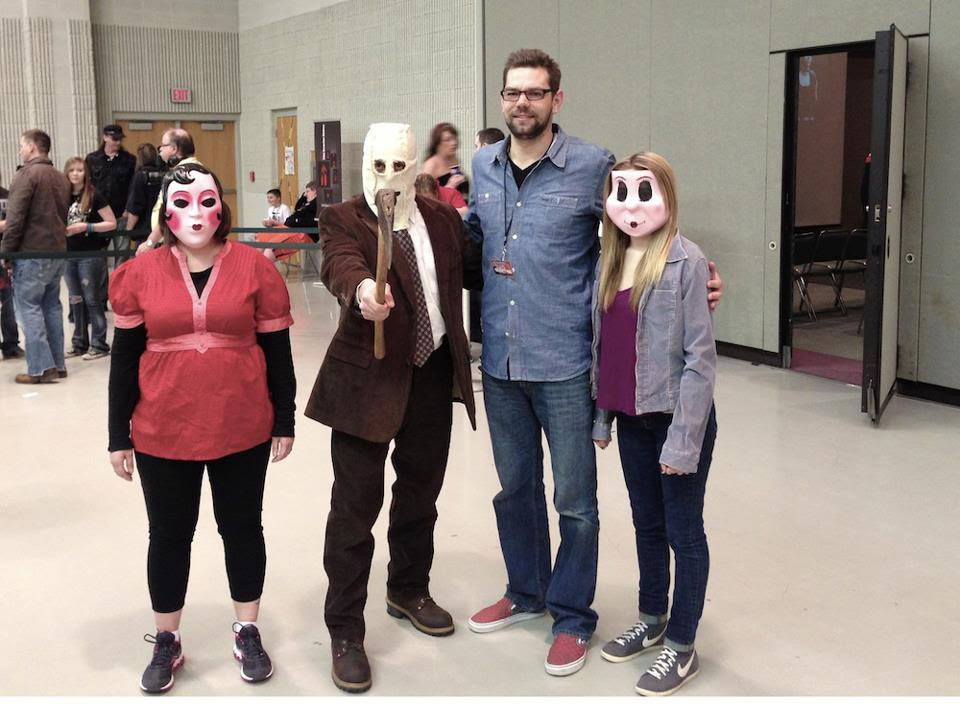 Mike Sullivan Discusses the Making of Something Wicked This Way Comes with Directors Stacy Buchanan and Jess Barnthouse
"When we started this project we knew nothing…" — Stacy Buchanan.
"Let's make a documentary. Those are cheap to make aren't they?" — Jess Barnthouse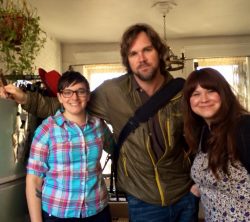 Documentary filmmaking requires a leap of faith. Actually, a lot of them. Narrative filmmaking has a script and shot-lists in place before production begins. Sometimes storyboards or animatics are created as well. These tools are used together or independently as checklists to make sure you are getting the shots you need. (If the shots will cut together properly is a discussion for another time.) Production on a documentary means going out to shoot for days and days and days with none of those tools. All you have is an idea of what you need to make your film. You just hope and pray you are getting the shots. Not until the cutting room do you find out if your production days were a success or a failure. Then there are the times in the edit room, when you realize that the story you want to tell is not at all the story the film wants to tell.
Filmmakers Jessica Barnthouse and Stacy Buchanan found themselves in just such a scenario on their first feature documentary, Something Wicked This Way Comes. An English and print journalism major at Alfred University, Jess fell in love with filmmaking while working in cable access through her twenties. Stacy studied film and marketing at UNC Wilmington and apprenticed at an FX house in North Carolina. Eventually, jobs brought both to Boston. They met in 2013, and decided to form their own production company, Wicked Bird Media. Their first project would be what Stacy called "a talking head documentary about how New England's footprint on the horror genre."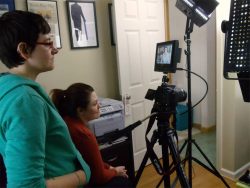 Armed with funds raised through Kickstarter, a couple of Canon T3i's with stock lenses, the cheapest LED kit they could find on Amazon, a wired Lavalier microphone (no budget for wireless), as well as enthusiasm and passion, Jess and Stacy dove in. They arranged interviews with horror filmmakers Brad Anderson and Izzy Lee, Severin Film's David Gregory, actor Nick Principe, Elric Kane and Rebekah McKendry from Blumhouse's Shock Waves, and more.
Stacy had one special card up her sleeve. Kip Weeks, the actor who played Man in Mask in the 2008 horror hit The Strangers was a friend. They worked together in a restaurant in North Carolina. She was a film student, and he was a young, struggling actor. In 2013, Weeks was living in Maine, trying to reignite his acting career while at the same time running an all-natural children's toy company with his wife and three kids. He allowed the filmmakers to shadow him as he tried to get back into film acting.
So far, fairly routine. It wasn't until "Post" that the routine went out of the window. After production wrapped in December, 2014, the filmmakers had upwards of one hundred hours of footage to corral into one feature length doc. The biggest challenge during the edit was finding a way to artfully combine what had grown and morphed into two different stories. The first was the horror and New England storyline, which included the talking head interviews etc., and the second was Kip Weeks' story about an actor trying to capitalize on a role in a hit movie while at the same time running a burgeoning, yet successful, company on the East Coast. They just didn't want to play nice together.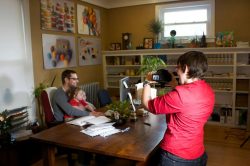 In hindsight, the answer was always right there, but you know what they say about hindsight…  (Supposedly, it was Billy Wilder, one of the greatest movie directors of all time that coined the phrase, "Hindsight is always 20/20." Ironic, no?)  They edited for years. So many different versions. Several test screenings that did not go well. The feedback was all of a similar vein — too much. There was simply too much information, too many stories, jammed into one film. It took a long time, but, as Stacy said, "We finally had to make some pretty big decisions. Like taking full story lines out. We had to make a decision on what the bigger story was for the film. And it definitely was Kip's story."
For any storyteller, removing full stories, abandoning whole characters, and cutting entire sequences can be agonizing. These edits are called "killing your babies" for a reason. Deep down, Stacy and Jess knew big cuts had to happen, but they couldn't commit to the act. Was there is a way to keep some of that material? They had already worked so hard. But, they were trying to dodge inevitability. As 2017 turned into 2018, five years after they had begun this filmmaking odyssey, they finally had a solid, concrete deadline in front of them. Their film had been accepted into the Boston Underground Film festival, which would be held in March. Time to kill those babies.
BUFF was begun by film professor/curator David Kleiler in 1999 as an extension of an all night movie marathon. At the start is was very informal and each year it bounced between different theater venues around Boston. In 2005, Kevin Monahan and Anna Feder took over the Festival, and they found it a permanent home at the Brattle Theater in Cambridge, MA. Monahan describes the Festival like this: "We have a take no prisoners approach. It's an entire festival of midnight movies."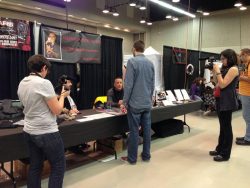 Over almost a year, Monahan, McControversy, and their team go through hundreds of film submissions to find the 15-20 features and 60-80 shorts that make up the week-long festival. The "Sunday at Noon" slot always showcases a feature made by a local, New England filmmaker. Past "Sunday at Noon" films have included Trinity (2017) and Blood of the Tribades (2016). As the start of the 2018 festival grew near, Monahan had not yet found a suitable film for that slot. Then, horror filmmaker and former BUFF curator, Izzy Lee, who was an interview subject for Something Wicked, suggested to Stacy and Jess that the Festival might be a good fit for their film. Isn't serendipity grand?
Once the new structure had been decided upon, the editing began anew. They had just two months to get a feature documentary about Kip Weeks ready for festival audiences. That included editing, color grading, mixing—everything in just eight weeks.Stacy says that Kip's story still has New England elements, but "[his] story is about what it's like to be in this area, to have this passion that takes over your life…. it's a struggle that we think a lot of people will relate to." Jess adds, "He's already had some success, been in some successful features… and still trying to chase that high."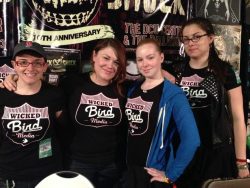 There was some comfort as Stacy and Jess jettisoned all the footage and interviews related to horror and New England. They knew it wouldn't remain on the cutting room floor for long. Some will be seen in a short, sixteen-minute prologue that will run before the Kip Weeks portion of Something Wicked This Way Comes. They also plan to revisit the material and make the film they had originally envisioned back in 2013 as their next project. But first—BUFF. When Something Wicked premieres on Sunday, audiences will see a version of the film that will never be seen again. It's a one-time only event. After the festival, Stacy and Jess plan to go back into the edit room. The prologue will be removed and another round of edits will be done to expand Kip's story. Then the film will be retitled The Man in the Mask and sent out on the festival circuit.
There are hints of regret in their voices when Stacy and Jess talk about the resulting film versus their intentions, but only hints. "We definitely think we are presenting the project in the best way we possibly can," said Stacy. Although both Stacy and Jess weren't complete novices when they began this project in 2013; neither had produced a feature length doc on their own. Now they have the full experience of surviving the battlefield of documentary filmmaking, and have the scars to prove it. And, perhaps most impressively, they have a quality film they are proud to screen for audiences. Stacy put it this way, "We learned something humongous! Every step there was something we learned. It was not by any way a traditional way to make a film, but it was the only way we could make this film.
Something Wicked This Way Comes has its world premiere at the Boston Underground Film Festival on Sunday, March 25th at 12:00pm at the Brattle Theater in Cambridge, MA. For more information go to: www.bostonunderground.org or www.wickedbirdmedia.com.
---
---
Regions: Boston