Women in Film Portraits: Danielle Eliska Lyle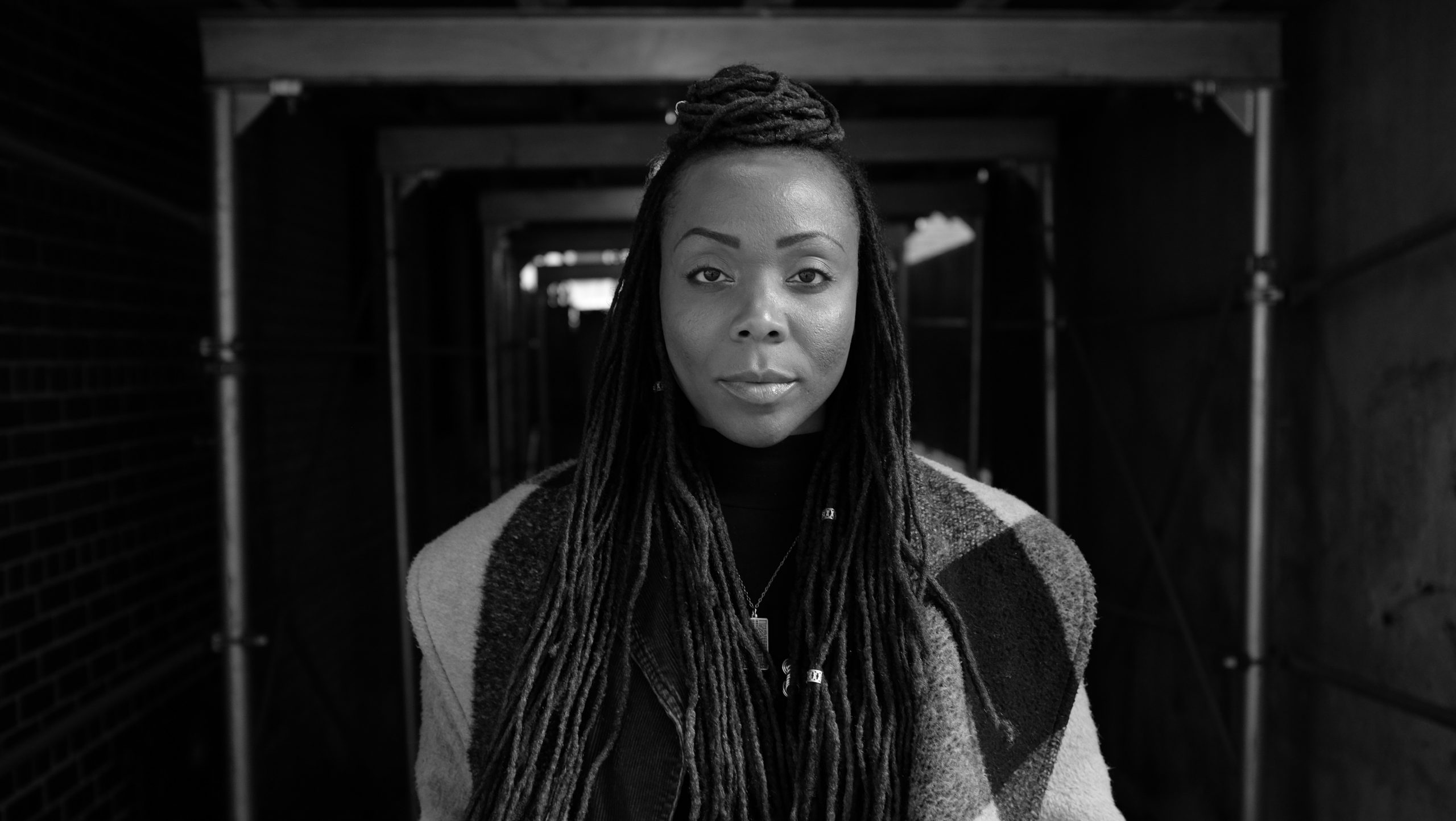 Lauren Sowa's May Series Installment Profiles Detroit Area Writer, Filmmaker, and Photographer
Danielle Eliska Lyle is a writer, filmmaker and photographer from Detroit. As a "black archivist," her life's work is to tell stories (written, filmed, and photographed) of powerful women, the black diaspora, and the state of black culture.
Danielle received her MFA in Dramatic Writing in Film, Television, and Theatre from New York University, gained notable screenwriting recognition, was named a 2014 and 2015 Playwright for The Liberation Theatre Black Playwrights Group, was selected by the OBIE Award-winning 48 Hours in Harlem Festival as a 2015 Playwright, and is an active member of NYWIFT. To learn more about her work visit: www.danielleeliska.com
What inspired you to pursue filmmaking?
 There isn't a time I can remember without film being a part of me. Ever since I was a little girl, I've always had a passion for the moving image. I loved the flipbooks that came inside cereal boxes; my mom is an avid movie collector (I honestly think there's a filmmaker buried somewhere deep inside my mother). She nurtured creativity. One of the most vivid memories I have growing up was when she'd take my sister and I to the drive-in. We'd have our baths, freshly washed hair styled in neat braids—mom dressed us in our pajamas, packed a cooler of fruit, blankets, pillows and we'd head out. On the drive over, I thought I'd burst with excitement. She'd either open the hatch back or let us lie on the roof of the car and watch the drive-in films. Epic moments.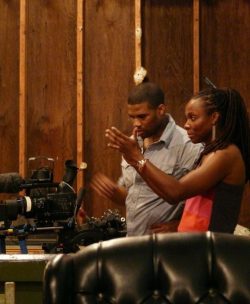 I can trace filmmaking back to my maternal grandpa. He had a passion for film—he may have bequeathed his love for the moving image to me. He photographed and filmed his family regularly. There's so much footage… I remember the first time I watched his silent films. My beautiful grandma—Bobbie Dean—fixing her curls; my mom and her 4 siblings laughing and playing about… My grandpa caught the beauty of his beloved family—his son in high-waist pants and a bowtie; his daughters dolled up in pretty dresses and knee high socks. He captured every family gathering, every emotion, every subtle smile, every dance move. Striking historical images living forever…it's a beautiful, soul-stirring thought.
I write. I photograph. I film. I work to capture every emotion and move the hearts of others as my grandpa moved mine.
 Tell me about your upcoming film, Shield.
 Shield is a beautiful short film about a little girl name Zoe who was put in foster care after the death of her brother. Trauma made it difficult to place her in a permanent home until her foster mother, Rachel, embraces the challenge in an inspiring story about facing fears, finding inner strength, and braving the scars that make us beautiful.
The story is inspired by those I've encountered who have been a part of the foster care system but didn't allow the trials they faced to define them. Foster care children, including adults who have been in the system, are often pegged as victims. I want to give a different perspective—I want Shield to show their heroism.
 What is the status of the film currently?
 We are currently in the pre-production. The month of May is Foster Care Awareness Month. Our team launched a Seed&Spark crowdfunding campaign on May 1st to raise funds for our film (We'd love your support!). We'll be working hard the entire month to gain as many supporters to pledge funds toward our project. We are also finding ways to collaborate with non-profit foster care, young girl and women organizations and comic book stores through volunteering and creative efforts. We hope our connection to these organizations will highlight the message of Shield and the positive impact of becoming a loving foster parent to a child in need.
Follow the film on social media at @shieldthefilm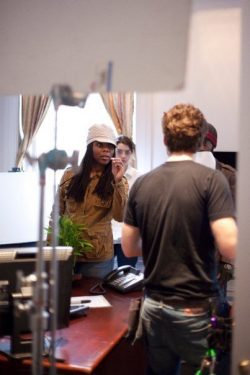 What advice would you have for someone starting out in your field?
Wow. There's so much I'd want to share. The best advice I can give:
There will be lots of rejection letters, closed doors (or you may be an anomaly and get it all on the first try). But for those who get a lot of "no's" before ever hearing a "yes," it doesn't mean you aren't gifted—you just got to keep pushing. The greater the opposition, the greater the opportunity. Don't spend time obsessing over other people's successes—that is a waste of time, focus, and energy. You hear this often—do not compare your journey to the next person's journey. Forgive yourself and everyone else—keep the spirit free from debris. #LIFENOTE
Filmmakers are growing like weeds and that's okay. Stay focused on the work you're called to do.
Hone your craft. Folks say "art is subjective". But fam, listen to me… okay? Duke Ellington said, "There are simply two kinds of music, good music and the other kind." Apply that quote to writing, film, photography, etc. Okay? Just commit to putting out your very best work at whatever stage in life you're at. And be a student, forever. Study, study, study, and study some more.
In addition, some wisdom came from an artist I admire deeply. He told me it all boils down to consistency, quality, and audience. If something isn't working, it doesn't necessarily mean quit. Don't be afraid to re-brand yourself.
What is your greatest challenge as a filmmaker?
 Money. Bottom line. I need funding to tell the stories I'm interested in—stories about female protagonists, black culture, and the black diaspora.  All of that, in tandem, can make one feel like they are running up a slated Mount Everest when it comes to finding investors. And I'm a Black female filmmaker, so you know what time it is. But at the end of the day, we must find a way, or make one. Keep striving. Keep asking with no fear. Keep writing. Keep filming. Keep photographing.
What is your greatest achievement to date?
 Making it thus far, sane, defined, with my deepest passions still in tact. My extended reach toward God. Continuum evolution.
How does being a woman impact you in your field?
We know the facts of women in the industry versus men—we've reviewed the numbers, read the articles, retweeted the statistics, entered into deep discussions. And if we add that I'm a Black woman to the mix… Okay, fam? We don't have to spell it out. But when you're called, you're called. Being a Black female filmmaker has allowed me—because of my unique voice and perspective—to enter rooms and tell stories on stage, on film, in books.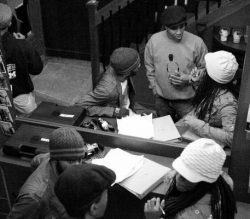 One thing the industry—the whole wide world for that matter—must realize is that women are the rising and setting sun. We are the horizon, the moonlight. We are the most powerful beings. One can try, but it cannot be denied. Life has to come through us. And if we understand that as the powerful beings we are, then together we rise as a matchless force of creative women who can and will be creative midwives to one another in the artistic birthing process. For there is room for us all. Our gifts are what make room for us.
 If you could speak to yourself ten years ago, what would you say?
 I'd say, "Baby girl, you are a lion. Be okay with that. Don't try to trim yourself down to fit. But self-control, wisdom, patience and love IS KEY. Balance, Black girl. Balance will let you know when to be wrath and when to be peace." In addition, I'd also tell myself "Climb the highest mountain, right now, at this very moment and LEAP! Don't be afraid!"
What is a lesson you have learned recently?
 Wow. So many lessons… but I will say in connection to my life's work—the art of persistence…it's more than a notion.
 Tell me about your poetry. What outlet does this form of expression provide for you?
 I don't consider myself a poet. I just write. Mostly, this writing takes the form of journal entries, private thoughts—things I want to get on the page, so I can write a script or film or photograph without my endless thoughts cluttering my head. Lately, most of my writings have been written prayers.
Fourth quarter of 2017, a bunch of my writing found its way into a collection, a recently self-published book, blood. sweat. tears. milk,  a book of works and memoirs, told in 4 feminine elements/acts, recounting the aggressions toward the body as black, as woman, and lover. I let some secrets out of the bag in the book, so if you want to see peeks of the heart exposed, please purchase a copy. Afterward, we can have tea and chat about it.
And of course, I couldn't publish a book without including a short play as the finale called, Alligators, Minks, and New Money, in homage to my beloved city—Detroit.
I'm learning that every creative thing I do has greater purpose—it pushes me past my fears and triggers growth, freedom, and artistic expression. It is most humbling to realize that what I have to say—a nerdy girl from 7 mile and Evergreen on the west side of Detroit with big dreams—somebody needs to hear it, whether it be film, a television series, a stage play, a photography series, or a novel.  I'm divinely forged to do that thing, and it is a blessed hope.
Follow Danielle on social media at @DanielleEliska!
---
---
Regions: Detroit