10 to Watch Filmmakers in 2018: Arielle Nóbile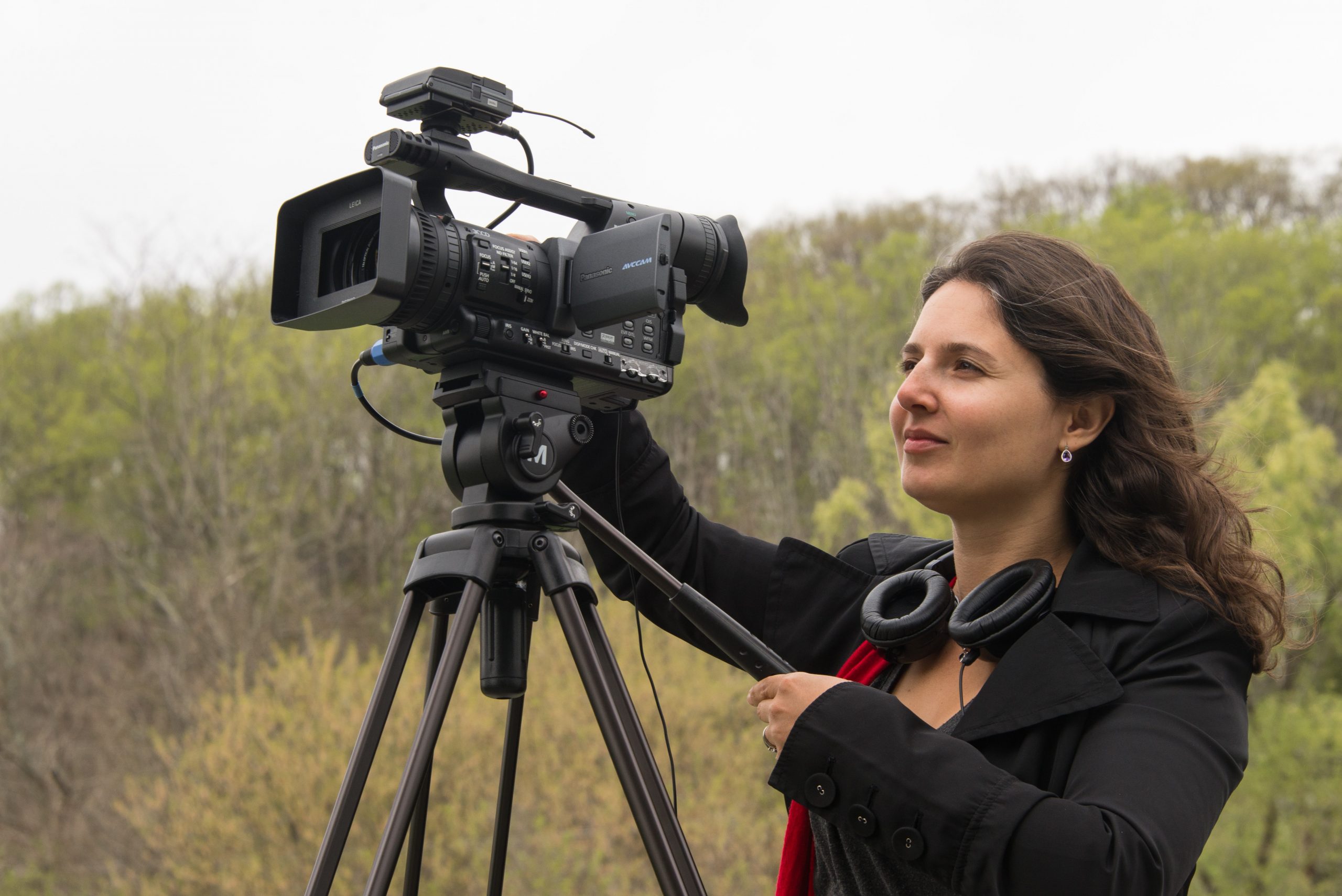 Arielle Nóbile Makes our 10 to Watch List for her Documentary Series Belonging in the USA
The winding road that led filmmaker Arielle Nóbile to The Independent's 2018 10-To-Watch list includes stops at NYU to study experimental theater, directing and teaching at Chicago's Second City Theater, a brief stint in LA pursuing a career as an actress, and then back again to her hometown of Chicago. She cut her documentary chops with projects in Argentina and Boulder, Colorado and won a Hugo Television Award in 2012.
In 2005 Nóbile formed Legacy Connection Films and began creating unique documentaries for families across the country. Nóbile and her team use the tools of cinematic storytelling to bring families together and honor their legacies and history. Nóbile has produced over 100 documentaries across three continents.
We now live in a different, more divided, world since the 2016 presidential election. As a filmmaker and storyteller, Nóbile's work reminds us of our common ground as Americans. It also calls up our need to put aside barriers or fences and speak to each other as human beings. She decided to do what she does best – and her documentary series Belonging in the USA was born.
Nóbile held her first screening at Columbia College in Chicago in February to kick off Black History Month. The series launched online in in May. Nóbile participated in a Q&A with The Independent, describing the genesis of the series, her plans for future episodes, and why she felt the need to tackle this type of subject matter today.
Tell us about your 2018 project, and what inspired your work on it.
When Trump was elected something inside of me revolted. I could not sit by and do nothing. And I would not allow myself to fall into the pit of the "us vs. them" polarization trap. I felt compelled to do something to shift my focus from what tears us apart to what we share as humans. We hope to bring our storytellers and audience into that magical shared space of true understanding and compassion by incorporating digital storytelling tools, animation, humor, powerful real-life narratives, and in-person live dialogues. Our series Belonging in the USA: Stories from our Neighbors gives people a place to reflect on the untold history of this country and the people who live here.
The 60-minute pilot episode, features the journey of Michael D. McCarty: Chicago Black Panther, recovered drug addict, acupuncturist, father, Sai baba disciple, and a professional storyteller who facilitates storytelling workshops with inmates and youth. While each episode tells an individual's life story, we connect one episode to the next by having the featured neighbors meet, in person or via video conference. For instance, we filmed Michael with Alicia Partnoy, our second episode's featured neighbor. Political refugee, poet, professor, activist, and survivor of the Argentine genocide, Alicia and Michael shared wisdom and laughter about becoming revolutionaries when life gave them no other choice.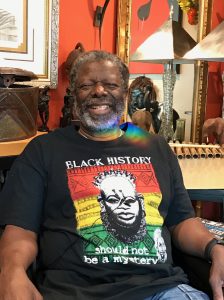 How did you fund this film or project?
Initially, I took a leap of faith and put up my own funds. Since I already owned the equipment through my company, that made production relatively inexpensive. I found a fiscal sponsor, Fractured Atlas, the same week that we shot the pilot and raised enough money through the generous donations of people close to me to pay for the shoot. It took a lot longer to fund post-production. But through our community, as well as people who learned about our project from our info on social media, our Legacy Films monthly newsletter, and word of mouth, we completed the pilot through their generous support.
Tell us about the technology involved in your project. For example, what did you shoot on and why? What kind of look were you going for?
I shoot on a Panasonic HMC150 for my interviews using Senheisser Lavalier microphones. I shoot in 24p because I still enjoy the look of film, and for interviews I still love the feel that this gives. I'm not a fan of makeup on subjects beyond what they would use normally nor am I a fan of seeing every single pore on someone's face. The look I wanted to achieve was intimate, grounded, and real.
For B-roll we used a drone and a GoPro to bring in some different visual, angular perspectives. Each episode will include interviews in the subjects' homes, cinema verité style-B-roll of them out in the world, drone footage of their neighborhoods, personal photographs and home movies, stock footage and photographs from relevant historical moments, stop-motion animation, and an original score. We want both an intimate feel as well as a sense of perspective.
What is your approach to working with subjects? Do you have an idea of your story before you begin or not?
My approach to working with subjects is to be incredibly present with them throughout our interactions before, during and after a shoot. I bring my natural curiosity, specific questions to get the conversation started, and then I trust in the flow. A sacred space is created between us where deep listening and radical empathy can exist.
I have a basic sense of the facts of a person's story and the story that we are going to be telling, but I allow the flesh and heart of the story to come out spontaneously and authentically. I love surprises. By being a one-woman crew, I can establish deep intimacy with my interview subjects quickly. An inviting space of revelation and hope becomes the centerpiece of the subject's experience of the interview. I mean, how often do people get the chance to talk about themselves and reflect on their journey, being deeply listened to for an extended period of time without interruptions? Never!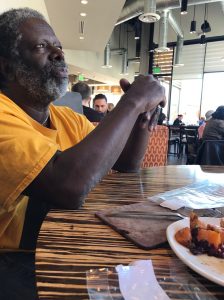 What are you hoping to accomplish with your web series?
We hope to inspire young people to examine their own actions and thoughts and show how they can be powerful transformative change agents by listening to the stories of others. By fostering self-reflection, radical empathy, and social curiosity, we hope to offer an alternative to the constant barrage of negativity, divisiveness, and conflict fed on loop by mainstream media.
The feeling many people have of not belonging and disconnection feeds the loneliness epidemic and social isolation that many people, young and old, face today. We are generating an important intergenerational dialogue, inviting people to step into worlds previously unknown and uncharted. Whether we share beliefs or life experiences, at our core, as human beings, we all desire to belong, to connect, to love and be loved.
I have always felt a kinship with everyone who crosses my path. I was supremely influenced by Mr. Rogers as a young kid. And the idea of neighbors and neighborhoods is something I have been exploring my whole life. Whether we live on the same block, same city, or even the same nation, we are all neighbors. We are interdependent and need one another working together for the betterment of all, for our species to survive.
What's next for you?
We are still fundraising for the rest of Season 1. After in-kind donations, each episode costs about $20,000 to make. So, we are looking to raise an additional $100,000 at this point to be able to continue the project. We plan to do a Kickstarter in October to fund the additional 5 episodes of Season 1. And I'd love to continue to make and share this series for the next 5 years.
Beyond this project I've got three screenplays I'm writing, in various stages. One of which I hope to produce after getting the Belonging series fully off the ground. I want to play with telling true stories through a fictional lens. I'm hoping my extended family will forgive me, but there's just way too much comedic gold in there to not mine. As I write about incredibly personal subject matter, I am finding a new freedom that comes from fictionalizing things just enough to create that universal lens that pulls people into good stories.
---