Women in Film Portraits: Naomi McDougall Jones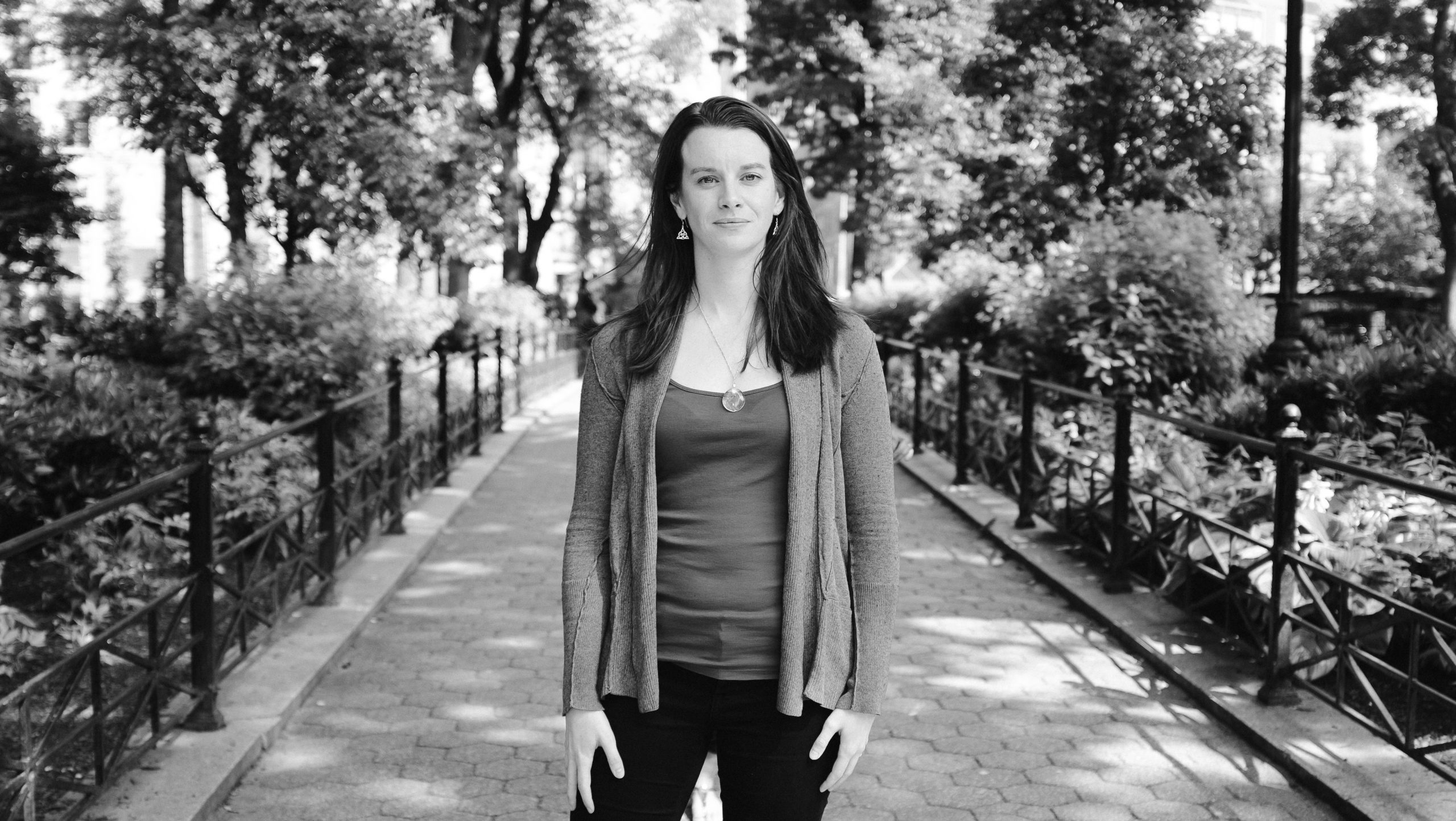 Lauren Sowa's October Installment Profiles Filmmaker and Activist Naomi McDougall Jones
Naomi McDougall Jones is an award-winning actress, writer, producer, and women in film activist. She grew up in Aspen, Colorado and attended Cornell University before graduating from the American Academy of Dramatic Arts (AADA).
Naomi wrote, produced, and starred in the 2014 indie feature film, Imagine I'm Beautiful, which took home 12 awards on the film festival circuit including four Best Pictures and, for Naomi, three Best Actress Awards and The Don Award for Best Independently Produced Screenplay of 2014. The film was named as #8 of Oscar World's Top 10 Films of 2014 and was distributed theatrically and digitally by Candy Factory Films.
Naomi's second feature film, Bite Me, is a subversive romantic comedy about the real-life subculture of people who believe that they're vampires and the IRS agent who audits them. In addition to writing the screenplay, Naomi stars in the film opposite Christian Coulson (Harry Potter, Love is Strange, Nashville) and alongside Annie Golden (Orange is the New Black) and Naomi Grossman (American Horror Story). Naomi once again re-teamed with the visionary and award-winning director Meredith Edwards, who also directed Imagine I'm Beautiful, and the film is produced by Jack Lechner (Blue Valentine, The Fog of War, former executive with Mirimax and HBO), Sarah Wharton (That's Not Us), and Joanne Zippel (Zip Creative). The film was shot in August/September 2017 in New York City and is now in post-production.
​A pilot she wrote, The Dark Pieces, was named on the 2016 WriteHer List as one of the top 16 unproduced pilots by a female screenwriter and is now in development for Canadian TV.
​She was a writer for season one of Amazon's original series, The New Yorker Presents, based on the world's most award-winning magazine, which premiered at Sundance 2016, for which she wrote the teleplay adaptation of Miranda July's short story Roy Spivey.
​Naomi has been a vocal advocate for bringing gender parity to film, both on and off screen. She has spoken at film festivals and conferences around the world and written extensively on this subject. In November 2016, Naomi gave a TEDTalk, The Women in Film Revolution Begins With You.
She has teamed up with former CFO of the City of Chicago, Lois Scott, to found The 51 Fund, a VC investment fund that will finance films written, directed, and produced by women. She is currently at work on a book, The Wrong Kind of Woman: Dismantling the God of Hollywood, which is to be published by Beacon Press in early 2019. She hosts the podcast Fear(ful)less: Filmmaking From the Edge, a monthly window into the successes, failures, and conversations of an independent filmmaker, which is available on iTunes and GooglePlay.
​Naomi lives in Brooklyn, NY with her husband, Stephen.
Thanks for chatting with me, Naomi! Your feature film Bite Me sounds so fun and unique—what's your favorite experience from making that film?
That's an easy one. To put this in context, in real life (also in the film, but also in real, real life), there is a subculture of people who identify as vampires – they believe they need to drink human blood to stay healthy. Yes, actually. My film is about that subculture, not about supernatural vampires. I play the character of Sarah in the film (the female half of the rom-com), who is part of this subculture and has dyed her hair blue and gotten a facial tattoo and wears all black and has fully committed physically and emotionally to this lifestyle in a way that originally made her feel safe and special and by the top of the film has made her feel trapped and angry and unloveable (she stopped dating altogether after her divorce eight years ago). In the early part of the film, she gets audited and ends up having this totally unexpected romantic spark with her seemingly, uber-square IRS agent, James. Near the end of the first act of the film, Sarah invites James to go with her to a "vampire ball"—this, again, is a real thing that happens. Vampires often hold these fantastically grand and strange "balls" where they all dress up in "vampire drag" and drink red punch and dance and it's kind of goofy and also pretty wonderful – you can imagine the range of people that this subculture attracts. So in this big scene, Sarah invites James to come with her—and this is really the first time she's letting him see the extent of her world—it's extremely vulnerable, but also kind of exciting – and he's completely amazed and excited about the whole thing (as he says, "It's just occurred to me that there is absolutely nothing I could do in this room that would make the weirdest person here.") and they have their first almost-kiss and it's a really heart-soaring part of the film.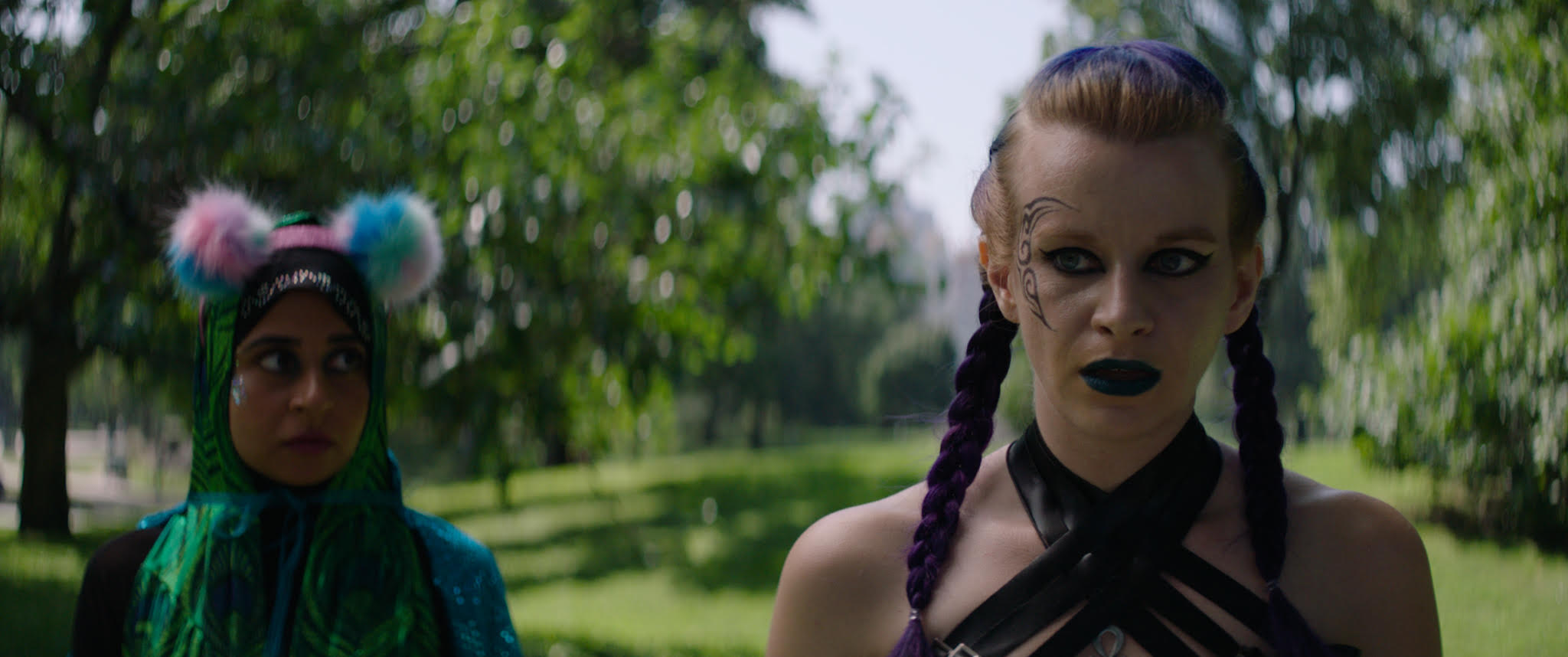 But, anyway, through 42 drafts of the screenplay, this scene had always been in there. It was one I was most excited about. Although I had done extensive research into the real vampire community, and even spoken to one of them, I had never managed to get myself an invitation to one of these balls, so, although I'd seen some footage, I'd had to really just imagine the scope and grandeur of the scene in my mind during the four years we were trying to get Bite Me made. Our producer, Sarah Wharton, had, through some kind of special witchcraft managed to get us the Angel Orensanz Center (originally a synagogue, now this outrageously magical art and event space—Sarah Jessica Parker and Matthew Broderick got married there). It was a way grander space than our budget should have allowed, but Sarah is a sorceress. We were all so excited to shoot there, because we knew it would look fantastic on film.
So, it's the morning of our shoot day there and I get quickly hustled into actor holding and then get put through hair, make-up, and wardrobe, which is fairly extensive because I'm going to a vampire ball, the net result of which is that I don't actually go up into the central ball area until we are ready to shoot.
I walk in alongside Christian Coulson, who is playing James, and we see the ball for the first time fully in place. Our art department, Nicole Pursell and Alberto D'Fonseca, had just killed it – imagining and creating this whole vampire world from floor to ceiling and in all the prop details. Our costume designer, Veronica Moonhill, had somehow talked Bard College into loaning us a vanload full of ball costumes and vampire regalia for free, which was a massive stroke of luck, since costuming the 60+ extras who had hauled themselves there at an unconscionably early hour to come dress as vampires for the day, would have single-handedly wiped out our entire costume budget if we'd had had to pay for the clothing. The extras were outstanding and were dancing and inventing all of these strange rituals to perform during the scene in their capacity as new-age vampires. Christian laughed at me because I looked like I was going to explode with happiness. It was like the weirdest, most personally thrilling idea you've ever had has suddenly materialized in front of you and over 100 adults are running around playing pretend with you.
After four years of imagining that scene, it was better than even my wildest hopes. It was the most special kind of movie magic.
You are interested in the ways we tell stories as women. Could you talk a little about this concept? 
Oh lord, can I talk about this one at length…I have a whole chapter on this in my upcoming book. Here's my basic theory: since, around 1945 until 2018, between 95-99.99% of all films made in the US have been directed (and mostly written, produced, and conceived of also) by men—mostly white men. For all intents and purposes, our entire cinematic canon, history, and art form reflects the perspective, tastes, and storytelling structures of white men. Except during the silent film era, there has never been a time where a lot of female filmmakers of any color, unfettered from male financial or institutional control, have gotten to make films all at the same time – watching each other's work, getting inspired by that work, pushing each other to new forms and greater heights.  White men have had that over and over for the last 70+ years.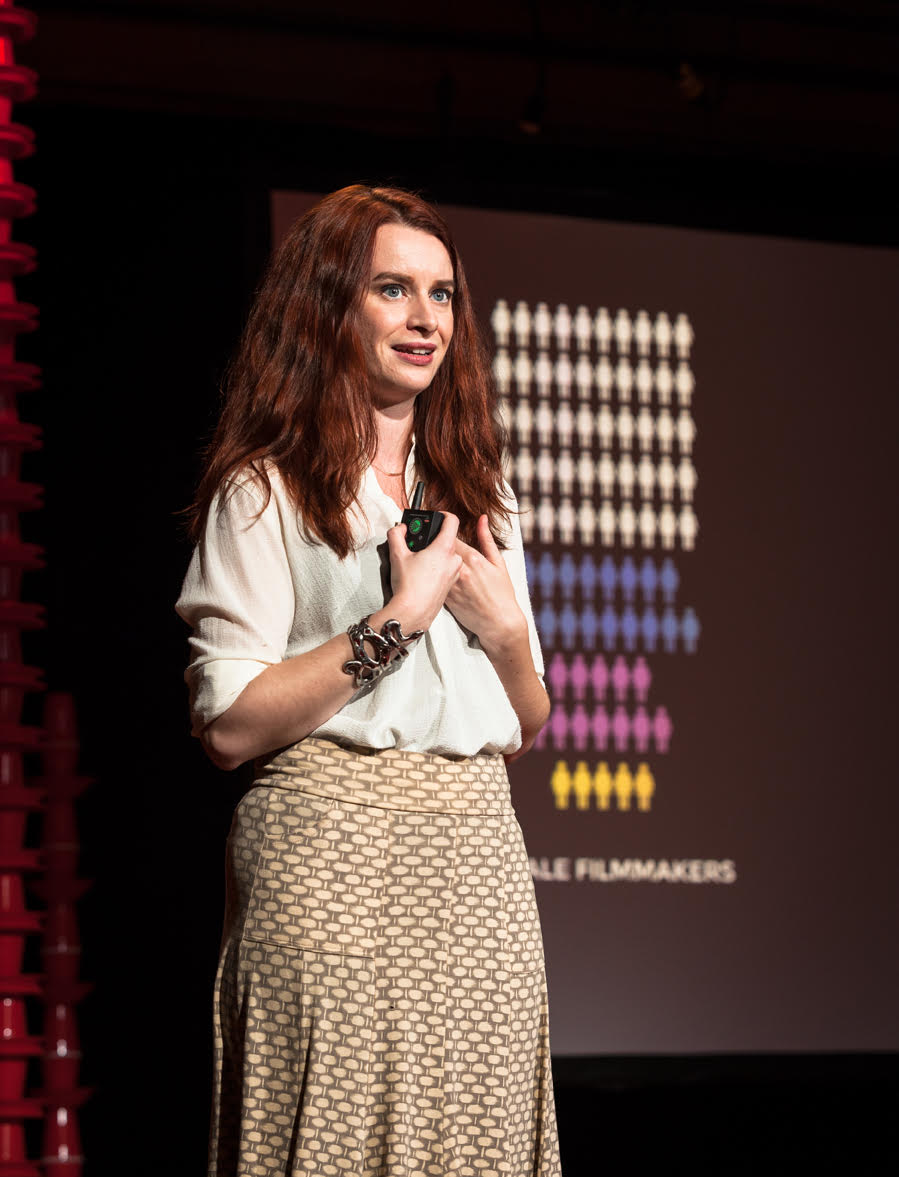 We have to conclude, then, that absolutely everything we understand about storytelling through film is white and male, and that, therefore, there is a female cinematic voice and perspective and, maybe even mode, that we have never seen before and probably can't even imagine. Watching Jill Soloway's I Love Dick, I felt like I got to see the first rumblings of what that could be.
But here's the thing, that female creative primordial ooze is happening RIGHT NOW. If you are female and making films or content right now you are part of it. Sure, we're still not getting hired by the studios or acknowledged by the system or given the kinds of budgets that would allow us to fully explore and realize our big visions. But, thanks to cheap and good film technology and editing software, thanks to crowd-funding and social media, and YouTube and the internet, a lot of us are now getting to make stuff and watch each other's stuff (and if you are not yet making your stuff, go find a way to make it immediately. We need it and there are no good excuses at this point to not have made it).
So in this time when we are, yes, still largely being kept out of Hollywood's systems and institutions, but are, therefore, also free of their constraints and dictates. And, as we make our micro-budget films and web series, I encourage us to be bold and original and daring in the ways in which we tell stories. Question everything. Try anything they've told you not to do. Throw out the three-act structure altogether – there's no question that that's a male mode of storytelling. Invent new structures. In my third screenplay, which I'm in the process of writing now, I'm experimenting with a spiral structure. It may not work and it may change everything.
Inspire me. Push me. Make me want to be more inventive, better, clearer, more abstract, more feminine. I'll try to do the same for you. I want to find out what our voice actually sounds like.
 Who are some of the most interesting female storytellers to you?
Jill Soloway as noted above—I feel like she's engaging fully with the exploration of the as-yet-to-be-discovered female voice. Ava DuVernay is a goddess. I nearly threw up in the theater watching Dee Rees' Mudbound and any filmmaker who can produce that effect on me is one I'm interested in – the fact that she didn't get a Best Directing Oscar nom for that film is appalling. I've always found that Sarah Polley's work resonates with me on a distinctly female vibration that I find exciting. I admire Deborah Kampmeier's boldness and refusal to say less than she has to say. Chloe Zhao's films inspire me about what narrative film can be.
What do you hope people take away from your art?
I hope that, like the work from the women above has done for me, my films make people go, "Oh. Whoa. That's what a story told by a woman can be like," and that, in doing that, a) some women in the audience feel seen, heard, and represented in a way that they possibly never have (or at least haven't often enough) and b) helps people to start to wake up to the Matrix we've all been living in where we only watch films by men, but don't consciously process what that's doing to our brain and societies.
Outside of the woman angle, I write about outsiders and weirdos—people who are overlooked or excluded or not seen by society. I have always felt myself to be one of those people and, more often than not, mainstream cinema reinforces that feeling of invisibility because I so rarely see films that speak to my experience of the world, as a woman or as a card-carrying weirdo. So I hope that other people like me (and I think almost all of the population feels "other" at some point or other) watch my films and feel a little bit less alone.
Bite Me October Social Media Raffle!
In honor of Halloween (and vampires), we're running a contest during the month of October
On October 31st, we'll randomly select one entrant, who will win (1) "Love Sucks" Sweatshirt and (1) free download of the finished film (once it's released)!
​INSTRUCTIONS TO ENTER:
1) FOLLOW
FOLLOW US on ONE OR MORE of the following platforms: Facebook, Twitter, Instagram
​2) POST & TAG
POST on Facebook, Twitter, or Instagram. The post can be anything (telling your friends about the film, talking about the contest, using one of our frames (see below), whatever!), but the must:
Tag "Bite Me"
Use the hashtag #vampiresdontbite
​That's it! Once you've taken those two steps, you'll be entered into the raffle!
​USING BITE ME FACEBOOK FRAMES
Note: it's not necessary to use these to enter the above contest, but they are super fun!
​1) On your phone's web browser enter your desired links:
Bite Me blood frame: http://bit.ly/BiteMe18
Mellowtron frame: http://bit.ly/mellowtron18
​2) Your phone should then prompt you to open your Facebook app. Click "Open"
​3) It will then open your camera with the frame in place and you can take a photo.
​4) Click "Next" and it will prompt you to post the pic!
---