Women in Film Portraits: Kisha Barr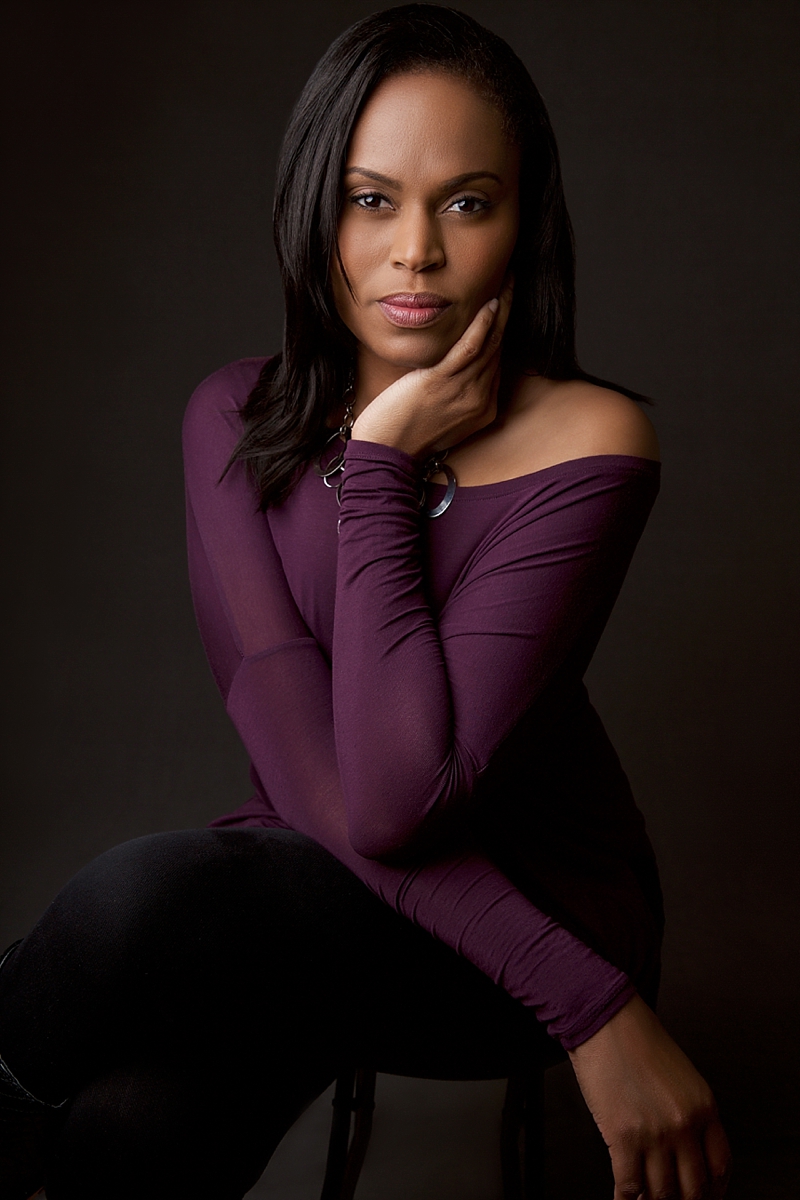 Lauren Sowa's December Installment Profiles Actress/Writer/Producer Kisha Barr
In this final installment of Women in Film Portraits, Lauren Sowa talks with Kisha Barr, who has appeared in many television, film, and commercials productions. You may have Kisha on the hit NBC show Manifest or on Lifetime's You to name a few. Kisha began her training at Playhouse West in Philadelphia and continued her training with Anthony Abeson in NY. 
 Kisha's love for the arts started at an early age. Her goal as an actress, writer and producer is to touch people with stories of the human experience. Her aim in life is to give more love to the world and to inspire others. She is a real-life Wonder Woman (who happens to be her favorite superhero)—a woman of strength, determination, integrity who is at the top of her game. Give Kisha any challenge and she will crush it! You can follow Kisha on IG @kishabarr and Twitter @kishab_3.
So tell me a little about yourself?
 I started out my career in education and I didn't feel as fulfilled as I thought I would be, and one day a friend of mine dragged me into an agency and said, "You need to model," and I wasn't sure but I started it and loved it and then from there I found a legitimate agent. I remember sitting in her office and I read copy for her, and she's like, "You're an actor." And I was like, "Yeah that's it." Cause I feel like my creative soul is fed—I'm a very creative person, so I've done so many different things. I've tried photography; I've tried cake baking; I've tried everything, and this is the one thing I found where I feel like my soul is fed. So, I love it—I absolutely love it. I still do education stuff, but not full time anymore.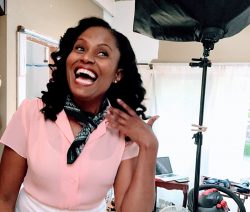 What other creative pursuits do you do, besides acting?
In my family we are all very good writers. I feel like I'm better at articulating via writing than speaking. I feel like I can get my point across much better that way, so when my acting teacher at the time encouraged us to start writing I thought, let me try it, and I did—so I wrote my first film, Never Again. I wrote it, and helped produce it, and it turned out pretty good. It wasn't my best but it was my first and I'm proud of it. I wrote about a woman who felt like she was never enough, and that's how I felt at the time—like I was never enough, you know? Good, but never good enough. But then, in the end, she realizes that she already had it in her.
Love that. What inspires you?
I think I'm inspired by the human experience. I noticed recently that I'm really highly motivated by love, I love people very easily—comes too easily but people inspire me.
Is there a message you're hoping to convey with your art?
I've noticed recently in every single thing that I've written it all has to do with wanting to be good enough. So maybe my mission is to write stories that show people that they are good enough. Everything you need – that is inside of you, it's already in you, you just have to trust yourself—believe in yourself, don't worry about other people and their opinions of you.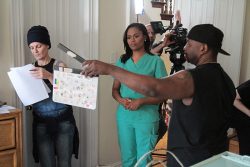 Is that something that you had to teach yourself?
 Yeah, I did. I really was one of those people pleasers that was trying to make everybody happy and then, looking at other people and thinking that I already have it inside me in my own unique way, we're all unique. We're all special—we're enough. I'm African American, and I grew up going to all white schools so I think that maybe part of what made me feel that way was because I never quite fit in with the white kids, you know I was different. So when I finally did get around people that were African Americans or people of color they thought I talked too white, so I think I always felt I never quite fit. So I think that's where those feelings probably come from but I feel like my message to everybody should just be that you're enough—that if you are yourself you will shine through and people will be attracted to you and the energy of who you are.
Do you feel like you've found a community or a place in your life where you do fit now?
Yeah! I do. It's funny when I went to college I feel like that's where I fit the most because there were so many different groups of people—different races and everybody just had a clean slate to start over again. So I feel like college was definitely when I fit in the most, and now as an artist even more so because we're just weird. We just get each other; I found like a tribe of people who just get me, you know?
That's the other reason why I like to write as well because I feel like you can write anything you want. That's why I feel like becoming a writer has been awesome for me because I can create my own work, I don't have to sit back and wait for anybody else. I can just make the characters that I feel are stronger. The characters—and I—can be anything I want to be when I write my screen work.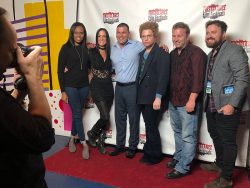 So what is a lesson you feel you've learned lately?
I think I'm learning a lot about power of the mind- the power of the mind and thinking. Sometimes I have these negative mantras in my head, and just learning how to flip them around to a positive mantra. It takes work though. It is not easy to flip those scripts in your head and turn them into something positive, but when you do….I feel like I really truly feel like you see change. So, I feel like, the biggest thing I've learned this past year, the lesson I've learned is really just to change my thinking—to be more positive in my thinking.
I had this great epiphany the other day where I went on this audition and I'm spending all this time, this energy wondering, "Did I get it? Did I get it? Did I get it?" Days, weeks, a couple weeks go by; and this is something that you really want, you know? And then to find out I didn't get that part and then it hit me, "What if they called that other person who got the role the day after?" I wasted two whole weeks of worry and anxiety when I could have been experiencing the beautiful world or experiencing my family….I gave all that energy to that when they already booked the part. So that also really changed my thinking too – I don't want to waste my energy on worrying and wondering. I want to use those energies towards things that matter. Then, it comes to you. You get it when you let go like that.
What are you working on currently? 
 2018 has been an amazing year in my career. I was in three network television shows Manifest, Bull, and You. And a result, I excited to say that I am now a proud SAG member!! I also have a supporting role in indie films that are taking the festival circuit by storm: Swiped Right, Nana's Room, Ovum, and Gun. I also had a fun role in a beautiful film set in the 1950's called Reasons, which is set to premiere soon.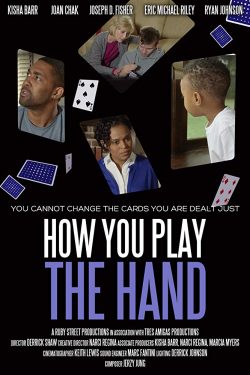 I have some more editing to do on my passion project that I wrote and produced with Ruby Street Productions and Tres Amigas called How You Play the Hand. The film is about a family dealing with their child possibly having autism. Autism awareness is a cause near and dear to my heart. I am still writing my dream series-working on the dream team and getting the script just right. This series has been a concept for years and I feel like I'm one step closer to making it a reality. It may or may not have superheroes involved.
What are you looking forward to in 2019? 
 In 2019, I'm looking forward to taking my career to the next level. I want to continue to create my own content and launch my brand. I plan to continue to work on my craft so that I can begin to get recurring, guest star and series regular roles on television. As I was reflecting on this, I realized that what I really want is to work with the same people every day on set and to become part of a family.
Do you have any New Year's resolutions? 
 My New Year's resolution is to be a healthier version of me. I get so caught up and busy working so hard that I forget to take care of myself. Sometimes I feel tired and overwhelmed. I realized that if don't make myself a priority, I won't be healthy enough to be at the top of my game. I'm ready to be the strong and empowered woman that I know I am and rise to new heights in 2019.
What was the best film you saw in 2018? 
 The film that impacted me the most this year was A Star is Born. This film made an impression on me that was on my mind for days. Lady Gaga and Bradley Cooper mesmerized me with their on-screen performance. They were so connected and real. It was special to watch.
The film that excited me the most was Black Panther. It was a blockbuster, action film with African American leads—AMAZING!! I admittedly saw it a couple times!! It made me feel hopeful. Seeing more diversity in films such as this one and others like Crazy Rich Asians makes me so happy. More of that please!
Special thank you to Lauren Sowa for producing the 2018 Women in Film Portrait's interview series. We look forward to her future contributions to the magazine. –The Independent Staff
---