Revisiting Summer: Reflections from Coolidge Corner Theater's New Film Series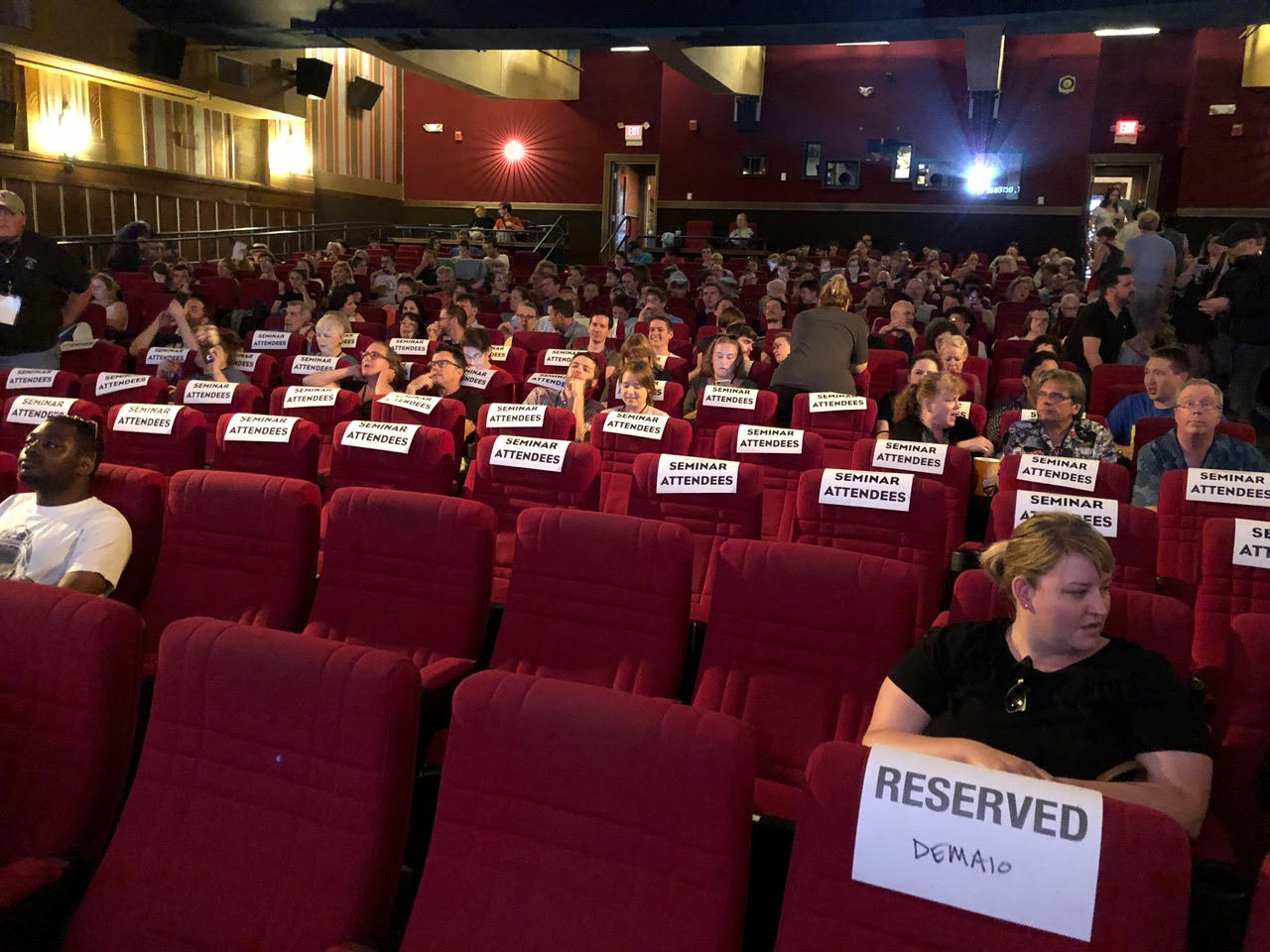 Mike Sullivan Takes Readers Into Two Screenings at Last Summer's "Seminar Series" in Brookline, MA
Sometimes, simply watching a movie just isn't enough. Sometimes, you want a little more. Yes, I know there's Google, Reddit, Twitter, IMDB, but don't you spend too much time staring at your phone already? We could all use a little more human interaction. More face-to-face conversation. When it comes to learning more about film, the Coolidge Corner Theater in Brookline, MA provides that and more with their Coolidge Education Seminar Series.
Launched earlier this year, the Seminar Series is an offshoot of the Coolidge's Education Film Classes. The latter were held during the day, once a week, over a four to five-week period and covered a wide variety of topics. According to Wesley Emblidge, Marketing & Education Coordinator for the Coolidge Corner Theater Foundation, the education film classes were popular and usually sold out. However, as Emblidge explained, many interested people simply weren't available during the day or couldn't commit to all five weeks. "So, we knew there was a demand for something else," he said. "We wanted to find a way to offer education, but on a more limited, accessible basis." The solution was to bring an educational element to certain screenings that were already in the queue, most as a part of their Big Screen Classics series. Thus, the Seminar Series was born. Attendees to these seminars get a 30-minute lecture prior to the screening, reserved seats for the film, and then a post-film discussion with the presenter and other attendees. Tickets are $25.00.
How does Emblidge and his team decide which films get this added element? Several factors are considered. Beyond the obvious such as schedule and timing, there are three components that are the most important. First: Is the film itself worthy of discussion? Second: Is the length of the film conducive to a seminar? "Although a film like Apocalypse Now would attract a wide audience, asking people to hang out for about 45 minutes after a three-hour movie might be a bit much," Emblidge told me. And third: Can they book a quality presenter?
Presenters for the Seminar Series come from a variety of backgrounds. Emblidge explains, "I have a huge database of practically everyone who knows anything about film in Boston." They are film professors, festival programmers, movie critics, authors, as well as experts in non-film related fields.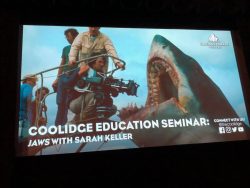 The lectures before the film and the discussions after are designed for both the casual movie-goer to hard-core cinephiles. Although there is some oversight, the Coolidge does not dictate specifically what the speaker will discuss for their seminars. The presenters bring their own ideas and topics for conversation about the films. "For a recent seminar about Roman Holiday, Jake Mulligan (Associate Editor and Lead Writer of film for DigBoston) wanted to focus on Director William Wyler whereas someone else could have done a seminar that was all about Audrey Hepburn," Emblidge said.
I attended two screenings during last year's Seminar Series—Jaws and The Silence of the Lambs. I found them to be more than just a fun night out at the movies. For both, the discussion before the movie was sort of a film school class-style lecture and the discussion afterward was completely freeform and fun.
The annual Labor Day screening of Jaws is a Coolidge Corner Theater tradition; in 2018 it was made a part of the Seminar Series. The presenter was Dr. Sarah Keller, Associate Professor of Art and Director of Cinema Studies at UMass-Boston. Keller decided to study film in college after seeing a retrospective of Robert Bresson's work in Chicago. She has both a passion for and vast knowledge of film—in terms of history, technique, and theory—but she also has a regular movie fan's love for Jaws. She uses Steven Spielberg's 1975 blockbuster as a tool in her curriculum because, as she told me, "It is so well constructed. It's formal and stylistic features fit perfectly with what Spielberg aims to accomplish with the narrative that it both serves as an excellent vehicle for talking about film style with students and it is so worth rewatching."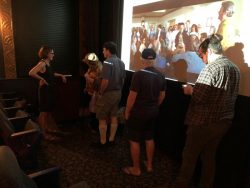 Keller was able to squeeze a lot into a half-hour lecture. She began with a brief history and background about the movie, before turning to the cinematic techniques Spielberg uses to build character and create tension. Topics included the use of color in the production design and cinematography, finding horror in the bright light of a beach day, the incredible sound design, the use of music to heighten scares. With Keller's insights fresh in mind, many of us experienced the film in new and different ways. The film was shown on the big screen—projected, like most Coolidge screenings—from a high quality 35mm film print. After the credits rolled, those of us in the seminar hung around in the theater and had a post-viewing discussion. It was interesting to revisit some of the topics Keller had discussed in her presentation and to hear perspectives from other members of the audience, some of whom had never before seen Jaws.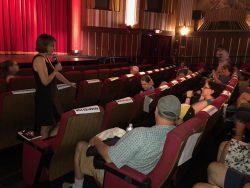 The second seminar I attended was The Silence of the Lambs, perfectly scheduled just before Halloween, with a presentation before and after the film by renowned forensic psychiatrist Thomas G. Gutheil, MD, Professor of Psychiatry at Harvard Medical School. This one was a trip. In addition to his expertise in psychiatry and psychopathology, Dr. Gutheil is also a plain ole movie buff and serves as a frequent moderator for the Psychiatric Cinema program for the Longwood-area psychiatry residency. His love of movies developed while growing up in New York City and being exposed to the massive variety of films available. He embraced everything from Hollywood to Godard to Fellini and all that fell in between.
The primary focus of Guthiel's The Silence of the Lambs presentation was Hannibal "The Cannibal" Lector and how closely the pathology of that fictional character coincides with the reality of a murderous psychopath. (Scary-spoiler—pretty close!) Gutheil referenced not only Jonathan Demme's 1991 Oscar-winning film, but also the sequels and prequels and all the novels that feature the good doctor. (He stayed away from the recent TV series.)
Using the history that author Thomas Harris has revealed about Lector's past, Gutheil stated that it is entirely possible for a person who has lived through those experiences to become the psychopath so superbly performed by Anthony Hopkins. The major difference being Lector's charisma. "Most psychopath's are incredibly dull," he said.
There were cinema-related topics discussed as well. Demme's use of extreme close-ups throughout the movie, the editing, and the role of masks—both literal and symbolic—for example. Plus, some cool trivia. Did you know Gene Hackman was originally going to direct the picture and play Dr. Lector? It's true. Yet, for the audience that night, the discussion always seemed to return to Lector as one of the great (if not the best) cinema psychopaths.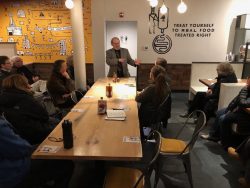 The Coolidge changed things up with the Silence seminar. Instead of having the seminar attendees stay in the theater after the movie, the post-film discussion was held next door at Oath Pizza. There the lively discussion about the psychopathy of Hannibal the Cannibal continued over free desert pizzas.
For me, the most interesting takeaway from Gutheil's seminar was this: "Everything we know about psychopaths and psychopathology comes from studying those that were ineffective and got caught. The really successful psychopaths are still out there. In high powered offices. CEO's. Politicians…" Dr. Gutheil said with a sly grin and a glint in his eye.
Overall, the Seminar Series was extremely well-received and the post-film discussion sited as the most popular component. Most of the screenings were sold-out and Emblidge told me they plan to increase the number of seminars in 2019. For more information about the Coolidge Corner Theater, the Seminar Series, or any of their other screenings and events go to: http://www.coolidge.org or call 617–734–2501.
---
---
Regions: Brookline