SUNDANCE 2019: Robert Machoian Graham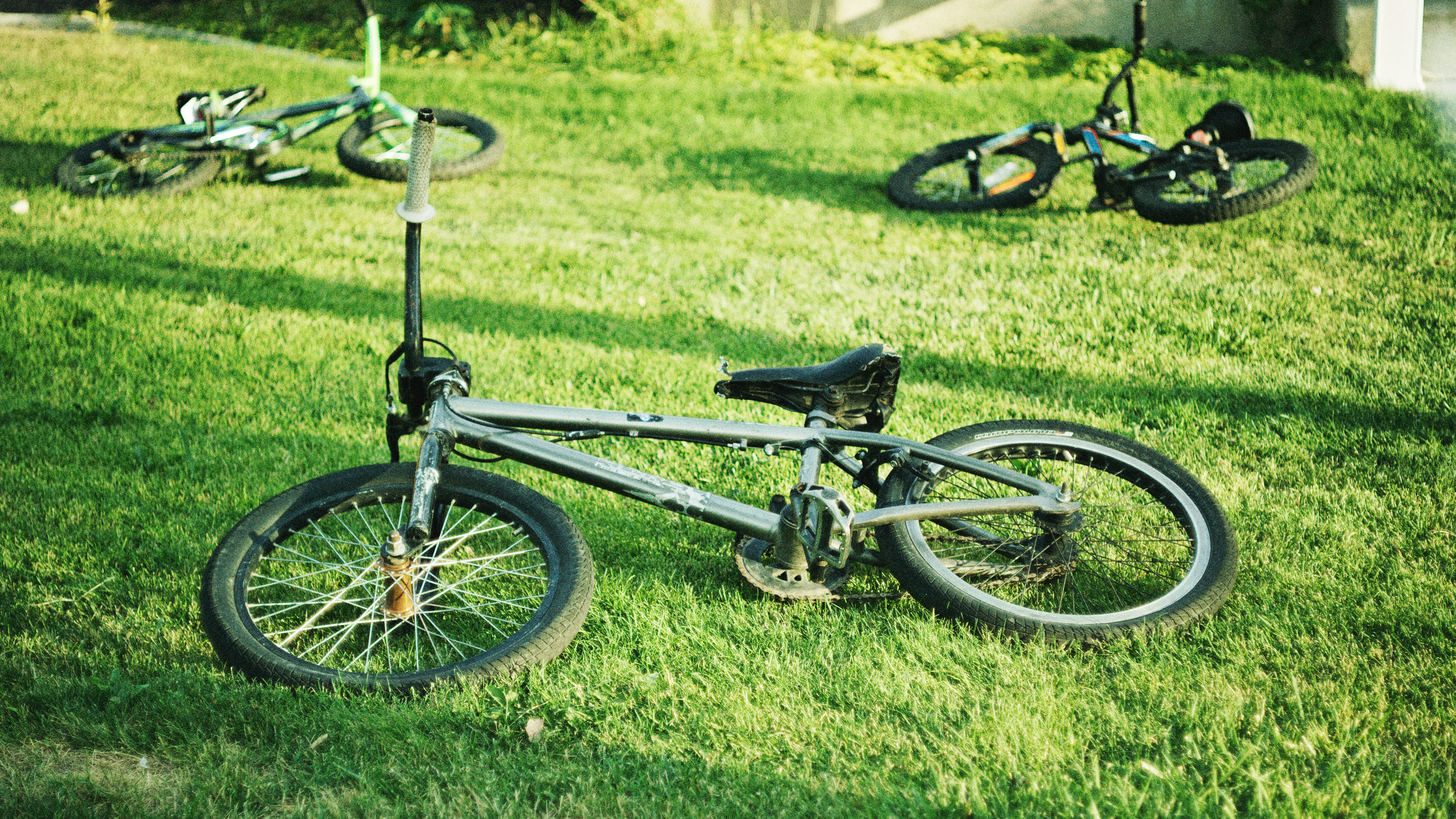 Neil Kendricks Speaks to the Writer/Director/Producer of the Award-Winning The Minors About the Film's Familial Treatment of Art and Discovery
PARK CITY, Utah — Filmmaking dynasties like the Coppola and Huston clans, the Fondas and the Barrymores' respective bloodlines are well known for proving that families who film together, oftentimes stick together. On a far more modest scale fueled by a resilient, independent spirit, Writer/Director/Producer Robert Machoian Graham (the filmmaker goes by his middle name in the credits of his work) embraces this mantra of familial artmaking in his own filmmaking practice to startling effect. For instance, when Machoian decided to write, direct and cast his charming short film The Minors, chronicling the day-in-the-life misadventures of a grandfather awakened by his grandsons for band practice, the filmmaker looked no further than his own father Bruce Graham and his three young sons Arri, Ezra and Jonah to portray his screenplay's down-to-earth characters in a cross-generational punk band.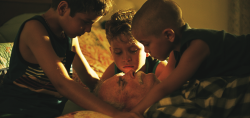 Central casting be damned, Machoian and his family members find a wonderfully organic, on-camera chemistry and rapport that never feels forced or contrived. The 10-minute film's deceptively simple narrative of a grandfather briefly jamming with his three grandchildren gradually blooms into a poignant meditation on the hard choices that many artists face when juggling family commitments with the private calling to follow one's muse. And this question is framed by the filmmaker's offbeat sense of humor and enthusiasm underscored by the subtle hint of the grandfather's buried regrets.
But you won't find any regrets when it comes to Machoian drawing inspiration from his family as his primary resource for actors and cinematic storytelling alike. The gamble of the 40-year-old filmmaker and associate professor of photography at Brigham Young University's Design department paid off with his short film not only making the final cut as one of the 73 shorts featured at the 2019 Sundance Film Festival, but his cinematic poem to the joys of domestic life won a well-deserved Short Film Jury Award for directing. The Minors is Machoian's third project to screen at Sundance. In this Q&A interview, Machoian reveals his modus operandi for corralling his father and kids to join him on his journey to bring The Minors to fruition with a surplus of tender family love thrown into the mix.
NK: Your live-action, short film The Minors is a family affair on multiple levels since you cast your own father and your children as the film's lively characters. During the writing process did you develop the characters with your parent and sons in mind? How did your father and sons react to your decision to cast them in such prominent parts where their performances would make or break your film? 
RMG: Yes, it was a family affair! I have been working with my Dad and children for a while now. My father has been in most of my stuff actually. I try and get him in my films whether he is a main character or not. My children were in a feature I co-directed called God Bless the Child, though Jonah was one-and-a-half, and Ezra was four. The boys had been bugging me to do a film since that time, so I sat them down and asked if they were serious because I was about to spend some serious money. They said "yes," my Dad said "yes," and so I went to work writing. I only will do films with my kids if they want to. I want to be collaborators with them. So, if they are serious, then I'll do something with them. If not, then I will write something else.
NK: Where are you from originally and when did filmmaking become your artistic medium of choice? Did you grow up with a camera as a means of expression, or did you pursue other creative pursuits before making short films as an indie filmmaker?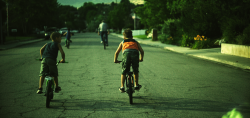 RMG: I grew up in a small town with one video store, and for a short while a theater. I didn't know filmmaking could be a dream or a medium. It was just the way I grew up. I knew working the farms or going to college were career paths. I didn't even know what one did in college except learn more or get a certificate to teach like my father. I played in bands in high school and took painting courses, and thought I would do those things after high school was over. I am color blind and my painting teacher told me not to become a painter, and the band broke up, so I spent a period driving a truck for a dry-ice company with no clue what I wanted to do. I worked with a guy who was in his fifties and I found out at some point that he made 50 cents more than I did though he'd worked there for 25 years. Point is I realized I needed to go back to school, but I had no clue what for, so I tried and failed a few times. It wasn't until I had my daughter, and I made a little documentary on her that I realized I had found something I could do, and would love doing. Once I knew that, I quit driving a truck, and I went to school and plowed through it.
NK: Your father's genuine and heartfelt musical performance at the film's conclusion feels lived in and authentic, suggesting that the character had a life before the story began and a life that extends beyond the closing credits. How much did you draw upon your father's own past as a musician to shape his performance in front of the camera? 
 RMG: I am so glad to hear that! It is very much what I was going for! I draw on my father a lot. He's my hero and a wonderful storyteller. He taught music for over 45 years, kindergarten all the way through high school. I had written that song years ago, thinking about how we dream when we are younger, and make promises we don't understand we can't keep. As I was writing the script, that song just kept asking to be in the film, so I finally put it in, and it just seemed to work. My father being a musician has such an amazing ability to put himself in the story. While lost love isn't his particular story, he knows it. I also think it speaks to his skills as a performer, and I think writing it, I knew he'd just do such an amazing job.
NK: Collaboration can be a tricky balancing act, especially if your collaborators have a long, personal history with the filmmaker. What were the challenges of directing your father and your children, and what did you learn about them and yourself by going on this cinematic journey together as a family? 
RMG: I think being in bands (as a young person) embedded in me the desire to collaborate. I think it helped me learn that while I might write a good chord progression, others will make it far better than what I brought into the practice room. I think I look for that in filmmaking as well. I want to see how collaborators will improve upon what I've laid down. I think my collaboration with my Dad is always a struggle that I am very serious, and he is very cheesy, so there is always this back and forth in the beginning. I think we are getting better at working through it. I think this film in particular is the happy medium between both of us. The kids always have a hard time working long hours, so I have learned to be prepared before I bring them on set. These kids are pretty serious about making movies, and, maybe, that's because they've grown up in a house that's made films. I have learned two important things from them, which is rehearse, because it helps them be more natural, and to separate the filmmaking from home life. They have taught me it's not fair to bring my frustrations home. Their work is work and home is their safe space.
NK: How do the intimate and personal themes of The Minors relate and/ or connect or, perhaps, depart from your earlier efforts in filmmaking? 
RMG: I believe filmmaking is very similar to speaking. In the beginning of  learning to speak, you use basic words that convey important needs: Hungry, tired, happy, and potty. As you grow and learn to be able to suggest ideas, convey thoughts. My early work is very much like that. My first feature is about death. It is a single-note film that plays for an hour-and-a-half. That's heavy. I think I am getting better at speaking as a filmmaker, and trying to convey ideas, as opposed to single needs. To be honest, I felt very naked sharing this short. I am not sure if people would get what I was trying to say.
NK: Were you in a punk band as a youth like the film's pre-adolescent characters? 
RMG: Yes, I played in punk bands and a ska band when I was younger. Jonah the youngest kid in the film is dressed as a homage to two huge influences in my life: Ian Mackaye and Henry Rollins. So much of my moral foundation is based off growing up listening to them.
NK: How has the film's successful festival run thus far with winning a directing award at Sundance suggest or plant ideas for future projects for your filmmaking practice?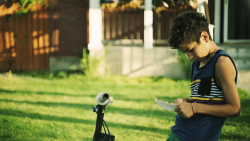 RMG: I dream of making larger works, something Oscar worthy. But I am also a punk kid from the middle of nowhere and the DIY ideology of my roots pushes me to just keep making work without regard. I am currently editing a feature film I shot in December, prepping a short to shoot in March/April and my Dad, brother and I are working on a feature idea that I think is pulled from the Minors. This idea of a man in his seventies who was in a one-hit-wonder band in his youth, and now retired from a job he has worked forever, heads back out on the road.  I am watching a ton of '60s and '70s films as reference! Two-Lane Blacktop is one of my all-time favorite films!
NK: What do you hope viewers will find and discover as they encounter and observe your ragtag, rough-around-the-edges, yet endearing characters tap into their creativity during the band's fleeting band practice? Funny and strangely hinting at buried regrets, The Minors appears to be asking questions about artists faced with the dilemma of choosing life paths. Does one embrace having a family with all that such a lifelong commitment entails or pursue a more solitary path as an artist or musician? How do you find the right balance in your own life as a father and son with an aging parent? 
RMG: Realism in cinema often addresses tough issues with living. And while I love those films, and have made them, I also wanted to talk about more complex things than just social economic status issues. I think it's because as a teacher I am finally in a place where I know what allows me to feed the kids. As a father, I am able to provide. Now the question I have been having is as an artist is where am I going to push myself. I am in this dilemma!
I don't know that balance is a thing an artist can achieve – not if they are going to push themselves into the unknown. I think when artists talk about achieving balance, they are really addressing acceptance. For example, if I said to myself, "I won a jury award at Sundance. As an educator, I have received all the credentials I need to teach students film for the next 30 years." If from this point on I just made a short every few years, and taught and raised my kids, I would be achieving "balance" though acceptance of a certain life. I respect individuals I know that come to some form of balance. Unfortunately, I don't function that way. While I don't dream of making a blockbuster, I do dream of making a Two-Lane Blacktop or a Scarecrow, or a Last Picture Show. I am always chasing the unknown. The result is I find I am just keeping the plates spinning, keep my job happy enough not to fire me, my students happy enough not to complain, my kids happy enough not to hate me, and my wife happy enough not to leave me, so I can make the next film the best it can be! So, I wouldn't claim any balance at all.
NK: What's next for you on your adventures in the wilderness of independent filmmaking and can viewers view your film online?
RMG: I am trying to update my Web site (http://robertmachoian.com) so content will be available, but I did a series of documentaries with my common collaborator Rodrigo Ojeda-Beck called American Nobodies, about 40 short docs on people and the interesting things they do. I am also working on the above-mentioned stuff. With the Sundance win and assessing how I can grow, I am wondering if, maybe, John Leguizamo would consider making a film of some sort with me! Will people take meetings with me with a win? I've got ideas!
NK: Getting into the 2019 Sundance Film Festival is quite a feather in your cap. Do you have any advice for aspiring and/ or emerging filmmakers trying to tell their own stories during this particular moment when the rules of cinematic storytelling are changing due to new platforms and a glut of content competing for our attention? 
RMG: Yes, make work, make lots of it, fail and succeed. Indifferent work is also important! Learn to speak, and speak well because the result can and has changed the way we see the world, and understand it! It takes time and a lot of work. The platforms are changing, but so is the process of making work, you don't need $30,000 just to say something in nine minutes. See things as a liberation. If a Panda farting and sneezing can get a billion views, what can you say to compete with that? Then, email me because I haven't found that answer yet! Just make work. If you love it, keep doing it.
---