Courtney Gardner reveals insights from her conversation with Jacqueline Olive about her award-winning documentary
Pierre and Claudia Lacy, family members of Lennon Lacy, whose story is told in Always in Season
My heart skipped a beat when the phone rang—writer/director Jacqueline Olive was calling me to discuss her award-winning documentary Always in Season. The film, which will air on PBS on February 24, 2020, and was awarded the Special Jury Prize for Moral Urgency at Sundance, provided an engaging platform for an insightful discussion. By the time I hung up, I felt well-informed about who Jacqueline is and what drew her to this story, about America's persistent history of lynching, about how silence limits the ability for restoration in communities, and about the responsibility we all share to change the status quo.
"The more people know about it, that's my way of grieving. The more they understand and hear his story, that's my way of grieving." In a way, Ms. Claudia Lacy's participation in Always in Season is yet another form of grieving. On August 29, 2014, her seventeen-year-old son Lennon Lacy was found hanging from a swing set, twenty days after Michael Brown was killed by police in Ferguson, Missouri. Local officials in Bladenboro North Carolina swiftly ruled Lennon's death a suicide; however, Ms. Lacy believes Lennon was killed. Since his death, her family, members of the community, and the local chapter of the NAACP, have rallied together in search of justice. They're demanding a proper and complete investigation into Lennon's death.
For Jacqueline, everything started in 2008, when she was researching lynching by speaking with top scholars and analyzing published postcards and photographs to further her knowledge about the traumatizing impact lynchings had on American cities. Lynchings were accepted public events advertised in newspapers, and postcards were sent documenting their spectacle. This documentation of smiling and wide-eyed spectators next to bodies of predominantly black men gave Jacqueline an idea. She decided to identify these spectators, to locate their living relatives, and to see the extent to which they continue to experience trauma from these lynchings. Jacqueline understood that the spectators and those performing the lynchings all took home their own trauma just like the people whose family members were killed by them. Everyone involved in these events, Jacqueline explained, might not have had a chance to unpack that they had just witnessed a murder, that they saw their family members kill someone, or that they must grieve the death of a loved one caused by their own community. As this research was taking shape, news of Lennon Lacy's death surfaced and took her in a new direction.
Jacqueline quickly familiarized herself with the facts regarding Lennon's death and reached out to Ms. Lacy to discuss the case. It didn't take long before she noticed the haunting parallels from her research to Lennon's death, and that realization gave her the idea for Always in Season. Jacqueline, a black woman from Mississippi, expressed both personal and professional reasons for telling this particular story. In 2014, her son was also seventeen years old and together they grappled with the fact that as a person of color, he may be seen as a threat within their own community and could face the same type of violence. As an activist and a filmmaker, Jacqueline had a strong desire to expose the atrocities experienced by the African American community, to provide a historical context which would explain how dehumanization encouraged lynchings, and to inform viewers about those currently trying to repair the damage caused by what had happened centuries ago.
Always in Season introduces Lennon's family, friends, and fellow Bladenboro community members, as one of the latest in a long line of African American communities seeking justice for the loss of one of their own. The film recognizes that we live in a world where inequality and injustices readily exist; however, it explains that complacency has been adopted in order to hide behind history. This hiding may be comfortable and easy on the surface, but it does not allow for uncomfortable conversations to occur that will spur recovery. During the filmmaking process, Jacqueline dedicated time to have her own conversations where she addressed her emotions, both known and unknown. She attributes the intimate conversations she had with herself and others as a way she dealt with her own trauma. This is an ongoing process, Jacqueline said, that one must consciously pursue to release the deeply seeded emotions that we may or may not know exist. Without this personal investment, reconciliation within affected communities and important conversations will not take place.
There were times when Jacqueline wanted to cry. Bringing Lennon's story home was difficult because it meant confronting the idea that the injustice of his story is a daily reality. In spite of the way it moved her, Jacqueline still maintained a professional distance so that she could tell this story with the objectivity needed to drive home her message. She anticipates that by watching this film, viewers will be able to process their own beliefs and repressed emotions, which will provide an opportunity for community organization and engagement that will drive social change. Addressing these issues head on, will also allow viewers to gain an understanding of how racial terrorism continues to contribute to public lynchings, and how systematic racism has led to mass incarceration, racial disparities, and gun violence toward the African American community.
Jacqueline was very thoughtful in her editing choices throughout the film. After re-watching her footage, she decided that particularly terrifying scenes, such as the historical reenactment of the Moore's Ford bridge lynching, would create a visceral response amongst audience members. It was one I felt as I was swept up by its chaotic confusion. I tried to figure out how this footage was obtained, wondering how I was witnessing a murder, and feeling horrified that I was completely unable to intervene. As a result, Always in Season had an immense impact on me.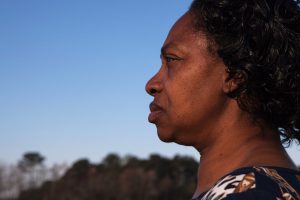 While I'm often reminded of the common paradigm that those who don't know history are doomed to repeat it, the film helped me realize that those that do know history can utilize the past to justify their actions. We must always ask ourselves; which perspective is history favoring? Who is able to provide an account of events that are readily accepted as valid and whose stories are quickly dismissed? Some people pass along their community's history verbally, whereas others may write it into books. By providing space and legitimacy to accounts not often accredited by Western historians, such as oral history, a bigger picture is revealed to the masses. Narrative pieces, Jacqueline explained, enable people to immerse themselves into a new world, or the living room, of those that are directly affected by an event. This makes the film's lessons more digestible, while also providing much needed representation for those that have experienced similar situations, to ensure that others can understand their experiences.
Throughout her film Jacqueline provides accounts across a broad spectrum to serve numerous communities and provide insights that are often left out of American history. While I never knew much of the history surrounding lynchings, especially how they were readily advertised, or how community incidents could be blown out of proportion to justify lynchings, the film moved me to feel immense sympathy for those that lived through these times and those who continue to be the target of this kind of violence. I was quick to write off white people for their lack of intervention and moral judgement during lynchings, but Jacqueline reminded me, white people also had to digest the fact that they just witnessed a brutal murder and watched as their parents cheered on or contributed to the death of innocent people. This thought never occurred to me. It helped me understand that there was trauma on both ends and by failing to acknowledge this, the silence that comes along with centuries of guilt and shame will continue to allow this oppression. Only by taking off the blanket of comfort can we all see the light of day.
I asked Jacqueline: how do journalists and directors utilize our platform together in order to better society? When directors create films to spur conversations and change, they should be met with acceptance and excitement; however, they often face backlash because they're trying to shed light on issues that society has attempted to bury. Funds; therefore, become increasingly rare, or not at all available for directors on the path for truth. Many distribution companies are skeptical that these films will be profitable as they will not resonate with their key consumers, likely to be older white people, so they become hesitant to invest in a director's projects. When pitching her film to distributors, Jacqueline didn't meet with much success due to what she suspects was a lack of interest toward appealing to African American filmgoers, and the overall story of the film. Fortunately, she received artist grants from the Sundance Institute, IITVS, Ford Foundation, and Firelight Media; by combining those grants with her own savings she was able to self-distribute. Thankfully her personal investment was met with enthusiasm from audiences and film festivals. People from every community and background showed up to support her film. Recognition from the festival circuit also played a major role in validating the power of film as its impacts reverberated nationally.
The media industry claims to be as inclusive as it is progressive, yet it is run by money and the idea of cultivating a massive profit, often stopping necessary films like Always in Season in their tracks. As journalists, we too must to interview distributors and speak to directors about their experiences with distribution in order to get to the heart of the matter. As audience members, we are active consumers, we decide who we want to support, and our material support proves to distributors that these stories do matter and need to be funded. For white people, it is our job to come together, talk about how communities have been demonized throughout generations and what we can do to address the constant harm inflicted upon these communities. We must also be open to being challenged and questioned about our role in institutional racism as well as the benefits it continues provides to us.