Sustaining Joy and Creativity within a Pandemic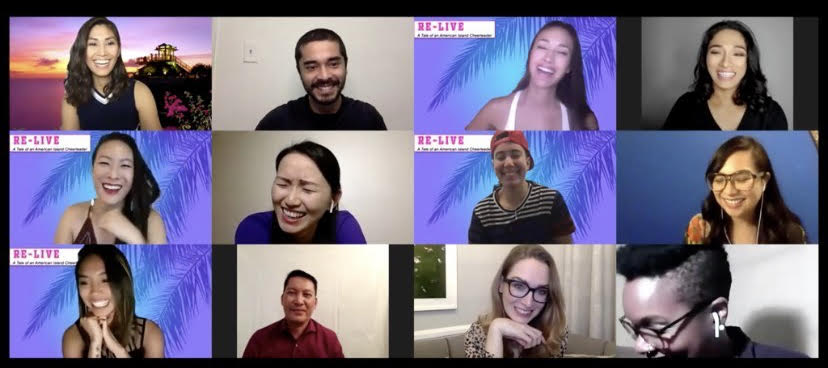 We find ourselves in a global pandemic, quarantined in our homes, and collectively isolated from our loved ones. Members of the Black community are facing police violence and murder at an unwavering rate and the Trump Administration continues to avoid acknowledging these atrocities; yet, thousands of protesters have turned up in order to speak out against police violence, the need to defund the police, and to ensure that everyone knows that Black Lives Matter. Throughout the protests, I have seen countless social media posts explaining that self-preservation is a critical aspect of activism, the gravitation and consumption of various art forms and media and seeking out comfort and validity; have become crucial parts of our survival and daily experience in quarantine. I spoke with Rain Valdez, actress, filmmaker, and founder of ActNOW, to further understand the challenges of being an artist under quarantine. Specifically, we talked about how she's been able to maintain her creativity, the intersection of Asian American Heritage Month and Black Lives Matter, and debunking the common misconception that Guam is an international island (Guam is, in fact, an American Island). Re-Live: A Tale of an American Island Cheerleader was written by Rain Valdez and won Inside Out Festival's pitch contest, Pitch, Please for the short film category in 2019. Knowing the potential to reach a massive audience, Valdez teamed up with Rachel Leyco to expand the script to reach feature length for the big screen.
Re-Live: A Tale of an American Island Cheerleader is a feel-good romantic comedy everyone can enjoy. Rowena, played by Valdez, is first introduced as a high school student in Guam, about to start her new life in Los Angeles, California. When we fast forward ten years it appears as though Rowena has everything she has ever wanted; Rowena has become a successful actor, is constantly surrounded by the validation of her identity, and is making good money. However, she continues to have a strained relationship with her sister. When Rowena receives multiple calls from her sister with an urgent message to return home, she does. Upon her arrival, Rowena bounces between her family and attending her high school reunion in which she has the opportunity to relive her high school experience, including an opportunity to try out for the cheerleading squad. Rowena discovers family secrets, the importance of forgiveness, and second chances, as well as recognizing the love and acceptance she deserves. While the location of Guam is not new to Valdez's work, she was brought up there, she has identified Re-Live to be the most personal script she's written to date. Valdez recalls similarities from her to Rowena's, including the dream to become a cheerleader, as Valdez watched her friends and sister on the sidelines as they cheered in high school.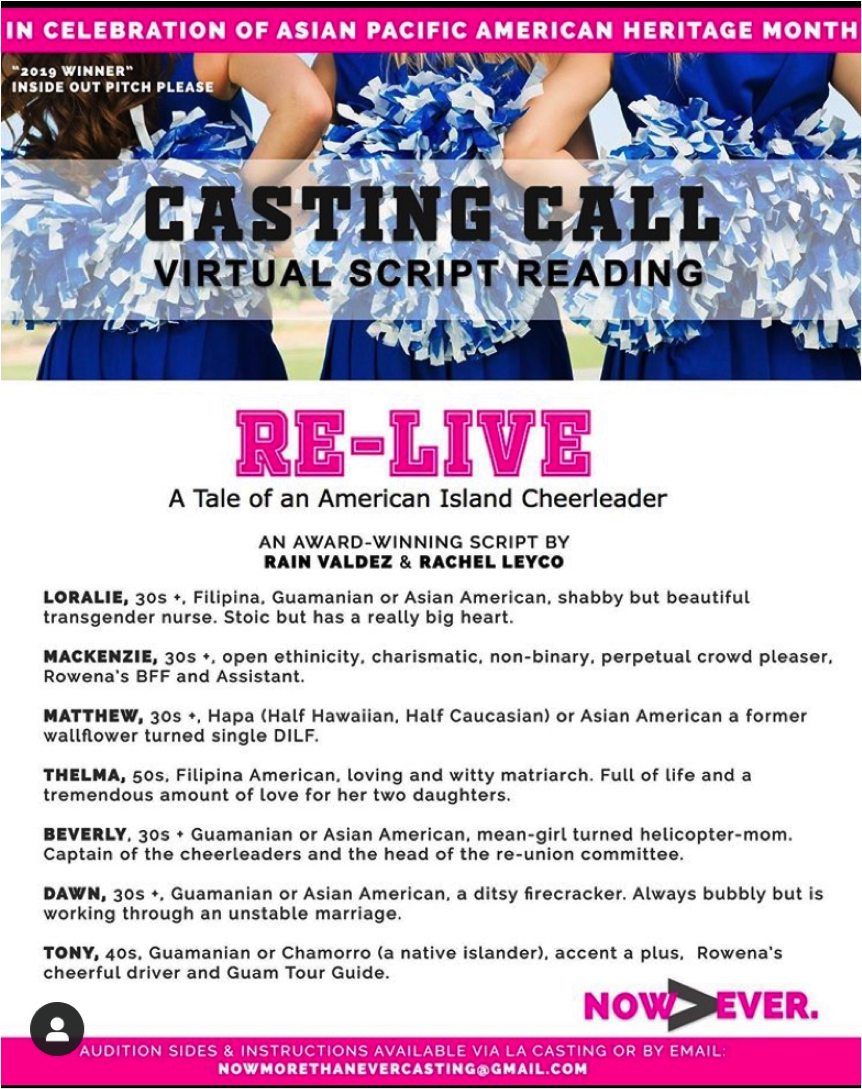 Throughout quarantine, Valdez and Leyco worked diligently on perfecting the script, which as Valdez recalls, was equally as fun as it was challenging. Valdez admits that one of the largest hurdles within the writing process was thinking she could write a feature on her own. Understandably, the length required to meet the standards for a feature film are daunting. Fortunately, Valdez found confidence to ask Leyco for help in the expansion of the script. Valdez and Leyco's writing styles certainly compliment one another. Valdez shines with her witty dialogue and comedic skills while Leyco has an incredible sense of organization and structure she brings to scenes all while taking Valdez's thoughts and making them into reality.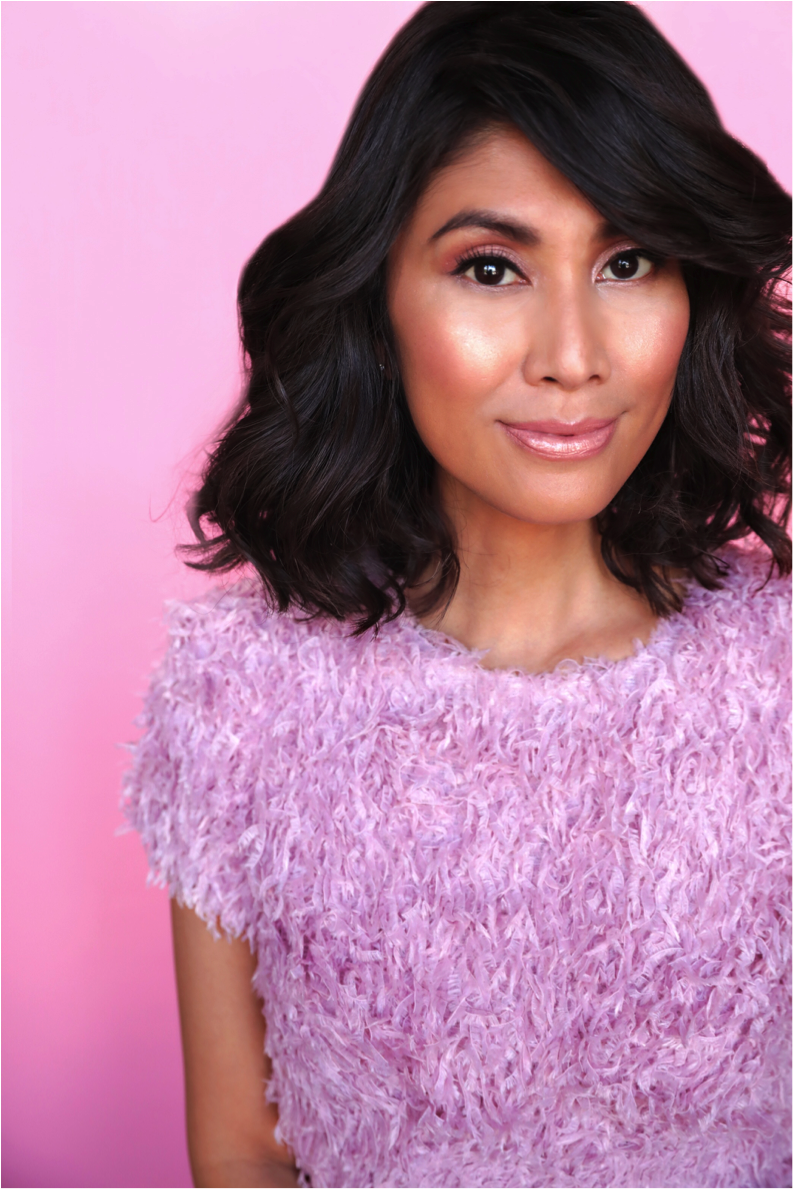 Once the script was perfected, Valdez and Leyco began pitching it to anyone who was willing to listen. Simultaneously, the pair began to cast for the script-reading. To provide the adequate representation needed to tell the story, Valdez and Leyco, as well as many other supporters, shared posts on social media promoting the need for Asian American, Filipina, and Guamanian queer talent.
One of the reoccurring themes in Valdez's work is drawing from her upbringing in Guam. By speaking about and presenting Guam within her stories, Valdez is able to expand the image of "typical" American stories to include a part of America that's rarely shown to provide adequate familiarity. Before the live reading took place, Valdez candidly admitted that she was feeling a tad lackluster about her performance. George Floyd was murdered just days before the reading, and Valdez wasn't sure how much energy she had to expel for the performance.
Valdez knows she is often the only representation for Asian American transgender women within media. The media exoticizes and objectifies Asian American women, particularly those who are transgender, and harmful stereotypes used in these films and television perpetuate violence against these women. Valdez does not take this lightly; she is intentional in centering her experiences in her work to raise awareness, create visibility, and do her part to create genuine narratives for those without representation. The live script-reading for Re-Live was in May, the same month we celebrate Asian American Heritage Month (AAHM). This was no mistake; Valdez knew she wanted to raise awareness toward AAHM and essential resources for the community. The tickets proceeds, pay-what-you-can, went to APAIT (https://apaitonline.org/), an organization that prioritizes the healthcare for transgender people of Asian American Pacific Islanders (AAPI) and Latinx identities. This donation to APAIT comes at a time where the Trump administration passed a law allowing doctors to deny medical treatment to transgender and gender non-conforming (GNC) individuals. This law directly impacts the livelihood of transgender people, especially those of color, as they are more likely to face multiple socio-economic hurdles. As an Asian American transgender woman, Valdez continues to utilize her platform as a means to protect transgender and GNC lives, as well as fight for the rights of POC against the oppressive system we live under. Valdez suggested that we utilize this article as a means of educating and inspiring the change needed to create a larger discussion of the intersection of Asian American Heritage Month and the Black Lives Matter Movement (BLM).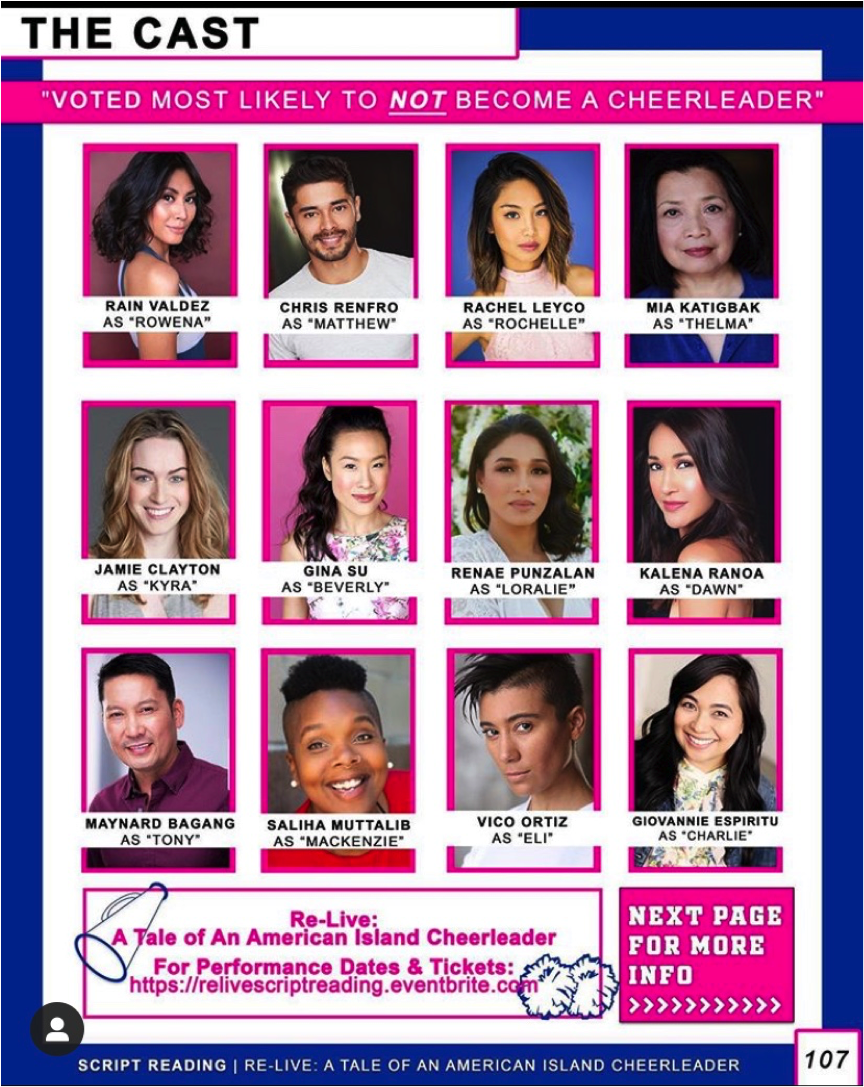 To understand this intersection, you need to understand that America was built upon the backs of enslaved laborers and immigrants. Government buildings, like the White House, were constructed by enslaved individuals. The cotton industry, which set the precedent of a booming economy associated with the United States, would not exist had it not been for those enslaved and working unpaid in the fields. The truth behind America's success is intentionally kept out of national discourse. It's meant to highlight America's success without Black intervention. The same whitewashing of history can be seen in other groups too. The contribution of Asian Americans, who built the railroad systems, mined in the mountains, and were agricultural workers is rarely discussed. Together, Asian American and Black communities fought for civil rights as a means to break free from a country that ignored their existence. The Black community has an extensive history of protesting alongside oppressed minorities and helped create models for fighting for equality for Asian Americans, Native Americans, Latinx people, and the LGBTQ+ community. The Asian American Civil Rights movement was largely inspired and supported by the Black community. Collectively, these communities have continued to fight and demand justice together, as a family, and continue to unapologetically be themselves as they spread their belief that everyone has a right to be seen, heard, supported, and to live.
The absence of accurate depictions of people of color, particularly those who are Black, as well as the absence of transgender people in mass media create a world narrative based upon stereotypes that leads to dehumanization. When our stories are told by those that live these experiences, there is a greater opportunity to see these individuals as a whole person, not just for one aspect of their identity, and to push these harmful stereotypes to the side. I implore you to follow in Valdez's footsteps, create the change needed for Hollywood. Valdez knows the value of sharing your story. Despite what Hollywood's focus on a bottom-line or the "unrelatability" of stories for the general public, Valdez believes these stories, your stories are able to reach a global audience. After finishing the script-reading, Valdez expressed that, "[The] script is so fun and lighthearted that I realized performing this and feeling the joy is an act of revolution and an act of love." Valdez hopes that once this film is produced people will get to experience that same joy and take that into their lives. Educate yourself on different ways people thrive, develop empathy, and fight for their rights. Supporting this media with your money demands Hollywood back more. We are here and we are watching. Valdez, who strongly believes the best story always comes from what you know, encourages others to start their writing process and be the change within the industry.
---