The Tale of Two Star-Crossed Friends
Would you ever want to go back to your childhood? If so, what would you enjoy most about that trip? I would give anything to feel the unadulterated pleasure that rushed through my body when I learned something for the first time. "Gossamer Folds," directed by Lisa Donato, made its premiere at the 2020 Bentonville Film Festival, followed by a screening at the 2020 Outfest Festival. The film stars Jackson Robert Scott, ("It," "It Chapter Two," "The Prodigy," and "Locke & Key"), Alexandra Grey ("Empire," "How to Get Away with Murder," "The Alienist: Angel of Darkness," and "Transparent"), Sprague Grayden, ("Paranormal Activity 2 and 3," "Six Feet Under," and "Jericho"), Shane West, ("A Walk to Remember," "The League of Extraordinary Gentlemen," "What We Do is Secret," and "Echelon Conspiracy"), Franklin Ojeda Smith, ("Invincible," "Blindspot," "Boardwalk Empire," and "Footsteps in the Sand") and Yeardley Smith ("The Simpsons," "Maximum Overdrive," "As Good as It Gets") who also is one of the producers of the film.
"Gossamer Folds" is seen through the eyes of a young white boy named Tate, (Scott) as he moves from a big city to a small town in Kansas with his parents Frannie (Grayden) and Billy (West) during the summer of 1986. Tate soon discovers there are few young boys in his neighborhood and soon longs to socialize with kids his age. In between learning how to skateboard and teaching himself new words from his trusty dictionary, we catch glimpses of a failing marriage inside the house. While escaping from the family stresses outside, Tate catches the eyes of his Black neighbors, The Bryants. He befriends Edward (Smith), and his transgender daughter Gossamer (Grey). While he struggles with his parents' fighting and their transphobia, Tate and Gossamer build a secure relationship that changes both of their lives. I had the utmost pleasure of speaking with Grey regarding her role in the film, the value of showcasing Gossamer and Tate's friendship in a movie, her role as a pioneering actor, and taking rejection with grace.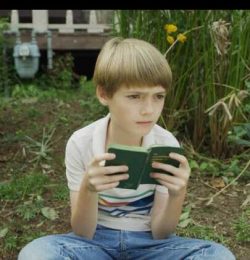 From very early on in the film, we are given a close look into Tate's hobbies, his favorite without question is learning new words and discovering their meaning. However, Tate doesn't like being told their definitions and instead looks up the definitions himself, often mid-conversation, and is thus never without his pocket-dictionary. Equipped with never-ending youthful curiosity, Tate wants to learn about his neighbor Gossamer. After hearing his dad use derogatory words to describe her, he logically wants to find out about herself.
As Tate learns about Gossamer, a seamstress who creates dresses for shows in Kansas City, the parallels between her and Frannie, a seamstress who sells bridal gowns in town, become more tangible. These carefully selected hobbies seamlessly present Gossamer as the woman she is, compared with most films that rely heavily on highlighting one's transition as a significant aspect of their life, which creates sympathy for her. This helps establish who she is on her own terms as the world inside of her father's house is very different from the one she lives outside the door.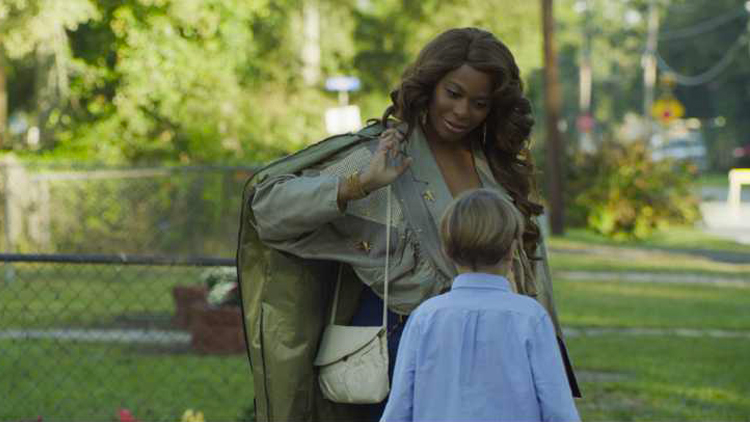 Grey, a multimedia artist, has many talents beyond her extensive acting career. This role, however, really jumped off the page and into her heart. Grey was not only able to relate to Gossamer and her story but saw parallels of her own life experience within the script. Grey also informed me of how special and ultimately rare it is to find a script that specifically calls for a Black transgender woman. Grey was selected following her first audition, her talent without a doubt contributed to acquiring this role but also her ability to bring in genuine authenticity to Gossamer's life. For Grey, creating an authentic character comes from both the writing room and casting of a film. Casting someone with lived experience, she informed me, is critical. Unlike the many cis men who often play transgender women, Grey doesn't have a costume to take off as she leaves work, as she lives and breathes as a transgender woman every day. Therefore, she doesn't have to play into the all too common caricature of transgender women in the media.
One scene that stands out, in particular, is a scene in which Gossamer is painting Tate's fingernails. He smiles so purely at his newly polished nails, and gleefully expresses how much he loves them. The bond between the two and the ability to explore untapped parts of themselves is incredibly moving. Not only does Gossamer create and hold a safe space for Tate to come into his own, but she is also there to provide an alternative picture of what it means to be a boy. This is undoubtedly a lesson and experience he would not learn at home. Another standalone scene is where Gossamer is shown with fireflies in a white dress. I have to say – this is one of the most beautiful moments in the movie. Gossamer appears as a dreamy goddess and Tate confidently approaches Gossamer, his eyes calm and glistening, comfortable with the woman and mentor in front of him.
Typically films that involve transgender adults often paint them in a negative light and they are rarely seen interacting with children. Not only does this film take this "road less traveled," but it also provides an image of how characters that have grown up in different cultures and taught other things can come together and form a beautiful friendship. To ensure the bond would come through as genuine, Grey and Scott got together as much as possible before shooting. Grey informed me that production was set in Louisiana, and the two, including Scott's mother, were at the same hotel. The three would have dinner together to really build up their relationship. Grey and Scott also visited New Orleans together, which opened Grey's eyes to his energetic and curious nature, undoubtedly increasing the confidence and bond with one another.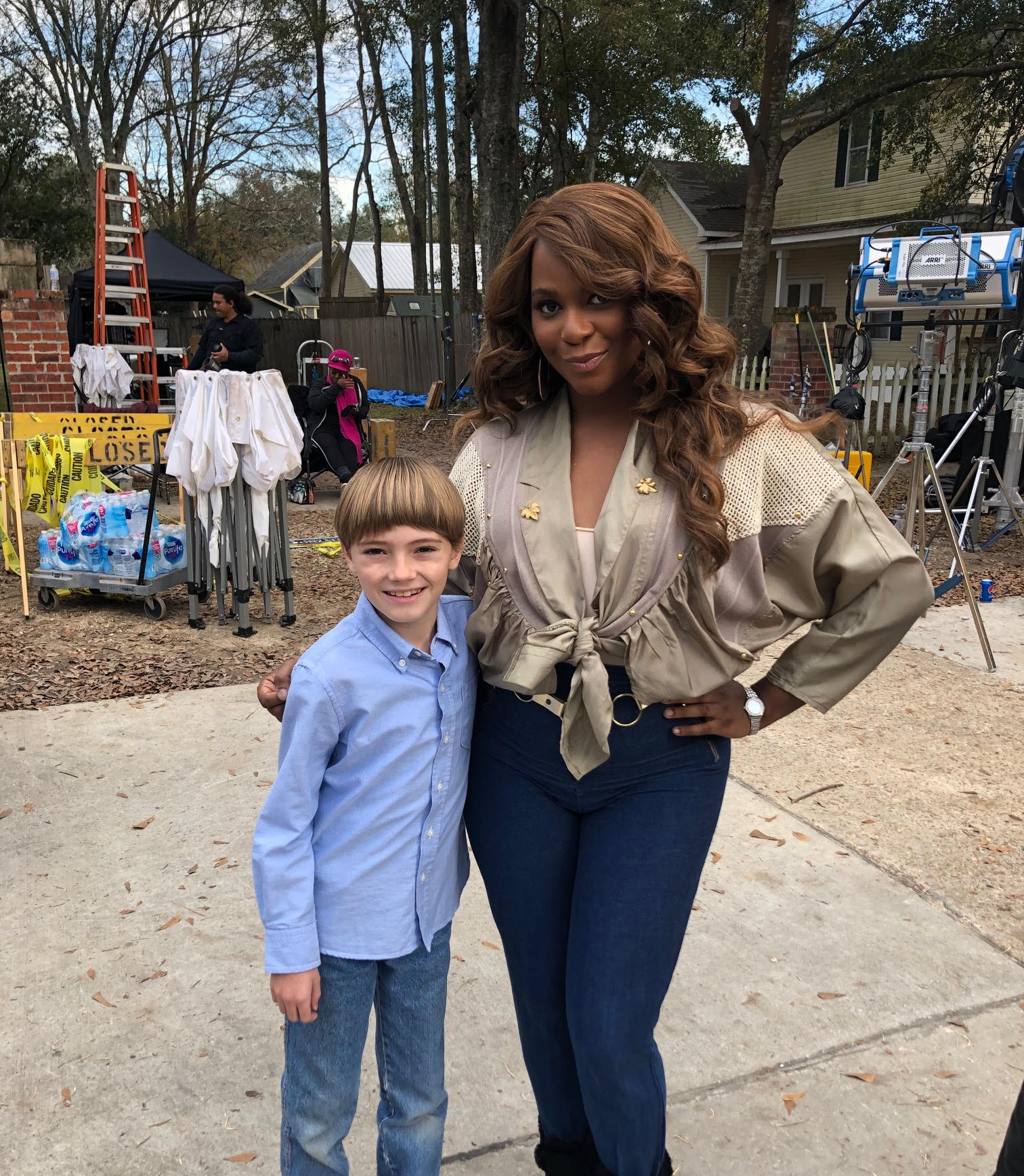 Grey reflects on the privilege she has with acting, specifically for the roles that she has landed that increased visibility of Black transgender women. This visibility is life-saving for many and finally allows girls and women alike to see themselves on screen. The many roles in which Grey has portrayed a transgender character, she says, will provide the possibilities for a greater perspective on what transgender characters can be. She and the many women who came before her are pioneering a trans-inclusive industry that is to come. Grey hopes that transgender characters will be on the screen one day and finally seen as people, without needing to explain their gender journey. For Grey, she has experienced rejection in the industry for many reasons, but she remains very positive about it. Grey expressed that there are a lot of no's in the business. Still, she often reminds herself that, "Rejection is god's greatest protection," which guides her graceful nature throughout the painstaking audition process. She believes the roles that are meant to be, will come to her, and those that don't weren't meant to be, and that is okay, she doesn't have to waste time thinking about it; instead, she can move forward to the next audition. She moves on with absolute trust in God and that the right role will be coming around the corner.
"Gossamer Folds" is a powerful film in every way imaginable. This film not only brings to the screen challenging family dynamics, both those we are born into, and those we choose as family in order to accept and support how they live their truth unconditionally. "Gossamer Folds" also teaches the audience about the unfiltered joy and value that children can bring out in people, as they have a wisdom of acceptance that often fades as we get older. This film's strength is its ability to provide an utterly humanizing example of a woman and not get caught up in the details of her transition. While Gossamer has struggles, just like all of us, her life does not revolve around those struggles. She is seen standing up for herself and what she believes in, doesn't let anyone beat her down, and can define success on her terms. Gossamer's compassionate nature proves how important it is for all of us, as individuals, to be kind and accepting of others despite what lessons we might have been taught as children. I highly suggest watching this film for yourself and allow yourself to get swept up by the beauty of pure humanity, it is incredibly captivating.
---