The Gay Agenda is Alive and Well: These Thems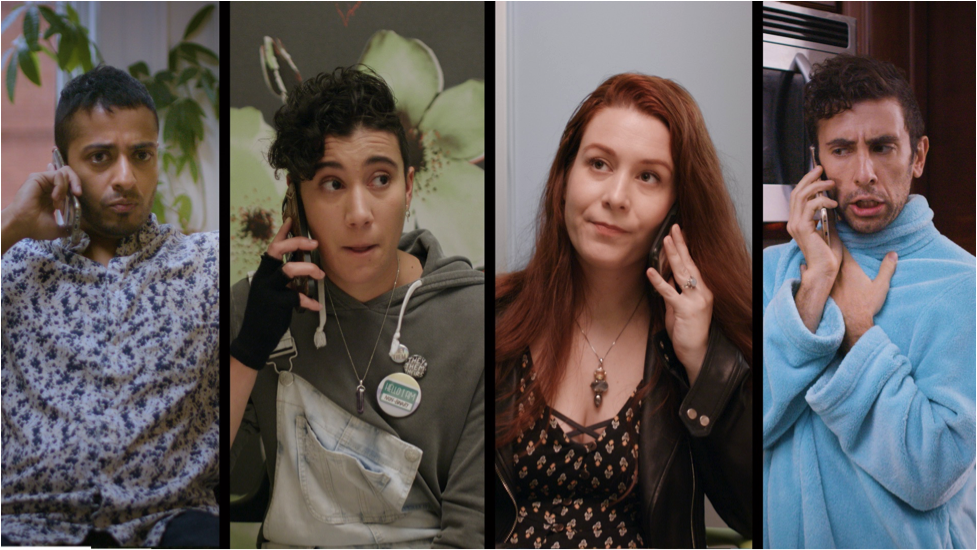 "Look at all these…thems, shes, hes, zirs…" Vero says, leaning against the bar, as the smile of a proud parent reaches across their face. This scene ends with a powerful, incredibly joyful, dance montage overlayed with the Hallway Swimmers' Night Out, "We are the lucky ones; we have already won. We are together now. Can't you hear us shout?"
"These Thems," a romantic comedy episodic, had its debut at the 2019 Outfest Film Festival and has been actively traveling the festival circuit. Most recently, "These Thems" screened at the 2020 Bentonville Film Festival (BFF). The BFF aims to magnify the voices of women, LGBTQ+, people of color (POC), and people with disabilities within the entertainment industry. "These Thems" is truly a standalone within BFF's Episodic category. Creator Gretchen Wylder joins forces with director Jett Garrison and producer Sophia Clark to release a comedic series that centers on the romantic entanglements of LGBTQ+ New Yorkers. The show stars Vico Ortiz ("Transparent," "Vida," "American Horror Story," "The Fosters," "Jane the Virgin," "Everything's Gonna Be Okay") as Vero, Shaan Dasani ("Eat Your Words," "Criminal Minds: Beyond Borders," "Razor Tongue") as Asher, Nick Park ("Off Broadway: Bedbugs: The Musical," "Merrily We Roll Along," "First Date," "Little Shop of Horrors") as Kevin, and Gretchen Wylder ("Rent," "Avenue Q," "Urinetown") as Gretchen, a character loosely based off of herself and the experiences she had when living in New York. "These Thems" follows Gretchen as she takes the front row seat on her very own roller coaster ride of sexuality; however, as we all know, this seat is notorious for providing the vertigo on long climbs and first screams all while providing incredible views of the theme park. Gretchen's experience of struggling to embrace her sexuality and find her place within the community will feel familiar to those who have had similar moments of finding love and friendship while trying to come to terms with their own attractions. I had the pleasure in speaking with Wylder regarding "These Thems," her first film project, the empowerment that comes with queer comedy written by and for the LGBTQ+ community, presenting queer friendship on screen, educational activism within the show and the writing room, and the next steps for the distribution of "These Thems."
While the episodes are part of several film festivals, "These Thems" also made its public online debut on Feb. 27, 2020 on YouTube. The brilliant writing, character development, and pure queer joy embodied in this series garnered 250 thousand views within the first month of posting. Then the state lockdowns happened just as the third episode rolled out. As we slowly discover the effects of the lockdown on individual's mental health, including the effects of trauma, isolation, and environmental changes, this time has also demonstrated the power of resiliency associated with the LGBTQ+ community. "These Thems" has provided a way for LGBTQ+ people to reunite with their community for a laugh even if they cannot physically meet. Wylder is not the first to recognize the necessity for comedic relief during these perplexing times, but she provides a temporary mental escape from the constant police brutality against the Black community, specifically the increased rate of hate crimes and murders against queer and transgender people of color (QTPOC). The LGBTQ+ representation on screen in "These Thems" reminds us of the human connection and love that the LGBTQ+ community provides, even when we are all in quarantine and without the physical community.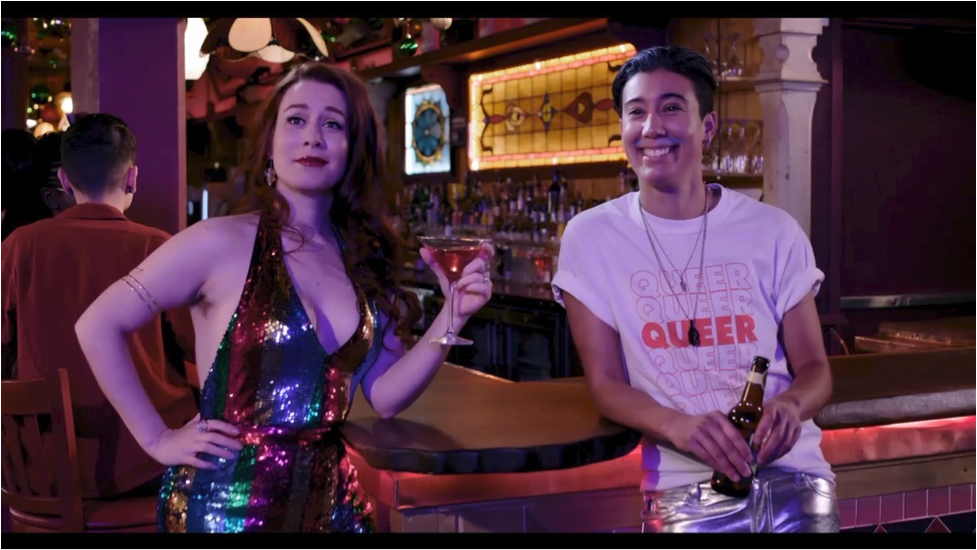 "These Thems" functions beyond a romantic comedy, as it provides a powerful, yet approachable, educational resource for allies as well as members of the LGBTQ+ community that would like to further their knowledge in the experience of transmasculine and non-binary people. "These Thems" begins with Vero, a nonbinary identified person who uses the pronouns they/them, speaking to their best friend Asher, on the phone. As we listen into the phone call, we find out that Vero is in need of help: they need to mentally prepare for their appointment at the gynecologist because this is "smear year" for them. We watch as their entire appointment is spent educating their gynecologist about their identity, rather than focusing on the reason as to why they came in the first place. This is in stark contrast with Gretchen's experience, as her gynecologist begins her exam immediately. During her exam, Gretchen finds herself becoming aroused by the touch of her gynecologist, Dr. Butcher. While the lives of both characters have changed following this appointment, it is clearly evident that the experience of one member of the LGBTQ+ community does not suffice for all members. As the series progresses, Vero discovers they have a knack for LGBTQ+ education and takes the opportunity to become a straight whisperer and simultaneously takes Gretchen down the rainbow-brick-road of self-discovery and sexual liberation. One of the lessons Gretchen learns is about the various way in which lesbians present themselves and the terms that they associate themselves with, for example Vero covers identities from femmes to butch, all while taking a jab at the stereotypical femme-butch couple and the heteronormativity that comes along with that relationship.
The jokes are key to the series as the upbeat humor shifts away from the all too common negative narrative, trauma heavy, and disownment facing LGBTQ+ characters. This is not only refreshing as a viewer but reminds us that despite the hardships that may come with embracing our true selves, we have a wonderful community that will embrace and support us.
The show, as Wylder explains, hooks audience members with the idea of a lesbian coming out story but expands the narrative to include queer, non-binary, and transgender points of focus. Wylder's goal with "These Thems" is to expose the world to people of all genders and their intersecting identities – a community to which she is very familiar with. Further, the series explores more than gender identity, though, as it speaks to sexual empowerment, self-acceptance, self-expression, and the challenges that are associated with navigating the corporate world as an LGBTQ+ person. Wylder strongly believes that no one has all of the answers as we are all learning and growing together. The characters exemplify this as they try their best to navigate the community at large. Each character has something new to learn, and ultimately accept, about themselves which provides a template for how this process looks for a range of people. The heart and authenticity of "These Thems" was a very important factor for Wylder. Wylder attributes the authenticity of the series to the casting of LGBTQ+ actors for the queer roles, cisgender and heterosexual allies in the straight roles, and a crew that reflected the experiences and identities of the actors. Garrison, for example, is a transmasculine person and was able to provide a greater depth of knowledge to the transmasculine experience compared to Wylder. It was important for Wylder to have these identities as authentic as possible because the focus on transmasculine and nonbinary identities, is sparse as these voices are just beginning to gain traction.
"These Thems" provides beautifully drawn out characters, providing education and insight, as well as realistic character development to keep you invested. The group of friends have an intimate bond with one another which emphasizes the power of living authentically as you will be able to find friends that support you unconditionally, for you truly are. Gretchen has an undeniable character arc. Notably, Gretchen begins the series, assumingly, unsatisfied with her love life and isn't feeling too sure what to look for next. As she discovers and embraces her true identity, she flourishes before our eyes. She is able to not only make up for lost time, being encouraged by Vero to explore the many "thems in the sea" but reclaims her sexuality and the liberation that comes with doing so. Though we do not see much of Gretchen before she has discovered her identity, we can make conclusions based on the aftermath of her coming out. Most noticeably her body posture changes, she becomes physically more open as she is comfortable taking the space she rightfully deserves. Her confidence is seen radiating off of her as she proudly announces her desires without shame. This evolution is very fundamental in the show because Gretchen's energy is the momentum for the pacing of the show. As Gretchen becomes educated on queer identities, she happily takes on the role of ally as she is seen standing up for her fellow LGBTQ+ community members on various occasions. The charismatic and informative nature of the series allows for conversations and questions to be brought to light – for all people, despite their sexual orientation or gender identity.
There is an addictive quality to this show: I find myself watching it over and over again because of the personal connections I have been able to make with each character and the rare emphasis on queer joy. It is the pride that everyone has for themselves and the community around them that brings a smile to my face with each re-watch. The writing in "These Thems" also grabbed my attention. The jokes that often feel like inside jokes to the LGBTQ+ community are not only incredibly self-aware but also relevant to both the current political environment and heated topics within the LGBTQ+ community. Wylder is able to provide space for queer people to laugh side-by-side, to be the center of comedy, rather than being the butt of jokes told by their cisgender and heterosexual counterparts. For example, Kevin is shown in the series grappling with his attraction to Asher, after he finds out that Asher is transgender, and begins to question if he is "any less gay" due to his attraction to a transgender man. Gretchen immediately calls Kevin out for this transphobic behavior and explains it in a way that Kevin will understand, "You love vodka even though vodka was born a potato". This back and forth between the two embodies the rampant transphobic nature of some within the LGBTQ+ community, particularly being noticed on dating apps and the pressure to "disclose" one's transgender identity.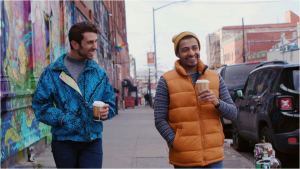 While Kevin is written as the antagonist in the show, Wylder points out, he is able to be redeemed by his eagerness to grow. Slowly Kevin begins opening up to his curiosity on dating a transgender man; specifically, Kevin is seen holding a book titled, "So, You Want to Date Someone Trans," and while he initially puts it down and says, "I don't know…maybe…stop pressuring me", by the time he reads the books' advice on dating trans men, briefly stating, Meet a trans man. Ask him on a date. That's it. The humor and straight forward nature of the show was intentional for Wylder. She has found that the most effective teaching tool is laughter. Which is why each of these characters and the scenarios they find themselves in, to draw a parallel toward the necessary conversations that have to be had both inside and outside of the community. None of the characters are villainized, instead they are all shown with an equal willingness to learn, to fall down and get back up again, despite their best efforts, as it is only realistic to know we will never be "perfect." One of the most pivotal moments is when the group of friends attend a gender reveal party, where we are introduced to four well-meaning cis and heterosexual white women and witness the process in which they learn about non-binary identities. Despite struggling at first to use Vero's pronouns, one of the characters saying, "You hear that ladies, she's a they," Vero stays calm and decides to use this moment as an educational opportunity. As Vero works their magic, the women are seen actively trying to understand how to use they/them pronouns and how to be a good ally by using these pronouns correctly.
While speaking with Wylder, I being to understand the immense impact this series has had with its many viewers, both inside festivals and on YouTube. Wylder explains that she has received many supportive comments from fans of the show, ranging from feeling validated as they have not yet seen non-binary depictions such as this on screen before and to those that are now confident in coming out to their family and friends. She always wanted "These Thems" to be seen by people from all walks of life and her success has instilled that she has been able to do so. Fortunately, Wylder has written outlines for five seasons and is currently seeking distribution outside of YouTube. Through distribution, she explains, she will be able to create future seasons of the show and continue to diversify the writers' room with QTPOC. Despite the undeniable success of the series, Wylder is not shy to admit that she has faced her fair share of criticism. First and foremost, she recognizes that as a white, cis, queer femme, she has many privileges, and yet has written a series that includes identities that do not reflect her own personal experience. Wylder explains that by hiring the people who have the identities of the characters, she is able to have more authentic scripts.
Wylder has made it clear that she is going to continue to hire writers that can provide authentic voices of diversity in the writers' room. Something that I deeply admire about Wylder is that she is an ally that has taken feedback from the communities in which she wishes to serve, she has not only used her platform as a means to tell stories of those who are frequently avoided in media, but has listened to the feedback and is ready to change. She recognizes where she has fallen short and wants to improve – she is not defensive toward any of her slip ups or having her privileges pointed out to her. This is one of the most valuable part of allyship, to listen and not bring the conversation about you, but rather provide space for those who are experts on their experiences and raise their voices. Remember to do your own research, rather than rely on others to educate you, as this requires a lot of emotional labor on behalf of the individual. Wylder is a great example of the white and cisgender allyship that is needed for structural and institutional change facing the Black community as well as the LGBTQ+ community.
Though we are all facing difficult times, it is important to remember we can take a mental break. "These Thems" not only provides the levity needed to relieve stress from our surroundings but acts as a reminder that the fight for justice is not over. Applying the themes from "These Thems": allyship, educating yourself and others around you, full acceptance of others, should be applied by white people to provide solidarity with the Black community right now – as they have continued to face horrific violence and murder every day. Our strength comes from recognizing the power of our unity not by dividing ourselves. I urge you all to watch "These Thems" and take the lessons, as well as the humor, with you as you continue to press on for necessary change.
---
---
Regions: New York