Boston Asian American Festival Goes Virtual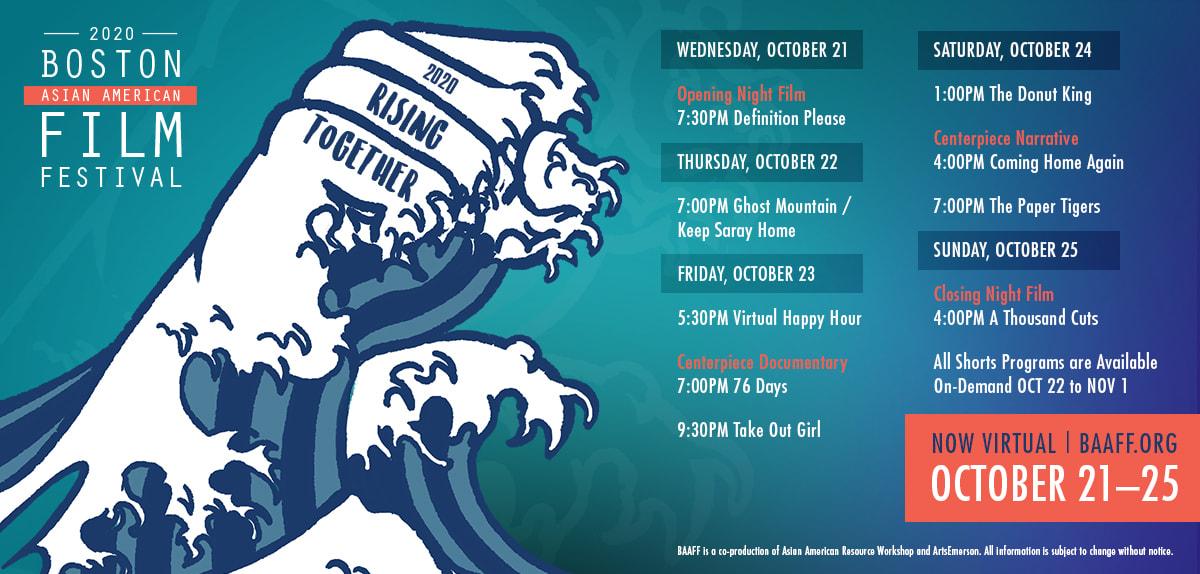 Entering its 12th year, the Boston Asian American Film Festival (BAAFF) will hold its screening virtually from Oct. 21–25, 2020. A co-production of the Asian American Resource Workshop and ArtsEmerson, the BAAFF is New England's Largest Asian American Film Festival with a mission to empower Asian Americans through film by showcasing Asian American experiences and serving as a resource to filmmakers and the Greater Boston Community. All films will be available for virtual viewing during the whole festival and there will panels and Q&As with the directors throughout.
The schedule features a diverse list of short films, documentaries, and panels with the filmmakers, actors, and producers. The festival will open with "Definition Please," a film by Sujata Day, and wrap up on Oct. 25 with "A Thousand Cuts," directed by Ramona S. Diaz. The festival will also have two centerpiece films: the centerpiece documentary will be "76 Days" by Hao Wu, Weixi Chen, and Anonymous. The centerpiece narrative will be "Coming Home Again" by Wayne Wang.
Definition Please; Sujata Day​; USA; 2020; 91 minutes
Monica Chowdry, a former spelling bee champion lives at home with her ailing mother and must reconcile with her estranged brother in order to take the first steps in realizing her dreams and moving on with her life. Subtitled, "Nobody Ever Spells Out How to Grow Up," the film shines a light on the struggles of the South Asian community. The screening will conclude with a Q&A discussion with director Sujata Day, and actors Ritesh Rajan and Anna Khaja on Oct. 21 at 7:30 p.m.
76 Days ; Hao Wu, Weixi Chen, Anonymous; USA; 2020; 93 minutes
​
Raw and intimate, this documentary captures the struggles of patients and frontline medical professionals battling the COVID-19 pandemic in Wuhan. The screening will conclude with a Q&A discussion with director Hao Wu and moderator Callie Crossley on Oct. 23 at 7 p.m.
Coming Home Again: Wayne Wang; USA/South Korea; 2019; 86 minutes
Based on a personal essay by Chang-rae Lee published in "The New Yorker," "Coming Home Again" is an intimate family drama about a mother, a son, and the burden of family expectations. Chang-rae, a first-generation Korean American, has returned to his family home in San Francisco to care for his ailing mother. The screening will conclude with a Q&A discussion with Director Wayne Wang and Producer Donald Young on Oct. 24 at 4 p.m.
A Thousand Cuts; Ramona S. Diaz; USA/Philippines; 2020;  120 minutes
Nowhere is the worldwide erosion of democracy, fueled by social media disinformation campaigns, more starkly evident than in the authoritarian regime of Philippine President Rodrigo Duterte. Journalist Maria Ressa places the tools of the free press—and her freedom—on the line in defense of truth and democracy. The screening will conclude with a Q&A discussion with Ramona Diaz and moderator Trish Fontanilla on Oct. 25 at 4 p.m. This will be followed by an additional livestream Q&A with filmmaker Ramona S. Diaz and Maria Ressa in conversation with Jose Antonio Vargas, Pulitzer Prize-winning journalist and Emmy-nominated filmmaker at 8 p.m. Presented in partnership with the Asian American Film Festival Collective.
---
---
Regions: Massachusetts