Thanksgiving Episodes to Feast on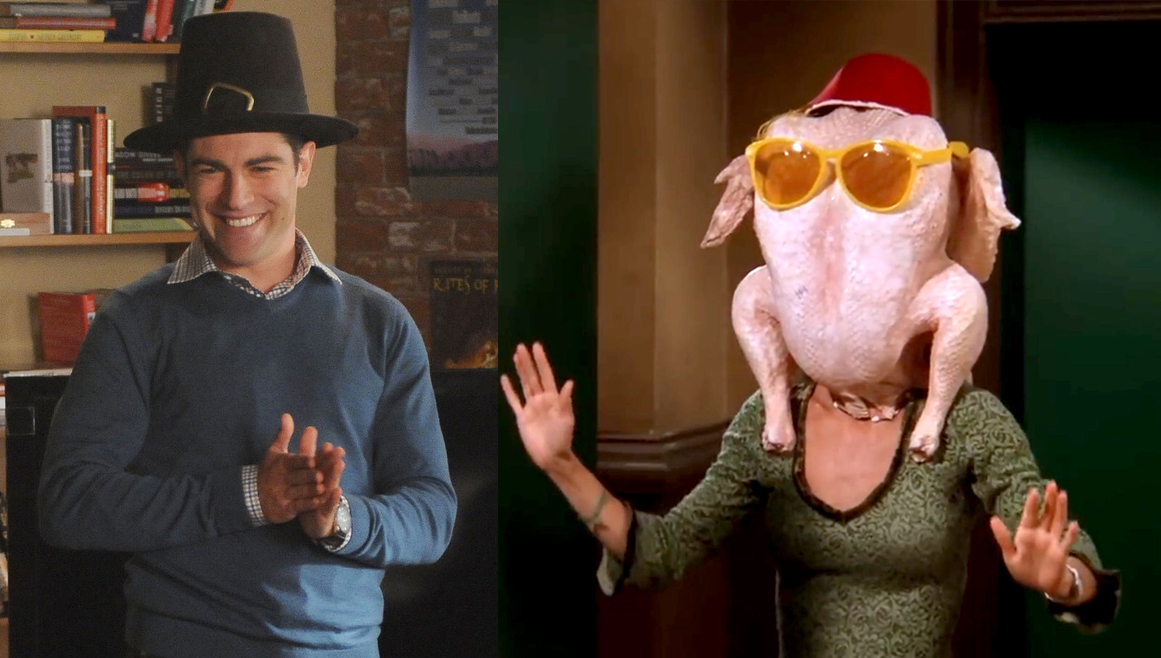 While many shows have put out all the stops for various holidays such as Halloween or Christmas, there are a few shows who have ventured into the land of the Thanksgiving episode or episodes. From classic laughs to slaying spirits, to fighting families and one's sexual identity this list will give you all the feelings of thankfulness—that this is not what your holiday looks like.
Friends
"Friends" is one of the few shows which made a tradition out of its Thanksgiving episodes. It had a Thanksgiving episode for nine out of the ten seasons. Arguably, the best episode is Season 5 Episode 8—"The One with the Thanksgiving Flashbacks." It explores Chandler (Matthew Perry), several of Monica's (Courtney Cox), and possibly Joey's (Matt LeBlanc) worst Thanksgiving. This episode delves into issues of fat-shaming and problems related to getting a turkey stuck on one's head. Though the episode brings up feelings of past hurt and physical pain by the end of the episode everyone has forgiven each other for the mistakes previously made.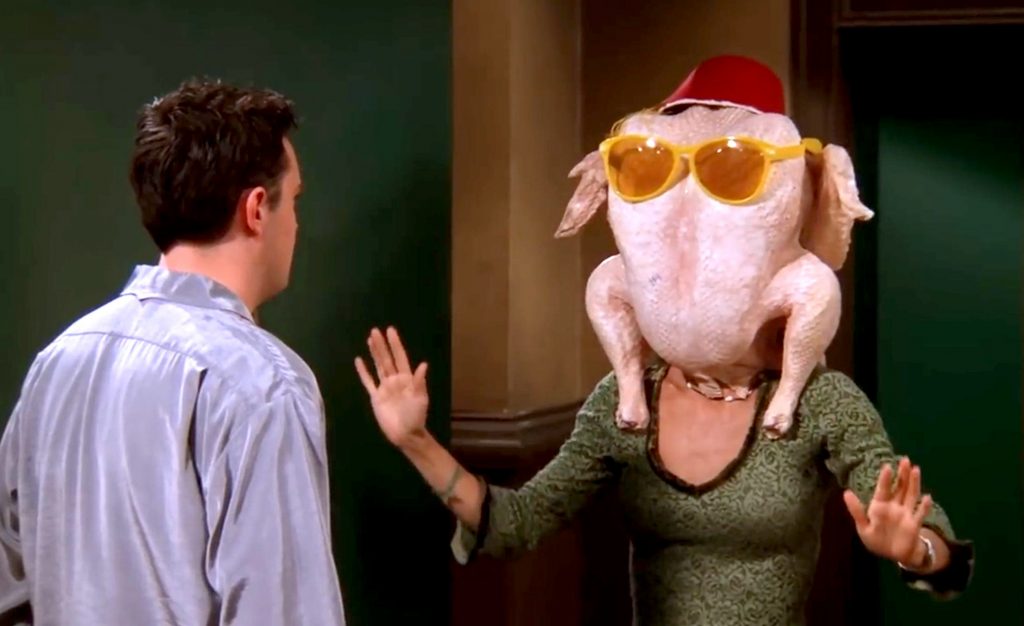 Cougar Town
"Cougar Town" is a great show for fans of "Friends" as it stars Courtney Cox as Jules. In an unconventional Thanksgiving episode Season 3 Episode 13 "It'll All Work Out" Jules decides to host Thanksgiving in May. The whole episode is a joke in reference to the fact that the show "missed" Thanksgiving due to the network's decision to change the airtime of the show to over the summer. Instead, the episode centers around various other things such as Jules creating the ultimate test for Ellie's (Christa Miller)—Jules' best friend— "devil baby" son, Stan (Sawyer Ever), who Ellie wants to be the ring bearer at Jules' wedding. There is also Andy (Ian Gomez), Ellie's husband, learning how to throw a pizza and Jules' son, Travis (Dan Byrd), writes her wedding vows. They do, however, come together for a meal in the end and to say what they are thankful for. It is really just a message about being with people you love and being appreciative that they can—which is what Thanksgiving is about.
New Girl
"New Girl" Thanksgiving episodes always center around the relevant relationships in the show. Whether it be Jess's interest in a new guy in season one or, or her parents in season two. Personally, it is Season 4 Episode 9 "Thanksgiving IV" that takes the cake on Thanksgiving episodes. When Schmidt (Max Greenfield) realizes they are all single, he decides they should set each other up with dates for the holiday. Each pulls a name from a hat and that is the person they must bring a date for. Naturally, chaos ensues as everyone finds issues with the date chosen for them. But by the end, everyone realizes they have more in common with the person chosen for them than they initially thought, and their friends do know them.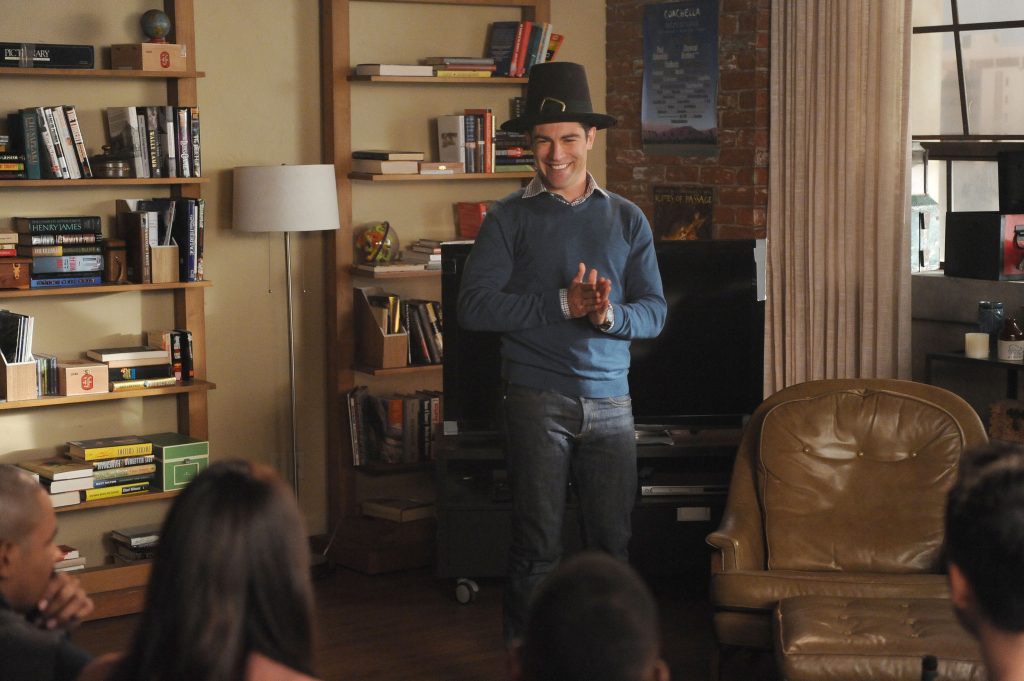 Master of None
Despite the controversy over Aziz Ansari, the Thanksgiving episode on his show "Master of None" Season 2 Episode 8 "Thanksgiving" focuses on his best friend Denise (Lena Waithe), and her sexuality. The episode shows seven different Thanksgivings as Denise grows up. From the first one where she realizes Black is different than Indian, to where she tells her mom she is a lesbian. It is a look into the life of a Black LGBTQ person. While no coming out story is the same, this episode shows just a small part of the fears and feelings they go through when deciding when and who they come out to. The Thanksgiving angle allows the audience to see not only how Denise progresses as a person but how her family slowly starts to come around to who she is and accept that.
Gilmore Girls
Even though the show aired for seven seasons, only one of the seasons actually had a Thanksgiving episode. But Season 3 Episode 9 "A Deep-Fried Korean Thanksgiving" follows Lorelai (Lauren Graham) and Rory (Alexis Bledel) through the various places they stop by on Thanksgiving. Thanks to a guilt trip, Emily (Kelly Bishop) manages to rope Lorelai into a Thanksgiving meal as they will be going away until the new year. As a result, they take part in not one, two, or even three dinners, but four Thanksgiving feasts. Almost making it seem like they were four different episodes. The episode is filled with little bits of the various Thanksgivings they attend with Lorelai and Rory just being their usual sarcastic funny selves even though they are attending four dinners of very different atmospheres.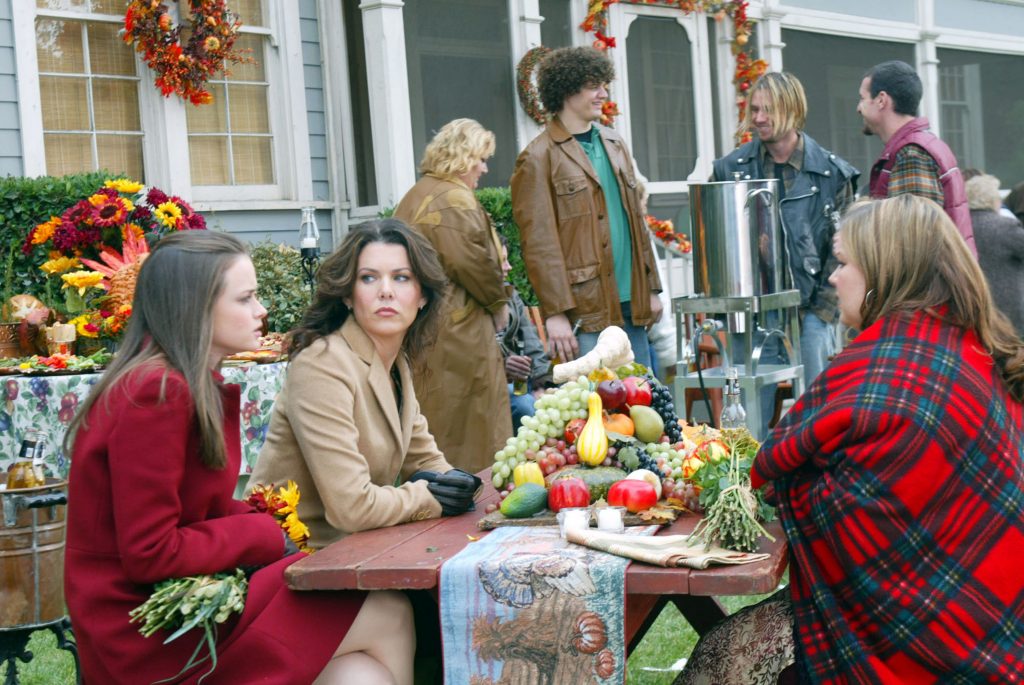 Buffy The Vampire Slayer
"Buffy The Vampire Slayer" Thanksgiving episode Season 4 Episode 8 "Pangs" holds a surprising amount of significance in the current zeitgeist as a Native American spirit comes back for revenge on those who slaughtered his tribe. He starts killing prominent members of what he would consider those who invaded his land, even though 200 years have passed. This causes an argument between Giles (Anthony Head) and Willow (Alyson Hannigan) as Willow believes he is in the right because the colonists not only gave them diseases that killed them in droves but also proceeded to outright slaughter them. Giles, on the other hand, can't justify the death of innocent people now and thinks they need to do whatever it takes to stop him. Though in the end, they have to kill him to prevent him from killing his next target—Buffy, they do find a middle ground when they set aside their differences to save Buffy.
Gossip Girl
If you are in the mood for a more dramatic thanksgiving look no further than any of the "Gossip Girl" episodes. In Season 3 Episode 10 "Gaslit" following a failed attempt to take down Serena (Blake Lively), a newcomer to the show, Juliet (Katie Cassidy) drugs her and sets Serena up to look like she has just had a drug overdose. What ensues is her placement in the Upper East Side's favorite rehab center and her attempt to convince her family that she didn't take any drugs and she wasn't trying to kill herself. The episode follows the family dynamics as Lily (Kelly Rutherford) has no questions that Serena did this to herself and blames herself. While Serena is outraged that her mother can't she has changed at all. Throw in a stepfather who is unsure of what to do in the situation—until he finds out his daughter was part of the plot to set Serena up and a stepbrother/ex-boyfriend who is the only one who believes her, and you have the makings of one interesting meal.
Brooklyn 99
"Brooklyn 99" while potentially most famous for its Halloween episodes doesn't fall short on the lesser-known Thanksgiving episodes. It's Season 1 Episode 10 "Thanksgiving" falls under a slightly cliched plot where the main character doesn't like Thanksgiving for family reasons until they realize they can now appreciate Thanksgiving because they have a new "family." Well, maybe minus a theft or two from the evidence locker. However, the Brooklyn 99 of it all adds funny twists such as Boyle Bingo—a game of bingo where everyone creates their own Bingo card based off things they think Charles Boyle (Jo Lo Truglio) would say. Then there is Amy's (Melissa Fumero) eight pages, single-spaced, front and back, toast where she asks Captain Holt (Andra Braugher) to be her mentor. And even though the dinner doesn't go exactly as planned they do all sit down for an international feast together.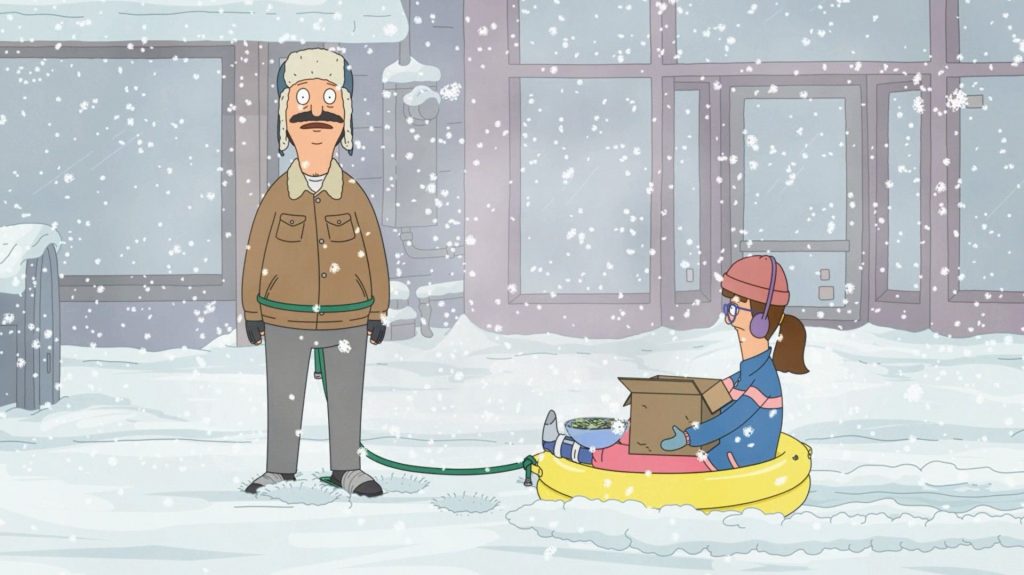 Glee
Thought there were no Thanksgiving songs? You thought wrong. "Glee" Season 4 Episode 8 "Thanksgiving" has that and brings the feelings that come with being freshmen in college. Whether it's either your first real college break—like Quinn (Dianna Agron), Mercedes (Amber Riley), Santana (Naya Rivera), and Mike (Harry Shum Jr.) and or you are having your first Thanksgiving away from home—like Rachel (Lea Michelle) and Kurt (Chris Colfer) and trying to make everything perfect this episode fits all those feelings—including seeing most of your friends for the first time since summer. The episode also focuses on those the returners giving their advice to the new students in the Glee club before their first competition. The songs highlight the general feelings of coming home and puts anyone in the holiday mood.
Bob's Burgers
"Bob's Burgers" is well known for its Thanksgiving episodes since it is Bob's favorite holiday. Season 6 Episode 4 "Gayle Makin' Bob Sled" focuses on Bob going to get Gayle, in a snowstorm, because she has sprained her ankle. By the time Gayle is ready to go the blizzard has buried the car and Bob must drag Gayle and her cat through the storm. And Bob does it because that is what you do for family whether you like them or not. And while it was a struggle to pull her through the snow, the toast he gives at the end is heartfelt where he reminds everyone that it is being annoyed by family that lets you know you have one.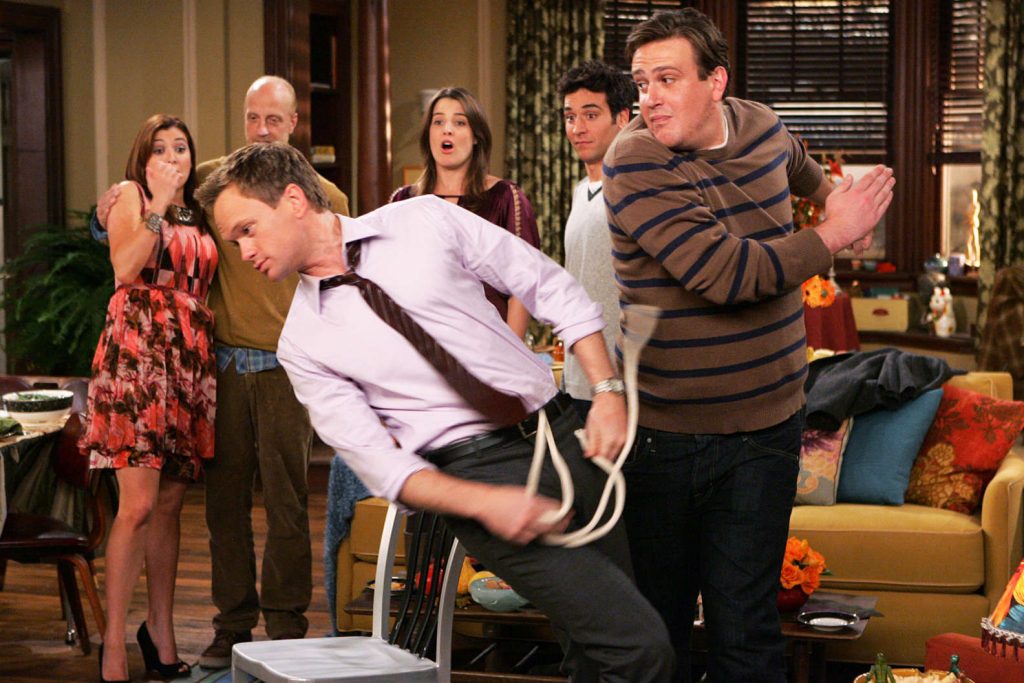 How I Met Your Mother
"How I Met Your Mother" is a show that never fails to provide you with slap you on the knee slapstick fun. This episode is no different. Centering around Lily (Alyson Hannigan) preparing her first Thanksgiving Lily and the ongoing slap bet that Marshall (Jason Segel) has with Barney (Neil Patrick Harris), and the awkward tensions between Ted (Josh Radnor) and Robin (Cobie Smulders) the sex they'd had the previous day despite their break-up. Somehow all of this gets packed into 21 minutes. The whole episode is a countdown, which Marshall even created a site for, to when he is going to deliver another slap to Barney, who attempts to convince Marshall he has taken all the suspense out of it due to the countdown. Despite all the various storylines they do manage to come together for a meal and a song aptly titled "You Just Got Slapped."
Sister Sister
"Sister Sister" Season 3 Episode 9–10 "Thanksgiving in Hawaii" puts a twist on the holiday of Thanksgiving by setting it in Hawaii. Lisa ( Jackée Harry) decides to take Tia (Tia Mowry) to Hawaii with her when her and her boyfriend break up. After Ray's (Tim Reid) girlfriend breaks up with him he decides he and Tamara (Tamara Mowry) should join Lisa and Tia. After landing in Hawaii and picking up a sacred lava rock which sets loose a curse on them, who should turn up but Lisa and Ray's exes—together. As arguing ensues the girls tire of it and go to the beach. As they find themselves stranded by their efforts—quite literally—they realize their mistake of running off. The second episode opens with the girls stuck in the ocean with no way ashore while their parents and exes finally realize they are missing. The lack of knowledge of girls' location proves to bring the foursome together in efforts though their bickering remains. As the girls manage to make it to shore their parent's reach their boat. To make it up to them they decide to cook a Hawaiian Thanksgiving dinner—spam instead of turkey. Happy they are safe, Lisa and Ray forgive the girls "because it is Thanksgiving" and they all sit down for a meal together. Meanwhile at home, Roger (Marques Houston) has been left alone. Sad to have to have Thanksgiving alone he invites his homeless friend and his two friends to stay with him at Ray's. The homeless guy's friends decide to rob the place, without telling him. Not wanting to leave Roger alone on Thanksgiving they stay and cook a meal together. Feeling uplifted by Roger's sentiments about how despite the repercussions he will be facing this was his best Thanksgiving, the homeless guys change their mind and return the things they stole.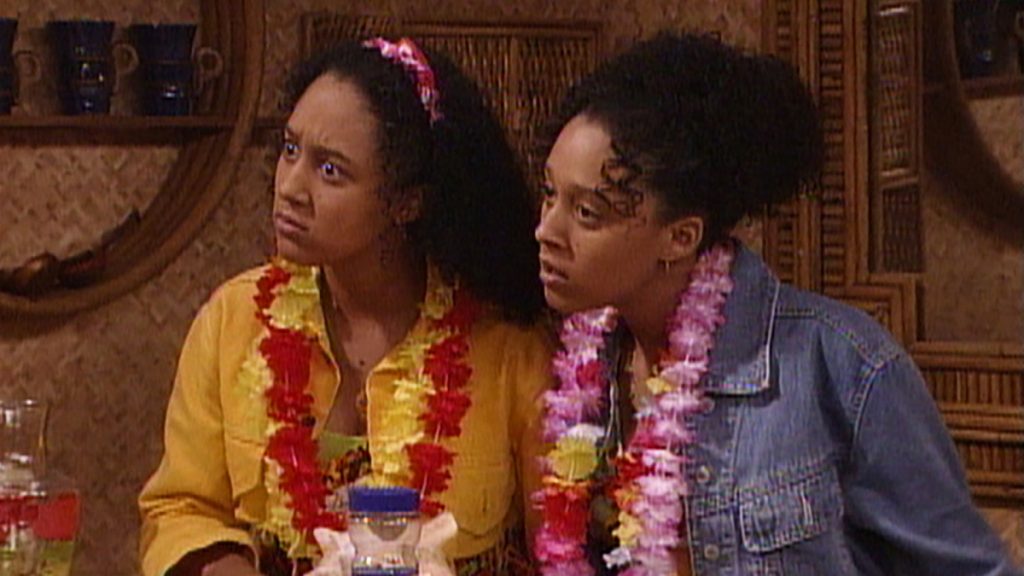 The episodes are available on these platforms and if you are looking for some of their other Thanksgiving episodes, here they are.
Other Thanksgiving Episodes and where they are available:
"Friends"—HBO Max (S1 E9; S3 E9; S4 E8; S5 E8; S6 E9; S7 E8; S8 E9; S9 E8; S10 E8)
"Cougar Town"—Amazon Prime (S1 E9; S2 E9; S3 E13)
"New Girl"—Netflix (S1 E6; S2 E8; S3 E10; S4 E9; S6 E7)
"Master of None"—Netflix (S2 E8)
"Gilmore Girls"—Netflix (S3 E9)
"Buffy"—Hulu (S4 E8)
"Gossip Girl"—Netflix (S1 E9; S2 E11; S3 E11; S4 E10; S6 E8)
"Brooklyn 99″—Hulu (S1 E10; S3 E8; S4 E7; S5 E7)
"Glee"—Netflix (S4 E8)
"Bob's Burgers"—Hulu (S3 E5; S4 E5; S5 E4; S7 E7; S8 E5; S9 E7)
"How I Met Your Mother"—Hulu (S1 E9; S3 E9; S5 E2; S6 E10; S9 E13 [not a Thanksgiving episode but the end of the Slapsgiving trilogy])
"Sister Sister"—Netflix (S3 E9/10)
---
---
Regions: United States