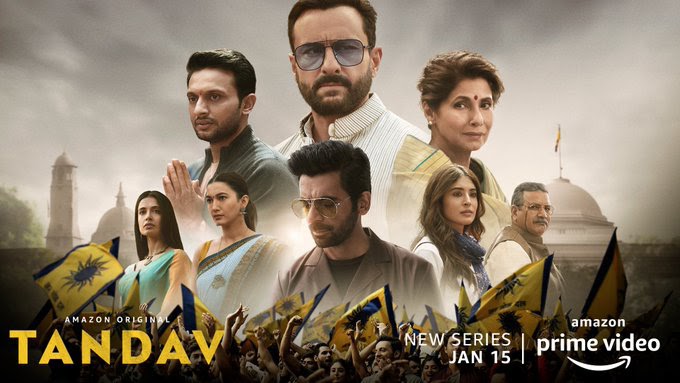 Amazon Prime's new original series, "Tandav," gets backlash for misrepresentation of certain religious communities in India. (Photo courtesy of PrimeVideoIn/Twitter)
Prakash Javadekar, India's Minister of Information and Broadcasting, announced a series of digital media laws targeted at social media and streaming services on February 25th. After several reports regarding inappropriate content from Netflix India and Amazon Prime Video, the government was pressured to create a new system for reporting and resolving censorship issues. These new regulations are an attempt to keep companies accountable for what they share on their platforms.
Netflix India issued an apology regarding their just-released original series, Bombay Begums, due to an "inappropriate portrayal of children." In addition to this apology, Amazon Prime Video released a statement regarding their new original series, Tandav, which contains controversial scenes that offended viewers from certain demographics.
Online streaming platforms may find it difficult to push back against these new regulations given the state of digital media legislation. According to an estimate by PricewaterhouseCoopers, India's position as the fastest-growing market for video streaming platforms may cause streaming companies like Netflix and Amazon Prime to alter the way they produce content. 
Moving forward, if major streamers start pulling funding from India, then smaller filmmakers will struggle to draw attention from them. 
Indian producer Pritish Nandy recently went to Twitter to voice his concerns. "We have seen how censorship works," he said. "We are worried that the laws will be whimsically and unjustly implemented by those who will want to exercise authority."
As a result of India's inability to compete with the sensory restrictions that other countries enforce, Nandy is concerned with the viability of Indian films for notable nominations.
"Today, Indian content makers are vying with the best in the world. We got an Emmy nomination last year. To compete successfully, we must enjoy the same freedoms that they do," he wrote.