The Asian-American Adolescence That Grows Within Chung's Minari Tree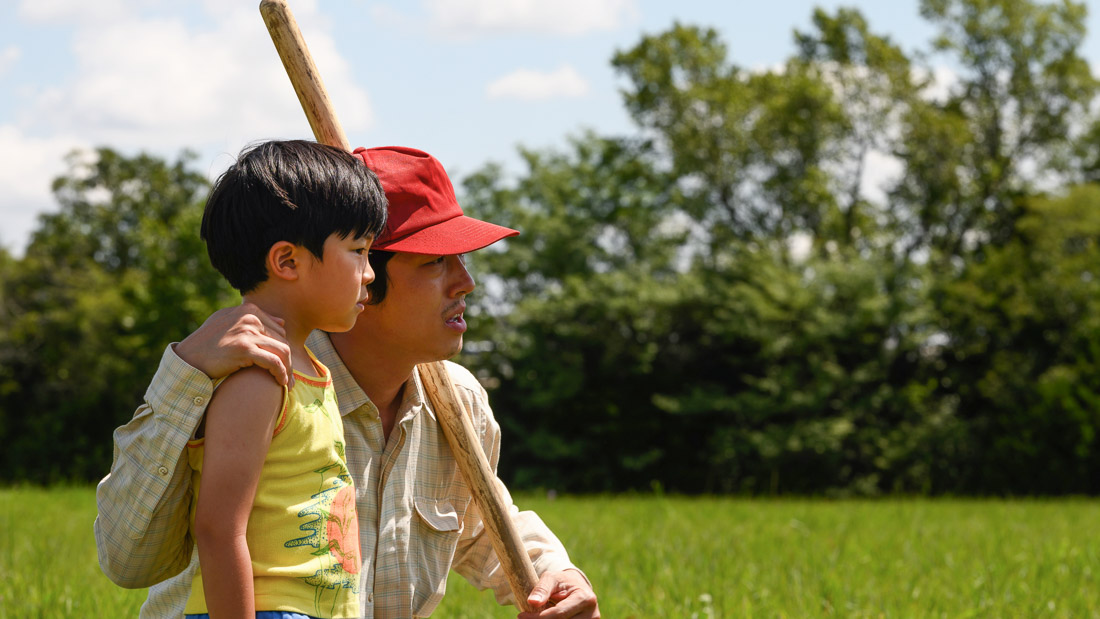 "It grows everywhere like weeds… rich or poor, anyone can enjoy it. Minari is wonderful," says Soonja (Youn Yuh- Jung) to her grandson David (Alan Kim). They chant "Minari Minari, wonderful wonderful," evoking a heartfelt sense of nostalgia that can resonate with anyone who has a specific comfort food tied to their family's lineage. For me, that comfort food is found in kameda kotsubukko, or fried rice crackers, which can only be found at a local H Mart supermarket; the same is true when trying to find actual Chinese celery like minari. After watching Minari (2020), I was able to reflect on my childhood identity as an Asian American with a newfound appreciation for my mother's Thai heritage. 
The success of director Lee Isacc Chung's breakthrough film is not only due to his earnest script, which reflects on his childhood in rural Arkansas, but the film has the ability to connect to the immigrant narrative of moving to the United States. As a 22-year-old Asian American viewer raised in both suburbia and the countryside of Texas, Minari encompasses a cross-cultural line within my family tree that connects to my childhood and my Thai mother's upbringing. Chung's storytelling allows viewers to find their own identity and solidarity within the film, which is why Minari has rightfully earned itself an Oscar nomination and Golden Globe and Critic's Choice award for best foreign-language film.
Upon viewing Minari, the first thing that is apparent about the film is how it's told through the perspective of the Yi family.The fabled American dream seems to drive the plotline, but that dream is soon supplanted by reality when the difficulty of earning riches becomes out of reach for the family. Jacob (Steven Yuen) constantly struggles to sell his Korean vegetables from his "Garden of Eden" while he tries to make ends meet working at a chicken hatchery with his wife, Monica (Han Ye Ri). Monica shows evident homesickness for Korea throughout the film, but especially when she cries after her mother brings chili powder and anchovies from home. Monica and Jacob's two children, David and Anne, are emblematic of immigrant children who unconsciously succumb to the norms of westernization. Their assimilation into their rural Arkansas community is best expressed through the scenes at the church where the white children view the Yi family as a spectacle. The only character in the film who stays true and proud of their Korean heritage is Monica's mother, Soonja; her love for her family never wavers. 
"Grandma smells like Korea," David pouts, his resentment towards his grandmother stemming from her refusal to make chocolate chip cookies like the stereotypical westernized grandma. Soonja's food habits include drinking Korean herbal tea over Mountain Dew and having her daughter make traditional Korean meals. "She isn't like a real grandma," David scowls at hismother upon Soonaj's arrival. This dialogue bolsters the thesis of the movie, providing a commentary on how identity is represented through the cookie-cutter norms of what constitutes an American citizen. 
My mother moved to America from Thailand at 26 years old in 1988. She gave birth to my sister a year later and lived with my father in Fort Worth, Texas. My mother's decision to move to America was never planned; in fact, my mother planned to live in her home country forever. Her fondest memories reside in rural Bangkok, where she spent most of her childhood with her own grandmother. Though my mother's parents were divorced, she found her sense of home in her grandmother's farm, where she would ride on her grandmother's back carrying a watermelon basket. Her grandmother had no electricity or water, so my mother's childhood revolved around playing pretend with farm supplies and heating oil lamps. Her transition from rural life in Thailand to rural life in Texas was similar to the Yi family's journey; she existed in America as an exotic delicacy. My mother recalls attracting stares in my grandparent's farm town in Covington, Texas. She also recalls how finding any sort of Thai cuisine in Fort Worth was a rare luxury. Though she never anticipated her life would wind up on the opposite side of the globe, my mother found invaluable treasures by finding her sense of community within my father's family. Unlike America's appeal to immigrants in search of jobs, money, and fame, my mother found that family–the simple act of sharing a meal together at the dining table was all the riches she needed. The golden dream for Jacob in Minari to raise his family feels synonymous with my mother's dream to be a part of a family.
My Thai identity and its connection to that part of my family tree never crossed my mind until my 20s. It took a while for me to understand that the disconnect from my Thai roots was due to my mother's separation from her family after moving to America. My entire childhood consisted of me spending time with my dad's white family who raised me on a southern diet and Baptist Bible school lessons. I remember visiting the only Thai market in Fort Worth with my mother. I liked to sit on the rice bags and punch dents into them—this was the extent of my interaction with Thai culture. My whole life was spent as a half-Asian American child but I never knew the Asian half. My mother would take me to a Thai restaurant next door where the owner would give me sticky rice that I liked to shape into spheres. The chant "Nam-myoho-renge-kyo" filtered throughout my childhood when I would go into the VHS room in our house to watch a Studio Ghibli film as my mother repeated the common phrase known in Buddhist prayer. Besides those brief moments of Thai culture, I seamlessly assimilated into American culture with ease. However, my equivalent to David's obsession with Mountain Dew was found in a 4-piece McNugget kids meal at McDonald's. I never embraced my identity as a Thai American until I grew older and got to realize how beautiful it is to be a part of a culture so different from the homogeneous nature of America. I received the best of both worlds with a loving mixed family, and I have found my sense of self, embracing pride and uniquity with my Thai culture. 
I self-obsessively looked in the mirror through my youth into my young adulthood; always looking for the resemblance in both appearance and psychological nature to my mother. As a child, I regarded Asian culture as a culture composed only of tasty snacks. 22 years later I now view Thai culture as being symbolic of love and hard work. 
My mother didn't let language barriers discourage her from making friends to create a life for herself in America. Her mantra to me growing up was that "One is the controller of their happiness and only One can understand who One is in the world." She raised me with an ethic of doing whatever it takes for someone you love and care about and instilled values that I recognized in Minari when Jacob, Monica, and Soonja overcame hardships to give David and Anne a better life. Minari exhibits a sense of universal humanism that Chung was able to channel from his childhood, evoking a type of nostalgia from childhood. Though this film goes beyond the story of the Asian immigrant's experience, for me, Minari has brought me catharsis, in both my identity and my family and that feeling continues to grow and nurture me like a minari tree.
---