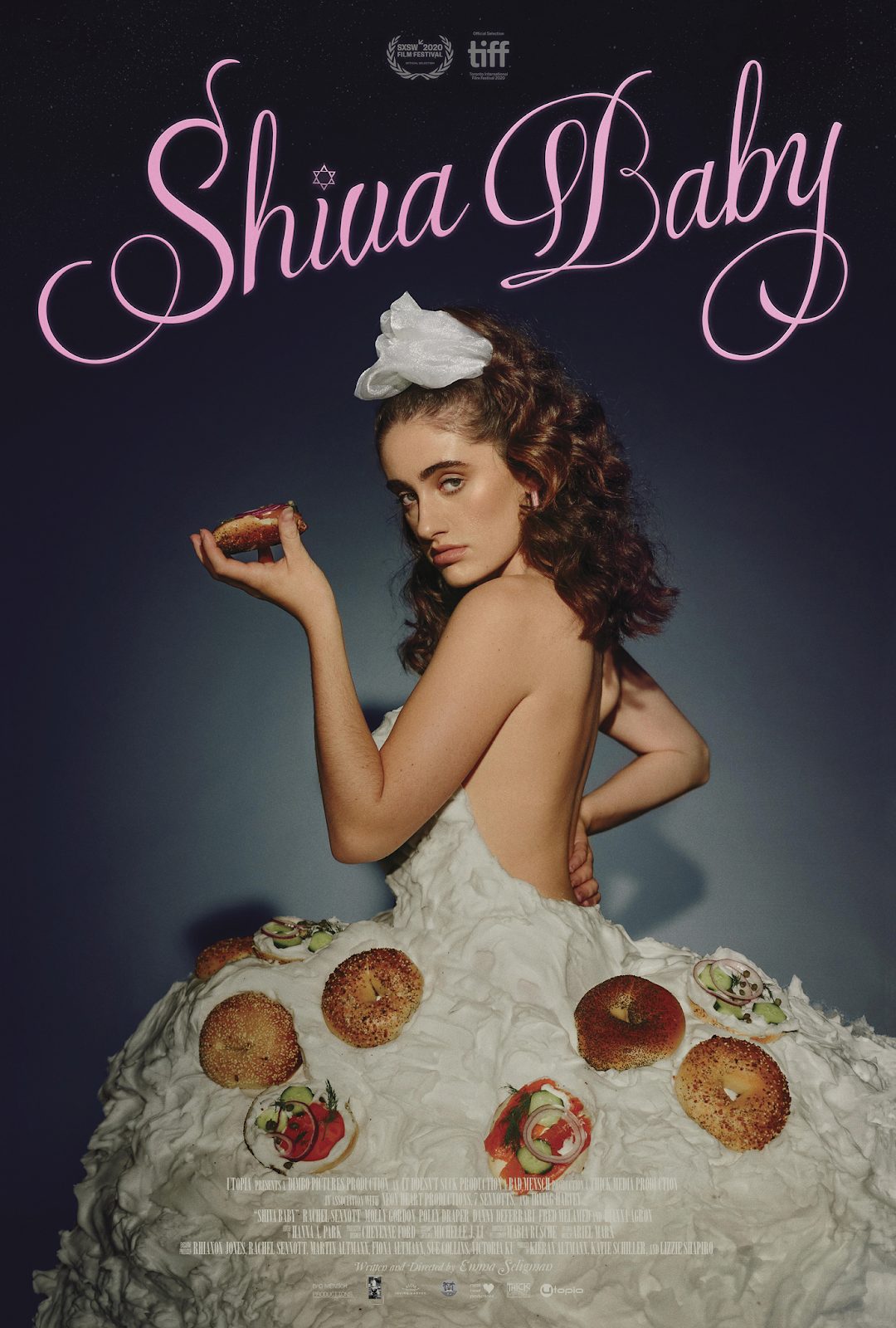 In the holy season of Passover, what could make a moviegoer feel more connected to the spirit of the season and their family traditions than a film about Jewishness, sex, family expectations, bisexuality, body image obsessions, sugar daddies, career choices, and cheating? First-time writer/director, Emma Seligman's Shiva Baby brings us an intersection of all these themes. The film pulls the viewer in, inviting them to be one of the guests, to sit shiva, the Jewish seven-day period of mourning, along with the rest of the mourners. Shiva Baby, set to be released on video on demand and HBO beginning today, (release date April 2nd) tells the story of Danielle, a soon-to-be-college graduate who is funding her lifestyle by taking on sugar daddy clients. 
Seligman captures the feeling of unease and nervous energy happening at the shiva by staging most of the scenes in a single place in a compressed timeline. The story allows relief from that tension with moments of humor and poignancy delivered mostly by the film's protagonist, Danielle (Rachel Sennott). Sennott skillfully portrays Danielle with nuanced quirkiness, creating a perfect blend of angst and humor. Danielle, a young woman on the verge of having everything in her tangled world fall apart, is a mess. She tries to keep it together long enough to get through the shiva. Danielle arrives at the shiva asking her mother or anyone willing to listen, "Who died?" She can't get an answer until her smart, more accomplished ex-girlfriend, Maya (Molly Gordon,) goes blow for blow verbally over the buffet table, as they question each other's sincerity and motivation for attending the shiva.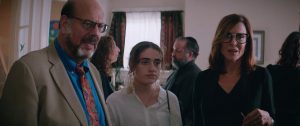 This shiva, like so many similar events, seems to be a place where characters see people they'd probably prefer to avoid. It's an obligation, like many religious and family rites of passage. Danielle is awkward and unsettled as she attempts to avoid the people circling her world – her parents, the judgmental women at the shiva, her high school prom date, Maya.  Her encounters with Maya help maintain the sustained pressure throughout the film. When Danielle's sugar daddy, Max (Danny Deferrari) with whom she's just had a sexual encounter less than an hour ago, shows up at the shiva joined by his wife and baby, her world closes in even more. We can feel her trying to find an escape route or a moment to think clearly, but she can't seem to get away from anyone or her bad decision-making. Even trying to be alone in the bathroom feels impossible.
Over the buffet table and then outside with her ex-girlfriend, the camera doesn't let up its focus on the pressure Danielle is feeling. The only relief comes in the form of short moments with Maya and even then, it's intense and wrought with complexity. It's in those moments we learn more about the interior world and narrative that Danielle has created for herself. Sennott and Gordon's scenes help give us some back story to understand Danielle's messy life. Both Sennott and Gordon deliver multi-layered portrayals of young women who embody their family's expectations and wrestle with society's definition of success. These two interesting and complicated female characters could have a prequel of their own.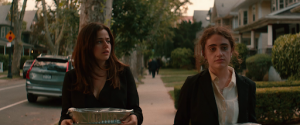 Shiva Baby began as a short film, written and directed by Seligman in 2018 while she was a student at NYU. That short made its way around the festival circuit, garnering a lot of recognition and great press.  Seligman expanded the screenplay and created this longer 78-minute version by building on her initial story. In this full-length version, we get a more developed storyline and character study. We see the interplay between Danielle and her parents, Joel and Debbie, played by the character actor Fred Melamed (Lady Dynamite, A Serious Man,) and Polly Draper (Obvious Child, Thirtysomething,) who believe their daughter is earning extra money as a babysitter. Like any self-respecting parents, they make excuses for her when questioned by a seemingly never-ending barrage from relatives and acquaintances about Danielle's plans. The prying inquisition wonders what Danielle is doing after graduation, the women comment on Danielle's weight, her love life and seem to want to know every other detail that she'd prefer to keep to herself.  The smothering and snooping are uncomfortable but not unexpected by Danielle. It feels much like the New York shiva ritual; trying to keep her stories straight is a part of Danielle's juggling act. She's passed off Maya's story as her own to her sugar daddy, Max, who believes he is helping his sugar baby in her efforts to self-fund her law school education. Maya has been accepted to Columbia Law while Danielle is barely graduating college with a degree in something that she can never quite explain to the inquiring shiva guests.
Seligman wisely kept Sennott in the role of Danielle while recasting Max and the parents and creating the storyline of Maya and Danielle's relationship. The film is a character study, the shiva is the vehicle that allows us to examine these characters. This makes the casting so important to get right. Seligman and her casting director achieved that perfectly. Rounding out the cast with recognizable faces as shiva guests are character actors Jackie Hoffman and Sondra James. Also helping to create the tension in the story is the musical score by Ariel Marx. Using the groaning of cello strings, plucking, and whining, the notes arrive jarringly, helping to signal, and mirror the rising tension and confusion felt by Danielle. The presence of so many people in the tight space gives each scene an almost suffocating feeling. The arrival of Max's wife and baby as the tension rises and a misplaced cell phone with a photo on it, meant only for Max, brings the shiva to a climax. 
Shiva Baby is the type of film that leaves the viewer questioning, "what happens next to these characters?" You care about Danielle and Maya and wonder if Max and his shiksa wife, Kim (Diann Agron) will stay together. Will Danielle keep her sugar baby lifestyle? When I find myself feeling this way about fictional characters at the end of a movie, I know that I've just watched something rare in a film. I want the film to keep playing so I can see what Danielle will do next. Shiva Baby is a great example of an independent film starting with a nugget of an idea. With the tension and the pressure that the narrative creates over time and with great care, that nugget becomes a diamond.
---