Beat the Algorithm: Top Five Hidden Gems on Netflix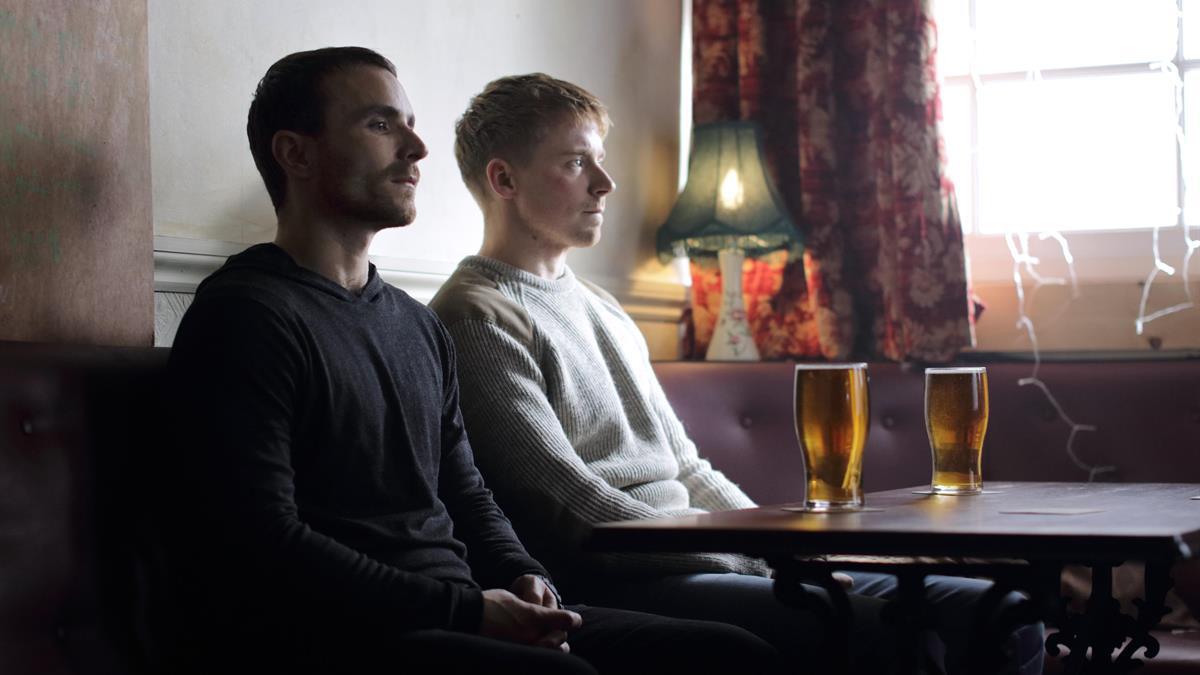 Sifting through the glut of content available on streaming services can sometimes feel like more work than it's worth. Algorithms that supposedly know your tastes better than yourself present wave after wave of movies and series spanning all genres and eras. Even the most focused browsers can find themselves lost in the weeds.
Netflix is the most popular streaming service on the market, but it can make the process of selecting your night's entertainment needlessly arduous. Not only do its invisible mechanics curate the titles that appear on your home page, but its presumptuous AI goes so far as to label each item with a score that theoretically reflects how well it matches your aesthetic palette.
Netflix doesn't do itself any favors, either. The streaming giant released 2,679 hours of original movies, TV series, and other productions in 2019, and their output has steadily risen over the past five years. They've produced nearly 500 original films, many of which they market on social media and showcase on their app's homepage.
Some of these "Netflix Originals," such as Okja, Marriage Story, Da 5 Bloods, Mank, and The Trial of the Chicago 7 justify their big budgets with inventive writing, provocative acting, affecting visuals, and plenty of award nominations. However, those have proven to be few and far between. Unfortunately, Netflix has begun imitating the traditional studios by nabbing big-name stars for marketing purposes and inserting them into poorly written films because they know their subscribers will show up for certain actors.
After all—consumers can feel like they have no other choice. First, Netflix force-feeds them Originals with recognizable faces and alluring visuals until scrolling fatigue sets in and they select one. Then they're inevitably let down by films with muddled plots, lazy characterization, and little to no philosophical substance. Some of the most egregious offenders include Bright, Bird Box, Project Power, Spenser Confidential, Hubie Halloween, and The Midnight Sky.
You deserve to watch compelling, well-made independent films on Netflix no matter how much the company attempts to bury them beneath a mountain of forgettable content. Here are the top five indie Netflix Originals streaming now.
5. Cargo (2017)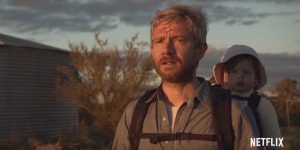 Cargo is one of those rare zombie films that's intentionally about more than just evading the undead. Set in the Australian bush, a father named Andy (Martin Freeman) must embark on a journey to find someone to care for his infant daughter.
Andy (Martin Freeman) searches for someone to care for his child in Cargo.
Also, unlike most zombie movies, this is not your typical jump-scare-laden horror film. Instead, it plays out more like a slow-burn drama in which the bleak desert setting serves as a reminder of the ever-present threat of death and the sheer alienation associated with surviving an epidemic. It feels utterly realistic despite its supernatural premise, and Freeman's performance infuses its narrative with real emotional resonance. Cargo is a gut-wrenching and ultimately moving experience.
4. Ravenous or Les Affamés (2017)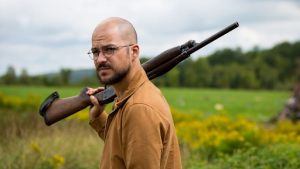 Ravenous is another international zombie film, and it also stands out from its saturated genre due to its fatalistic tone. The zombies in this French gem are rarely seen on screen because director Robin Aubert chooses to focus on the few survivors left in a remote village in northern Quebec, and that strategy pays off.
We follow a man named Bonin (Marc-André Grondin) as he searches for other people and steers clear of zombies that seem only to respond to sound. But these aren't the lethargic, drooling creatures often depicted in film—they're terrifyingly fast ones that can also move stealthily enough to ambush their prey. Aubert doesn't shy away from human-zombie conflict, but his decision to move most of those scenes off-screen makes the monsters all the more unnerving.
Bonin (Marc-André Grondin) looks for other survivors in Ravenous.
Bonin's pensiveness and unusual acceptance of his species's plight subverts the stereotypical militant savior type often used in this genre, and he conveys a painfully relatable existential angst with great candor. In addition, Aubert hints at powerful socio-political themes in the film's finale that imply that even the undead are trying to escape their suffering by filling a void. Ravenous leaves you with a lot to chew on (no pun intended), something that can't be said for most zombie films.
3. Paddleton (2019)
Mark Duplass has never needed millions of dollars to make a great movie, and he once again delivers in the hard-hitting dark comedy Paddleton. Directed by Alex Lehmann and written and produced by Duplass, the film follows two middle-aged neighbors named Michael (Duplass) and Andy (Ray Romano) who form an unlikely bond when Michael is diagnosed with terminal cancer.
Andy (Ray Romano) and Michael (Mark Duplass) hang out after a game of paddleball in Paddleton.
Paddleton epitomizes the pure indie film–when you don't have elaborate sets, visual effects, or dozens of supporting actors, you're left with a poignant narrative that only needs two characters to capture your attention for 90 minutes. What begins as a decidedly human story becomes profound as these emotionally reticent men grapple with mortality and struggle to say goodbye. It's refreshingly restrained and honest, and it doesn't pander or wallow in its own melodrama. Overall, it's a bittersweet and yet rewarding ride.
2. His House (2020)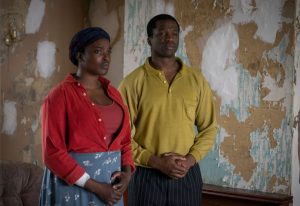 If any film on this list deserved Netflix's marketing dollars, it's this one. His House is a gripping social thriller that follows a refugee couple named Bol (Sope Dirisu) and Rial (Wunmi Mosaku) who escape war-torn South Sudan and make it to England to start a new life. However, they soon discover an evil presence inhabiting their new home.
Bol (Sope Dirisu) and Rial (Wunmi Mosaku) appraise their new home in His House.
Director Remi Weekes's debut film is very Jordan Peele-esque in that it materializes its characters' fears to illustrate an overlooked socio-political issue. Just as Peele demonstrated how white, well-intentioned liberals can perpetuate racism, Weekes reveals how subtle xenophobia can evolve into gaslighting that makes immigrants forsake their cultural background and question their value as residents of their new home.
But beyond its timely themes, His House is also just flat-out entertaining. It provides plenty of scares without falling back on cliches, and its third-act twist is downright shocking. For their part, Dirisu and Mosaku are convincing as the husband and wife who adjust to life in England in different ways. Not only that, but Weekes manipulates lighting and shadows to create an eerie atmosphere. If you're a fan of Peele's work, then you'll undoubtedly appreciate Weekes's first project.
1. Calibre (2018)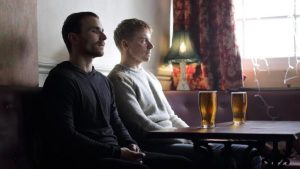 Calibre, written and directed by Matt Palmer, follows Vaughn (Jack Lowden) and Marcus (Martin McCann), two buddies who make a deadly mistake on their weekend hunting trip and have to try to act normal until it's time to return home.
This is a taught thriller that will put you on edge from the second Vaughn and Marcus arrive in the Scottish Highlands village. Their mistake occurs in the first act, after which their paranoia gradually begins to consume them. There's nowhere for them to hide, and the locals seem to be watching their every move.
Vaughn (Jack Lowden) and Marcus (Martin McCann) try to act normal at a bar in Calibre.
Stark shots of towering pines convey just how alone the two friends are in these foreign mountains, and their fear mounts as they sense the place closing in on them. Not only does the environment feel suffocating, but they're forced to confront their own moral failings and choose between guilt-ridden freedom and agonizing ownership of their actions.
Calibre is devastating, and it refuses to provide a cathartic ending. However, in this case, that's what makes it so viscerally memorable.
Leave a comment below about some hidden gems you've discovered on streaming services!
---