"Shiva Baby" star Rachel Sennott & Writer/Director Emma Seligman Talk to the "Independent"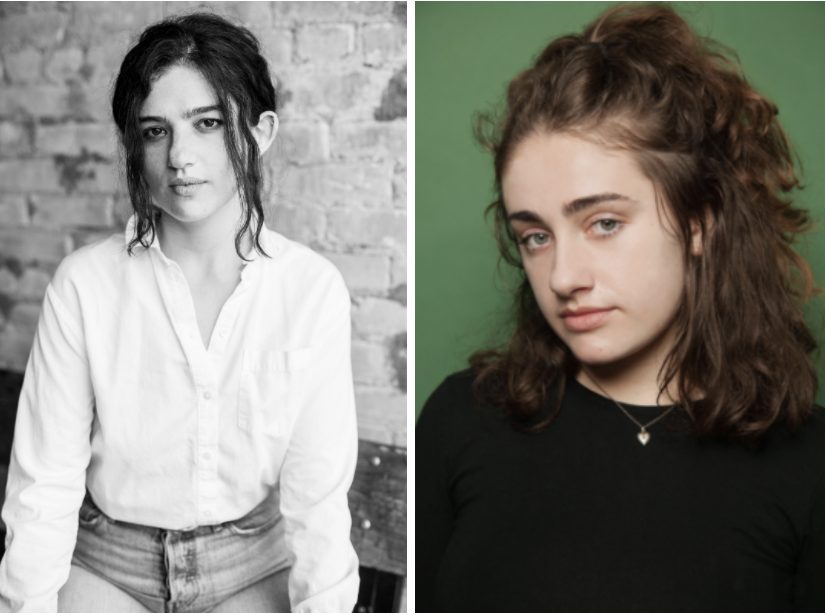 The Independent's staff writer, Kim Costigan, spoke with writer/director Emma Seligman and lead actress Rachel Sennott about their indie comedy Shiva Baby, which won the 2020 Toronto Independent Film Festival's Best Canadian Feature Film and Outfest's Best Screenwriting award. During the film's recent virtual press junket for its wide release, we talked about Shiva Baby's early beginnings as Seligman's final thesis submission for her NYU film degree in 2018, when she wrote and directed a short with the same title. After the short film received critical recognition in festivals and won a couple of jury prizes, Seligman developed the script into a feature-length film. She then started a new round of festival showings. Shifting from the short to feature, her cast changed, with one exception: Rachel Sennott, who remained for the entire process. Their collaboration attracted studios and casting agents, bringing in new offers and opportunities. 
The movie continues to receive positive reviews and it has paid off. The movie scored a 97% fresh rating on Rotten Tomatoes and has led to new opportunities for both.  Working together behind the scenes to get producers, meet festival deadlines, and publicize the film, made Shiva Baby feel like a very personal project for both. The duo has also received lots of development deals and offers. They will work together again on Seligman's new screenplay, Bottoms, which will be produced by MGM Orion Pictures and Brownstone Productions. Sennott is currently starring in the ABC sitcom, Call Your Mother, with Kyra Sedgwick. Additionally, Seligman has just agreed to a deal with HBO and Adam McKay to turn Shiva Baby into a series called, Sugar. 
The rest of Shiva Baby's talented cast also seems to have believed in the script as much as Seligman and Sennott, and as Seligman revealed in our interview, "No one in this movie was doing it for the money. It wasn't about money."  Our Q&A with the two women gives us an idea of just what it took to turn a film student's short and grow it into a breakout hit in the indie film world.
How did the two of you meet? Was it at NYU during the casting for the Shiva Baby short, Emma?
Emma Seligman: Yeah, I'd seen Rachel in a few of my friends' student films. Then I watched her sketches that she wrote and acted in—her comedy sketches. I asked her if she wanted to audition, but I had never met her before. So, I met her at the audition, which I feel like, at the time when you're in school, you take auditions so seriously. Looking back, it was in the basement of the Second Street dorm at NYU. So, yeah, it was in a very official audition situation.    
Did you see it right away—Rachel as Danielle? Or did you see a lot of other actresses for the audition?
ES: I did, because our professor made us. I guess he didn't make us—he encouraged us to audition more than one actress. I immediately saw myself in Rachel, and she just felt like a relatable person that I could run into at a Shiva or another awkward family event. She was awkward in the best way but also just so comfortable in her skin. I feel like it's hard to meet actors that are also awkward internally because they have to have enough confidence to walk into the room and still be there and have a presence. So, yeah, I knew. I knew pretty soon. I just had to go through the process. I'm fortunate. 
Rachel, did you feel connected to Danielle right away when you read the sides for the audition?
Rachel Sennott: Yeah. I mean, it's funny. It was like we took the audition process so seriously. I worried about my makeup and looking professional. I remember the audition sides were so good. I remember one of the scenes changed and didn't even make it into the short. It was a scene with Ben outside. It was so well written and Emma, as a director, even in the audition, just was so calm, and she knew what to say. She just speaks the actor's language in a way. She connects with you as a person, so I was so excited to work with her.
I know you kept Rachel from the short to the full-length movie, but you changed the rest of the casting. Were you ever considering recasting Danielle? What made you want to only keep Rachel?
ES: No, there wasn't ever a question. I think that's because Rachel, on an artistic or creative level, made the role her own because she brought so much of her comedic style to it as a comic and made it so much more of a comedy than a dramedy. So, I wanted to keep her for that because it felt like she put her stamp on it. Then, we went to SXSW for the short together. We stayed in a shitty Airbnb together. She also became immediately so invested in just seeing the feature get made. She became a producer on it and tried to help us get financing and stayed motivated with me about meeting my deadlines and drafts and scripts. So, there was no question in my mind that she was not going to play Danielle. Then for the rest of our cast, I feel so lucky. We worked with an incredible casting director named Kate Geller, who thankfully did this for our budget, even though she's worth more because she was trying to break out on her own and start her own agency. She was really strategic. We just offered roles mostly to actors who were in the New York area. We knew we didn't have to fly out here for filming or anything like that. And we just offered the roles. We didn't do auditions except for some of the smaller roles. But we just sent offers and thankfully people said yes.
Was it hard to get financing?
RS: Well, we reached out to literally everyone just to see if anyone even knew anyone. I would send an email asking for stuff, asking for money. It really was crazy trying. It's so funny too because I think it's one of those things where once someone is onboard, it's so much easier to get other people on board.
ES: Yeah. It was so hard getting the first person. 
RS: But I feel like after Rhianon [Jones] came on board, it was easier to get people. 
ES: Yeah, It was the hardest part… it was the worst part. And I'm never doing it again. 
You had such a great cast and a number of the actors are seasoned, well-known actors. Does the budget dictate who you can make offers to and cast? Or did you cast first and then attempt to get as much money as possible to meet the actors' salaries?
ES: We had an incredible casting agent. Under SAG (Screen Actors Guild) if it's under a certain budget range, you only have to pay them a certain amount per day. With SAG rules, actors work within those salary rates. No one in this movie was doing it for the money. It wasn't about money. I think that that's also a casting director thing that they ask: are they money motivated or are they material motivated? I'm so surprised by how many actors just want to work on a good movie in the summer for six days if you can squeeze it into their schedule. I know our producer, Kieran [Altmann], who is incredible, drafted up our budget, and he did a few rounds. This was the bare minimum budget. We were like, "if we can get this much more, that would be great." Like a dollar more is always more helpful. We financed as we were casting. But, you also use the fact that the actors are getting cast to be like, "Well, Dianna Agron is in it, and Fred Melamed—do you want to give us our money?" It's like we're just sort of running against the clock up until the very last second. 
The film deals with lots of important themes that intersect, such as being Jewish, bisexuality, family pressures on young women, eating disorders, and hiding your true self. Did that take a lot of cutting and slashing of the script, or did you use a collaborative method? Did you allow the actors to have any say in different scenes or did they have to stick to your script?
ES: It was definitely collaborative. I think that part of having a movie take place in one day, in one location, I didn't really think about that. I didn't consciously ask myself, "How do I include all of these things?" But I think it ended up being that way because Danielle is who she is. So, her existing on her own already contains all these themes—just her being there, existing. But I think that it was constantly changing. I was constantly getting notes from our producers, and from Rachel, and was just sitting with it myself, and then doing rewrites up until the last four days or three days before we shot. I added a whole scene, and it changed the climax completely. We couldn't afford rehearsal time. As actors were saying their lines for the first time and doing scenes, the scenes wouldn't really change, but the dialogue would. Though the most had ever changed was the baby shake scene because Polly Draper added that song. If a scene ever changed a lot, it was Polly, but in a good way, because I don't know what it's like to be a mom, and she brought with it things that I can't relate to. So, it was collaborative, but we didn't really have time to fully improvise.
Rachel, I know you're not Jewish, but in what ways did the scenes of being in a Shiva and being with family resemble your family experiences around holidays or any other gatherings? Could you relate to this?
RS: I really did connect with Danielle. I had a lot of crossover between just talking about our families and my dad's side of the family, the big Irish side and the other big Italian side. It's that same big feeling, whether it's a funeral or wedding or party. It's like everybody's on you, especially when you're young. It's like, "you're eating too much" or, "you're eating too little." It's like criticism, but it's loving. So, I really connected to Danielle's family. I also felt in a similar place in my life around when we were shooting where I had just graduated. Everyone's kind of wondering what's going on. I'm doing acting, but what's happening? I think that I felt a lot my identities of who my family was and who I was trying to become were clashing. So I really, really related to Danielle. 
One last question. What are you both watching right now? Do you have any time to watch anything exciting on any of the streaming services?
ES: So behind. 
RS: Documentaries. I know we were just talking about the movie Some Kind of Heaven this morning. That's a great documentary about a retirement home in Florida. I really loved that. And I finally watched…
ES: Barb and Star?
RS: Barb and Star!
ES: Sort of the opposite, but also in Florida, I think. 
RS: Also, in Florida!  
ES:  On the beach. Yeah, it's a big, beautiful comedy.
---