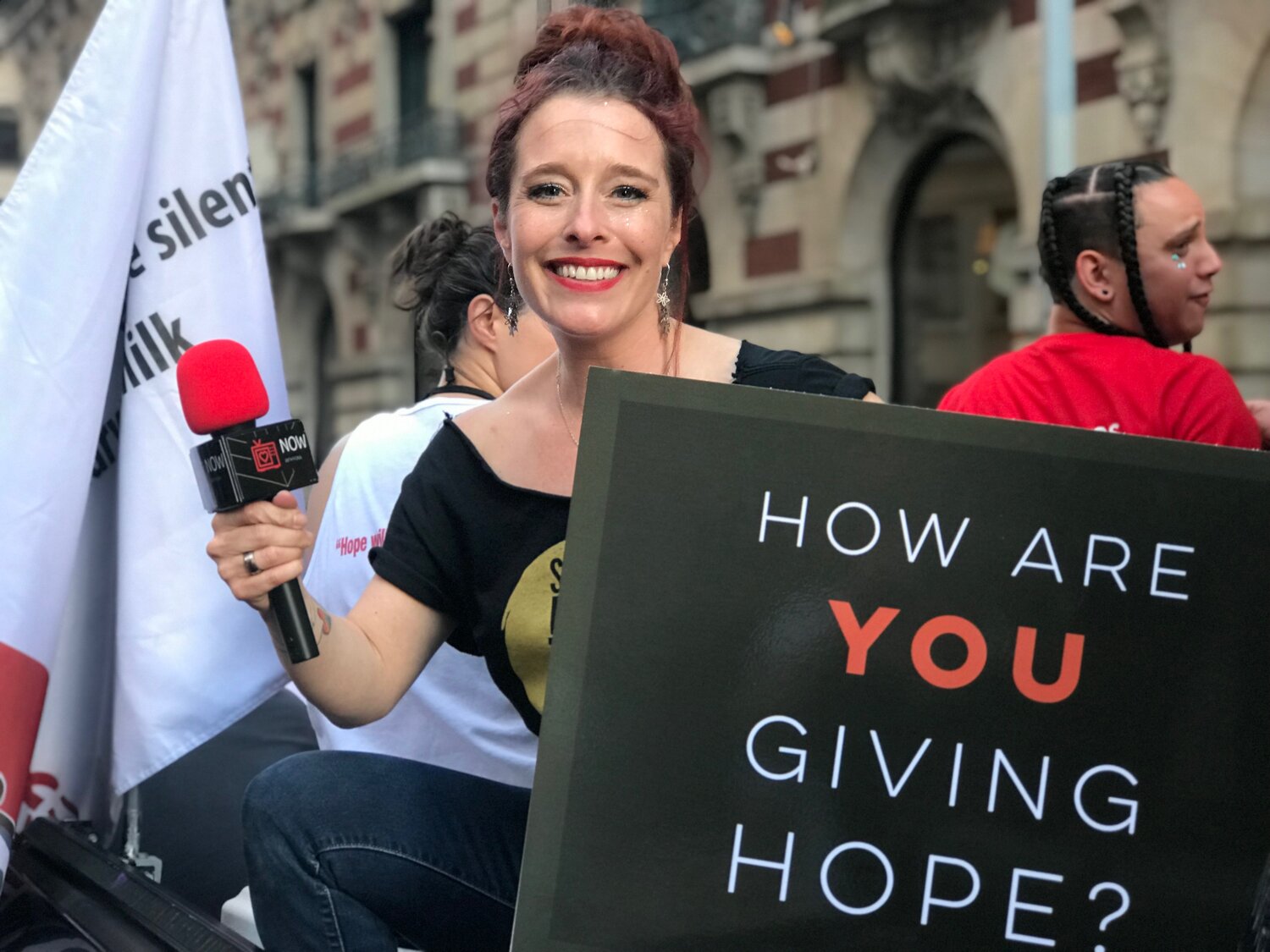 And to Believe Change is Possible
Harvey Milk understood that visibility was one, if not the most, critical component to acceptance; he didn't think anyone should have to live in shame or hide who they are. Instead, he encouraged people to come out (with their gender or sexual orientation) to help show people that they did in fact know LGBTQ+ people, despite thinking otherwise. Milk's life and political actions have continued to inspire and bring hope to many people today. One member of the LGBTQ+ community who was inspired by Milks' works is Fiona Dawson, an Emmy-nominated and award-winning filmmaker. She honors Milk's legacy through her new unscripted series NOW with Fiona. I had the delightful task of speaking with Dawson and her executive producer, Mindy Raymond, regarding the aims of the series, Dawson's multimedia approach to education, the power of positivity, the importance of a diverse crew, and their goals for distribution.
Harvey Milk is largely remembered as a gay-rights pioneer. In 1973, Milk ran for the San Francisco Board of Supervisors. Though his first two elections were unsuccessful, Milk was officially elected in 1977, making him the first openly gay official in California history. He soon earned the title of City Supervisor of San Francisco. Unfortunately, Milk was assassinated just one year later. Despite being acutely aware that he likely would be killed due to publicly speaking his beliefs, Milk continued to have an unwavering hope in the world and believed that every individual has tremendous gifts to share with the world.
While on paper, the premise and execution of the series–taking Milk's philosophy of living out in the open through stories from within the LGBTQ+ community that demonstrates kindness and bravery in the face of adversity—may appear straightforward, the series ends up being far greater than the stories. Dawson, a vibrant embodiment of a ray of sunshine, believes in countering the media's constant negative narrative and focuses on the joy, laughter, and all-around positive contributions from LGBTQ+ allies and the LGBTQ+ community to society at large. The 2021 Bentonville Film Festival premiered NOW with Fiona's proof-of-concept episode, which later took home the Jury Award for Best Episodic Film.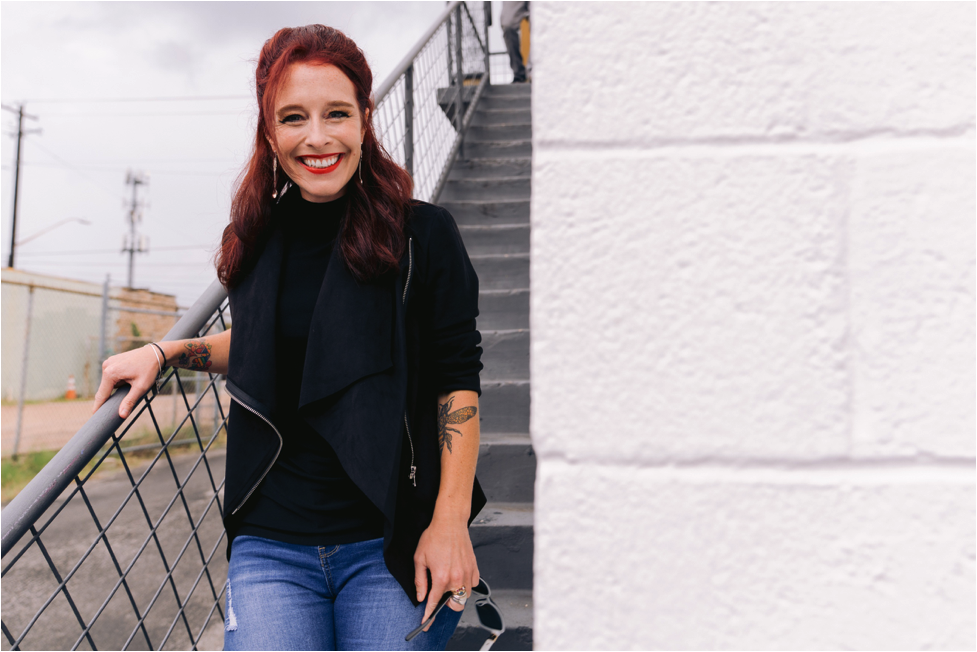 As of March 2021, Arkansas, home to the Bentonville Film Festival, passed the SAFE (Save Adolescents from Experimentation) Act, otherwise known as Act 626, which is effective for the summer of 2021. The bill bans transgender minors' access to gender-affirming care and prohibits the use of public funds and insurance from covering transition-related procedures; doctors who decide to provide treatment despite the ban can now be sued for damages or be professionally sanctioned. Arkansas was the first state to pass this law, though far from the only state to propose such a law, strongly signifying the dire need for country-wide education about the LGBTQ+ community.
The timely release of NOW with Fiona, as well as the positive response it drummed up, is an important response to the act, especially considering that education is the backbone of NOW with Fiona. Throughout the series Dawson aims to increase accessible education to those who may otherwise not have the resources or desire to seek out LGBTQ+ storytelling or are newly on their journey as an LGBTQ+ ally.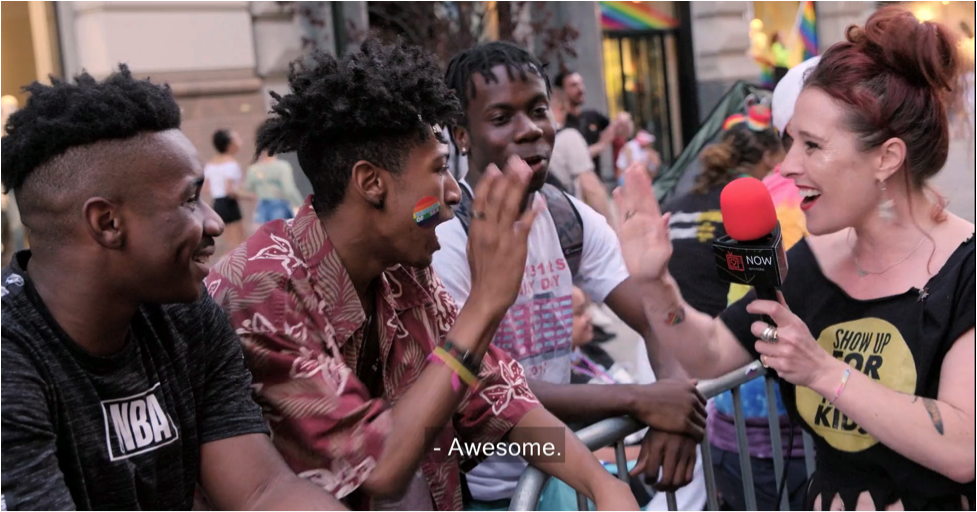 The first episode showcases interviews among participants and observers in attendance of Stonewall 50/WorldPride NYC, which took place in 2019. In the episode we meet several attendees including Kate, a transgender woman from Honduras who sought asylum in the US after narrowly escaping death at the hands of local police officers, a story that reflects the timeless messages of Harvey Milk. After hearing about Kate's experiences we follow along as Dawson draws from her own experiences and embraces her vulnerability and creates a safe space to connect with those she encounters. Originally hailing from the UK, Dawson admits that her British accent gives her an advantage in drawing people in as it often serves as an instant conversation starter. Conversations begin, and connections occur long before knowing any personal political ideology, attitudes, perspectives, or life philosophies. Dawson's work primarily engages with LGBTQ+ topics, so she uses the privilege of approachability to discuss and educate others on the community. The key to genuine connectivity, according to Dawson, is the ability to be vulnerable about your identities and authentic about your life. When someone observes your vulnerability and comfort in sharing who you are, it quickly becomes contagious. Furthermore, it often inspires others to engage in similar conversations about themselves that might not have occurred organically. Dawson explains that the more people who openly express their identities and understand the existence of the gender and sexuality spectrums, the more others will be able to find and proudly state their own identities.
Dawson readily acknowledges that many LGBTQ+ issues are severe; however, she insists that laughter and joy are necessary components in everyone's lives. Particularly when learning information for the first time, she continues, people will likely engage more when they know they won't be "hit over the head or beaten down for having different beliefs." Instead, they will remember the positive experience they shared. This is demonstrated in the episode as Kate has two interviews, one in which she explains her journey to the US, and the other is a segment at her home where she and Dawson are preparing one of her favorite meals while joking with one another. These two interviews work in beautiful harmony as they provide a visual reminder that while we all will encounter struggles, there is always a time and place for joyous experiences and new connections on the other side. To further engage with the audience, the team presents interviews through various media formats, such as incorporating animated scenes, illustrations, and motion graphics to create a lasting impression of the discussions and create an interactive space for learning. Dawson explains that now, more than ever, there is an appetite for animation as it allows people to understand LGBTQ+ terms and definitions and better understand our identities in a non-confrontational way.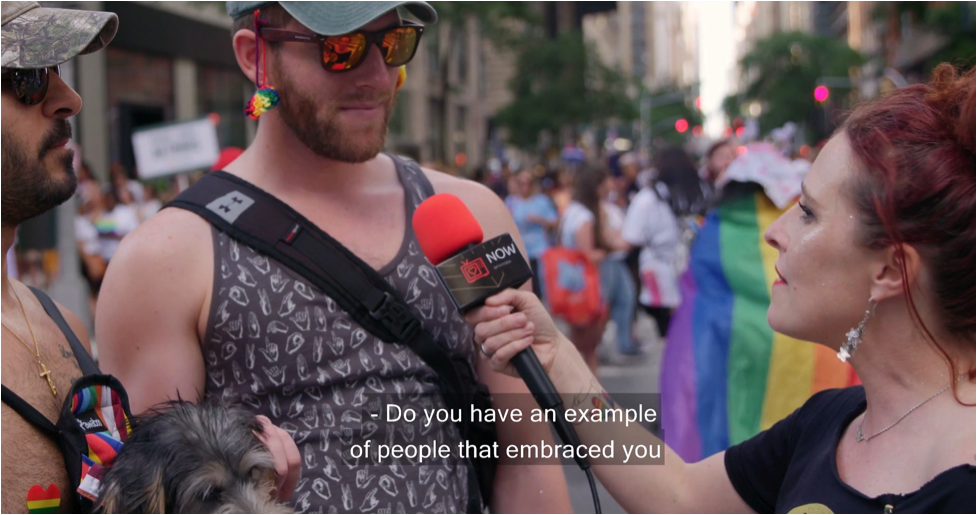 Dawson was born with a burning desire to do good in the world. She explains that her high level of empathy caused her to physically feel other people's pain from an early age, which she takes as a sign that she was born to advocate for others. Since coming out, her self-awareness has grown immensely, and this process has further helped her understand and relate to those within the transgender community. For Dawson, bisexuality smashes the sexuality binary, just as transgender people break the gender binary. The excitement in Fiona's voice is undeniable as she continues to express her excitement about playing her part in changing the way the world perceives gender and sexuality. Dawson explains that storytelling is the key to understanding complex concepts and empathizing with those they might not have initially experienced empathy for. For example, while people may not know what it feels like to be transgender, Dawson clarifies, they can certainly relate to the emotions associated with feeling discriminated against, stigmatized, or othered. Further, cisgender people can connect with the confidence boost from being visible, feeling empowered, and being seen as the person they know they are. NOW with Fiona is endeavoring to tell both passionate and compassionate stories, which Dawson hopes will motivate and excite others to get involved with LGBTQ+ advocacy and allyship.
The overarching mission of NOW with Fiona, Dawson describes, is to decolonize the world's view on gender and sexuality. While this mission remains undoubtedly lofty, it is not unachievable, mainly when working among a team of like-minded individuals. Dawson explains that she committed to making the change she hopes to see within the entertainment industry by hiring her team. She intentionally sought out people with intersectional identities as their lived experiences provide a vital understanding and space to accurately depict, create, and enhance the stories on screen. Dawson whole-heartedly attributes NOW with Fiona's success to the fact that the team was hired with diversity in mind. She proposes that the white, cis, straight men, who have established careers within the industry, should step aside and offer mentorships, collaborative opportunities, spaces to co-direct, and ultimately, use their privileges to give platforms to those who haven't had one yet. Dawson reminds me confidently that there will always be a demand for more stories, and due to the immense size of the industry, jobs will continue to be plentiful. It is just a matter of holding hands and doing this together; she reminds me that this is a community effort.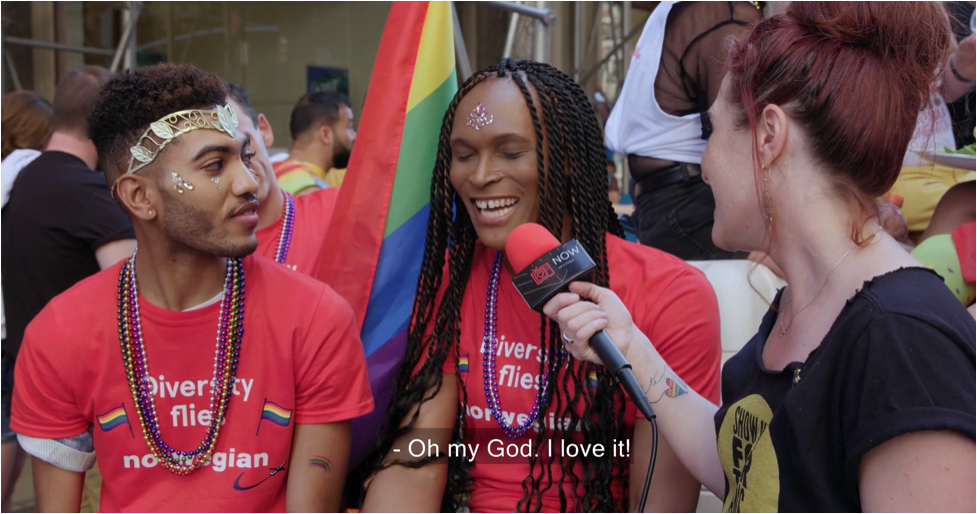 NOW with Fiona will cover an ever-evolving catalog of LGBTQ+ topics to explore. Ultimately, distribution will allow for the team to accomplish their goals for the series. Ramon explains that first and foremost, the team is looking for worldwide distribution as this will provide an opportunity to reach as many people as possible to see, love, and embrace the show's mission. Both Dawson and Ramon agree that streaming distribution would be the most effective route for the series. Ramon has complete confidence in achieving their distribution goals as she explains that the biggest draw to the series is Dawson as the host. Ramon further explains that Dawson's effervescence, excitement, and optimism for life shines through every interview and discussion she has with people. Dawson's deep belief in advocacy, unconditional love for all, and assurance that change is possible presents information as a gift rather than an agenda being pushed. The team is simultaneously managing multiple projects under the Now with Fiona umbrella that will be actively pursued this next year. In addition to the series, Dawson is writing a book that will be released in October, entitled Are Bisexuals Just Greedy? And 20 Other Rather Direct Questions Asked to the LGBTQ Community. The book will serve as a guide to empower families with newly out children. Dawson understands that as LGBTQ+ terminology evolves, parents will continue to need resources to supplement their learning, which is why Dawson is drawn to creating content specifically for families for them to better understand their LGBTQ+ children. For LGBTQ+ youth, Dawson urges them to do what they can to make their dreams come true. Dawson believes that if you can visualize what you want to do, it already exists.
At present, it has become increasingly easy to feel overwhelmed by the constant reminder of the violence and hate against the community and how this continues to negatively impact our personal well-being. Just surviving, rather than living a full and plentiful life, is not acceptable. As Dawson suggests, we need levity to remain afloat, pause and take a much-needed mental break. Ramon explains that as LGBTQ+ community members, we need to remember that others need to learn directly from us; we shouldn't hold back our experiences and stories but rather share them with the world. While I agree this is important, I also think it is essential to check in with yourself; how are you feeling? Are you in a place where you can provide the emotional labor of teaching someone about your own legitimacy? If not, that is totally okay. As a community, when someone needs a break, someone else needs to step in, to truly support one another fully. I breathe a little easier knowing that someone like Dawson is taking the reins on education for the time being –this way, we can move our focus to our own wellness and create the stories we know the world has to see, rather than doing it all at once. Now with Fiona offers an incredibly light, fun, optimistic, and upbeat series that manages to mingle among serious topics – the team has chosen positivity in the face of adversity. Dawson knows that the hardship exists and that we will need more than hope to get through it – we need to believe change is possible and that we can achieve these lofty pursuits. We have beautiful ancestry to pull strength from. Milk, for example, exuded courage and tenacity at a time that felt dangerous and pushed on with help from the community. It feels dangerous for LGBTQ+ people now, too, and we have to come together to truly come out on the other side together.
---