"FANNY: The Right to Rock": the long-forgotten story of the revolutionary Filipina-American rock band
In a 1999 issue of Rolling Stone magazine, rock legend David Bowie said, "One of the most important bands in American rock has been buried without a trace." 
The band in question? Fanny, the all-female, mostly Filipina-American, queer rock band that actively rocked from the late '60s to early '70s. Bowie's quote is the first image to flash across the screen in director Bobbi Jo Hart's documentary "FANNY: The Right to Rock," which aims to give the band their due exposure.
Produced by Adobe Productions International, Hart's film is simultaneously a time capsule of the band's history and a love letter to present-day Fanny. The documentary follows the band's prime in the 1970s, their eventual downfall, and the heartening reunion of three band members: June Millington, Jean Millington and Brie Howard-Darling. The film combines old footage and photographs of the band with the more recent footage of June Millington, Jean Millington and Howard-Darling recording their 2018 self-titled album "Fanny Walked the Earth," produced by Blue Elan Records.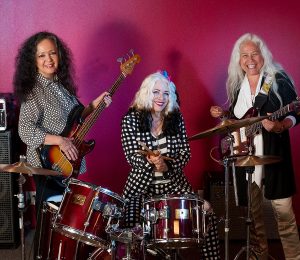 A new track of theirs, "Girls on the Road," plays over the first visual of the band, with Howard-Darling driving June Millington and Jean Millington in a seafoam green convertible down a picturesque road, the women's long black and white hair flowing in the wind.
The documentary asserts Fanny's lasting influence on rock and roll, especially for the women rockers they inspired, and demands a sense of respect and recognition from both the rock and roll community and the general music audience. The message is underscored through interviews with prominent musicians, music critics, journalists and industry professionals who worked with Fanny.
The musicians interviewed — including Cherie Currie, Bonnie Raitt, Joe Elliot, Charles Neville, Kate Pierson, Kathy Valentine, John Sebastian, Annie Stoic and Ruby Ibarra — lauded the band's pure talent and work ethic, citing the ways they were overlooked and unable to have significant commercial success.
As young teenagers, the Filipina-American sisters living in 1960s Sacramento, June Millington and Jean Millington played music whenever they could, whether it was out of their garage or at their junior high variety show. They became The Svelts after joining forces with Howard-Darling, performing covers and original music at three or four gigs a weekend due to their high school schedule. They lugged themselves and their equipment in a bright blue makeshift tour bus — an old school bus refurbished by the Millington sisters' father — and sometimes even slept in the slick ride. 
The three of them were no strangers to experiencing racism and exclusion, but Howard-Darling says, "being in a rock band gave us a place to belong." In 1968, Howard-Darling left the band because she was six months pregnant, and Alice de Buhr took over as the band's drummer.
In 1969, and the band moved to LA to secure a recording contract. A manager hooked them up with a slot at an open mic night at the Troubadour in West Hollywood. Norma Kemper, the former secretary to record producer Richard Perry at Warner Music Group, was in the crowd the night The Svelts performed. Blown away, Kemper brought them to Perry's attention, and he immediately wanted to sign them.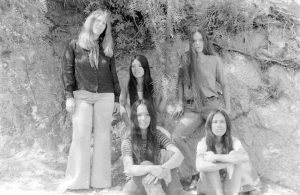 With a quick name change and the addition of keyboard player Nickey Barclay, Fanny was on their way to being the first all-women band to release an LP with a major label. Set up in Fanny Hill, their home overlooking LA, this time was one filled with sexual and creative exploration for the band members. Boyfriends, girlfriends, friends and other musicians (Bob Dylan, Little Feat, Joe Cocker, and Bonnie Raitt) frequented the house. Even Howard-Darling came to live there with her daughter, rejoining the band.
Jean Millington, the bassist, explains, "Music was just bursting at the seams."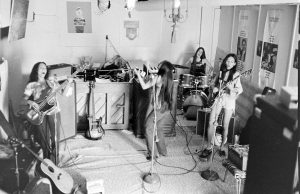 Howard-Darling's return came to a heartbreaking end when Fanny's manager, Roy Silver, and producer Richard Perry decided the band could be a male version of The Beatles. Because Howard-Darling was the extra person in the band, she was cut. Howard-Darling says, "I was just lost." 
They released a self-titled album "Fanny" to some success in 1970 and followed up with a new record every year through 1974. Charles Neville, from The Neville Brothers, said their debut album "created an awareness in the business that, 'Hey, women can do this too, without having to be the background singer for some guy.'" People took notice of their talent — especially because they were the first all-women group to do what they did — and they were featured in newspapers, magazines and television.
Album number two, "Charity Ball," came out in 1971 from the same foursome, and they still had to prove themselves at the beginning of every performance, whether it was on The Dick Cavett Show or a typical gig. de Buhr explains, "All we had to do was get on stage. I knew I was going to put that bass drum right up your crotch. That's where I wanted it." With lots of head-banging, stink facing and long hair flying, they performed their hearts out. 
Though there was an intense focus on the womanhood of Fanny, the idea that most of Fanny was Filipina-American did not receive any attention. June Millington says, "That part was kind of ignored, and that made it even worse. The terrible thing about racism is it can be so subtle. I knew I was being judged every second, so all I did was play as hard and as good as I could. I just knew I was representing something new." 
In 1972, Fanny went on a European tour, where their band name meant something different in British English (read: vagina, pussy, front bottom) and where they were largely welcomed and given more respect than in America. In London, Fanny recorded their third album "Fanny Hill" at The Beatles' Apple Studio with Perry and Geoff Emerick, The Beatles' sound engineer. Though the year was very prosperous for Fanny musically, balancing everything was increasingly difficult. 
"To keep giving and giving in that way was unsustainable," June Millington says of the time. 
They carried on in the UK, recording their fourth album, "Mother's Pride," with producer Todd Rundgren, but the pressure to record a hit was still mounting. The label went in a new direction, having the band dress in different, more revealing styles that June Millington wasn't comfortable in. To make it worse, de Buhr and Jean Millington were still not allowed to publicly be lesbians. 
According to de Buhr, at the time, "The record company didn't know what to do with us. They didn't know how to market us." 
All of this, coupled with the very little money being made by the band, resulted in June and de Buhr leaving. Though Jean Millington at first didn't know how the band could continue, Howard-Darling reprised her role on the drums and Patty Quattro became the lead guitarist. Their image continued to change in 1974, this time with a focus on an even sexier version of glamour. The band's final album, released in 1974, "Rock and Roll Survivors" was produced by Vini Poncia and contained the highest-ranking song in the band's history: "Butter Boy (Casablanca)." 
Poncia says the song, partially inspired by Jean Millington's brief relationship with Bowie, "should've been the catalyst" for the band. But by the time the song reached No. 29 on the Billboard Top 100 Chart, the band had broken up due to a number of reasons, including Nicki stepping away for a solo career.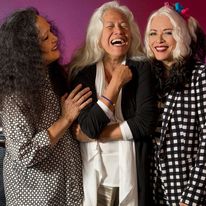 Fast forward 40 or so years to the opening scenes of Hart's "FANNY: The Right to Rock" in Goshen, MA, at the Institute for the Musical Arts — a nonprofit centered around supporting women and young girls interested in music founded by June Millington and her partner Ann Hackler — where Jean Millington strums on her 1962 precision bass ("it's pretty much a collector's item at this point"), June Millington unwraps her guitar from an old pair of pajamas in her case ("I like them to be comfortable") and Howard-Darling reveals mini-pads are the best drum dampeners around ("pussy power secrets"). 
"That feeling of the three of us coming back together is really comfortable. And I think that it makes the music what it is. We're representing everything that we've gone through in order to not only live into our sixties but to have learned so much and acknowledged that we're still growing," says June Millington.
The excitement around the album and other opportunities come to a temporary halt as the documentary reveals Jean Millington had a severe stroke, paralyzing the right side of her body, just one week before their first scheduled live show to launch the new album. 
What follows is a tonal shift, complete with footage of Jean Millington's slow, but steady recovery, visits from Howard-Darling and June Millington and nostalgia for what could have been. All of this builds up to an intimate concert performed by Fanny Walked the Earth to support Jean Millington's stroke recovery fund. Jean Millington's musician son Lee stepped in for her on the bass, but Jean Millington still joined them on stage to sing. In a touching moment on stage, Jean Millington cries as her son hits the bass, overwhelmed by the emotion on stage. 
The seafoam green convertible makes a final appearance, this time with Howard-Darling popping their new album into the CD player before heading out onto the road. The audience knows the lifetime of work that's gone into this moment and has high hopes for a greater presence for Fanny Walked the Earth.
---
---
Regions: United Kingdom, United States