New Year, New Queer: Am I OK?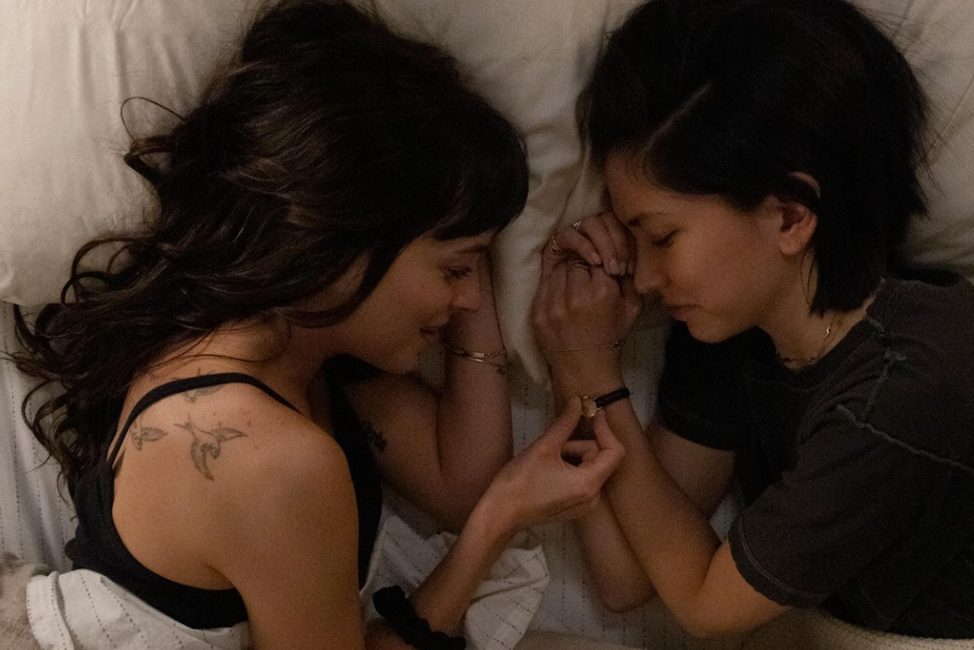 "Am I OK?," the directorial debut of Tig Notaro and Stephanie Allynne, is a contemporary take on the traditional coming-of-age genre. This comedy, which premiered at the 2022 Sundance Film Festival and was acquired by HBO Max, provides the anticipated humor you'd imagine from Notaro's work as a comedian, but it left this reviewer with some concerns about what is okay.
Lucy (Dakota Johnson) and Jane (Sonoya Mizuno) are the epitome of true best friends. The women are in their early 30s and share a deep platonic love. They complete each other's sentences, know precisely how to make each other smile, and are always just a text message away from one another. Jane, a successful corporate worker, announces one night that she has been promoted and will be accepting a new leadership position which would require her to relocate to London. Lucy musters up a smile and pretends to be thrilled for Jane. Lucy, deep down, is petrified about losing her best friend and admits that same night that she is gay, something she has kept hidden from her best friend for some time. 
From there the two women begin to try and navigate this new terrain only to find their friendship tested by the most basic of rom-com situations: the crush. After Lucy tells Jane about Brittany, a flirtatious coworker, Jane tries to set them up. And so begins the disintegration of the friendship.
The film was written by Lauren Pomerantz who admits that she began writing the script to make a film about friendship and based the characters on her relationship with her best friend. It was only once Pomerantz was thinking about how to come out, at 34 years old, that she realized that was the story she wanted to write. The result is a script that is incredibly relatable, humorous, and gives the characters a chance to grow as individuals. Amid the laughs is a raw and profound understanding of each character's complexities and interrelationships that offers a vivid portrait of the human spirit and the never-ending journey of self-discovery. The film features a slow and steady pace throughout, allowing characters to experience grief and joy in a way that feels natural, further illustrating the teams' commitment to each of their character's development and character arc.
Johnson has stated that Lucy's character arc presents a narrative that is all too often excluded from mainstream film landscapes, as conventional characters often lack opportunities to grow and figure themselves throughout their lives and instead are presented as "fully realized people…in their 20s…which is impossible." The character of Lucy has spent her life contemplating life's many options, setting aside lofty aspirations for a "real" job but is never fully satisfied by that decision. Lucy also doesn't see anything wrong with being a single woman in her thirties; she is not looking for a relationship just to be with someone, especially not with someone who lacks hypnotic energy. Someone like her best friend, Jane. The audience gets to see friends who have settled into adulthood, become parents, and advanced in their careers from Lucy's point of view, one that is perfectly content to be in the moment and take life day-by-day. And one that still allows for sleepovers with her best friend.
Lucy's narrative will ring true for many LGBTQ+ people, especially those who come out "later in life," that is, the media's interpretation of anyone who comes out after their teenage years. And that media message can make those who came out as an adult feel robbed of those formative moments. Gone are the days when you were able to experience a great many "firsts" with your peers, be it your first date, crush, serious partner, or meeting your first friend with whom you can truly be yourself. Instead, you experience these moments in your twenties, thirties, or whenever you come out, without being able to astound your friends as quickly. But Lucy reminds us that once we break free from societal standards and limitations, we can experience the thrill of possibility and freedom that we never knew existed. 
This kind of coming out narrative is so rarely seen in film. Even here the narrative is not, nor was it intended to be, the film's central focus. Jane handles Lucy's coming out as best friends do in these kinds of movies: she understands and accepts Lucy as she is without missing a beat. The two friends seamlessly switch back to the conversation they had been having. There is no awkwardness between the two women. Lucy's coming out is presented so casually in the film, it almost feels random, accidentally placed (which if Pomerantz never came out, who is to say if Lucy's character would ever come out?) or something Lucy said just to fill empty space. "Am I OK?" is not  a coming-out story. It is a friendship story, so the opportunity to see the mythical queer adult coming-out film slips away from the audience once again. 
I'm still trying to figure out how I feel about this. On the one hand, the film insinuates the idealistic way to respond to someone's coming out is to be completely casual, which immediately screams "written by queer writer." The understanding, sensitivity, and normalcy is not often found when straight writers create the same scenario. But the normality of  Lucy's coming out and how her queer identity is treated as just part of her character restricts our view into the complexity emotional interactions that often accompany coming out as an adult.
"Am I OK?," intentional, or otherwise, reads as the mainstreaming of queer content. Lucy embodies ideas of Western conventional beauty: she is white, cis, and presents femininely. Lucy's presence is relatable for the straight and cis audiences as she looks like them and can help to explain a group of individuals who aren't like them. It's a pleasure to learn about queer identity from Lucy. Her life is simple. Her story isn't filled with the drama and mess often shown in other films about coming out. The straightforwardness of Lucy's character, regardless of sexual orientation or gender identity, is likely to resonate with many people, but queer audiences have been consistently demanding more than crumbs. Ultimately, we want complexity, nuance, and to see queer individuals have fulfilling, heartwarming lives after they come out. Coming-out scenarios should be more of a focus than just character development. 
My hope for "Am I OK?" is that it serves as the pillar of what narratives should be and the ease of confronting sexuality provides a building block for other narratives. "Am I OK?" is a friendly reminder to ask yourself, is everything okay? Even when you need to ask yourself that question on how the characters are handled in the movie. Hopefully, the answer you get isn't what you expected but it will show you more about your life and maybe uncover a surprising story along the way.
---