Abandoned Asylum in Medfield Turns Into Halloween Drive-In Theater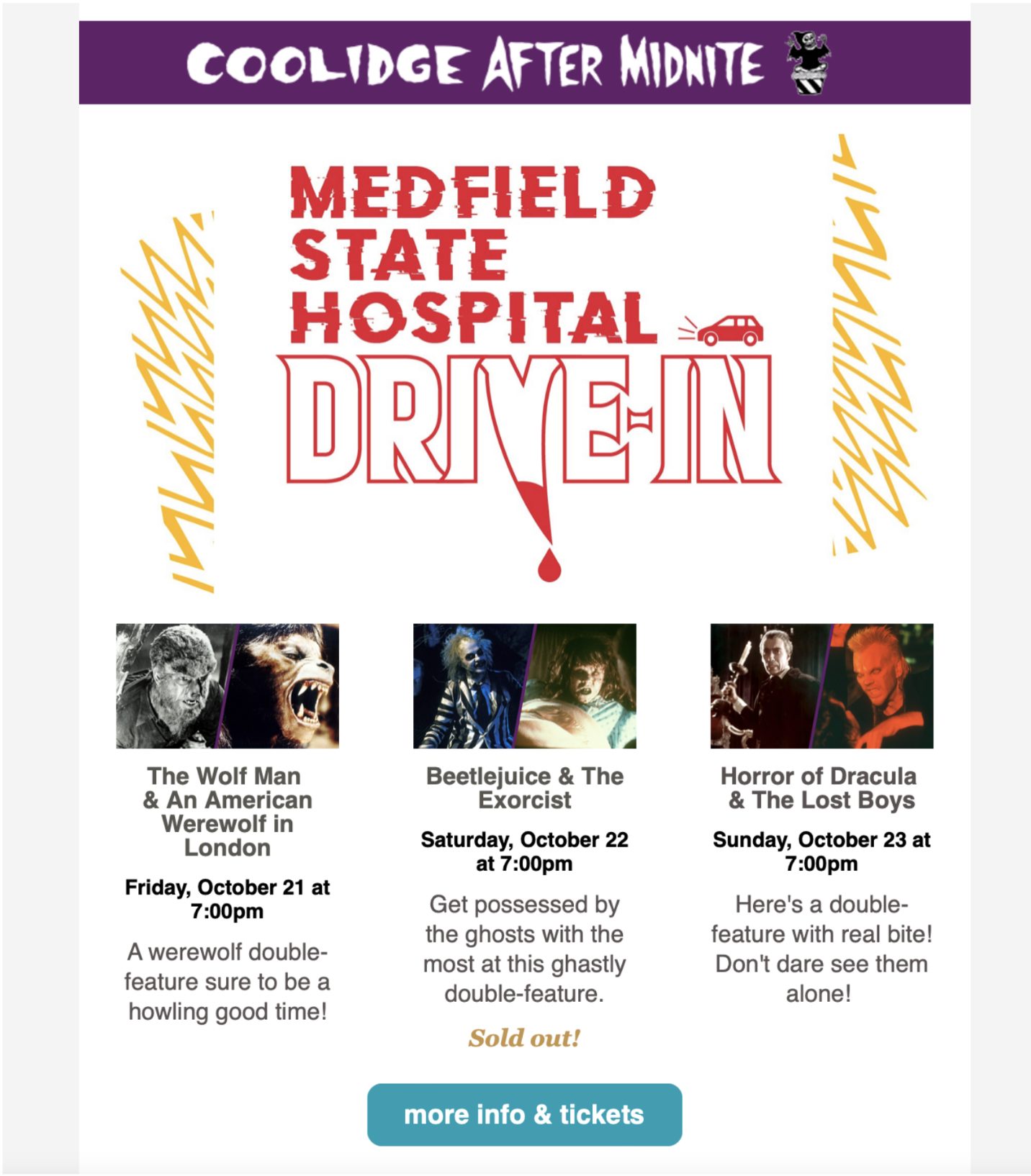 Medfield State Hospital partnered with Brookline's Coolidge Corner Theater and screened three double features this weekend at a pop-up drive-in movie theater. Half of the proceeds go to the hospital's upkeep, says Coolidge Corner projectionist Erica Hill. Medfield State Hospital, the first asylum for the mentally ill in Massachusetts, faces renovations after almost twenty years of abandonment. 
Town planner Sarah Raposa says that the avoidance to the government's first instinct of demolition required a committee creating a thorough "master plan" for the future of the hospital grounds. The town approved a proposal for the installation of 300 rental units in the former buildings, including around 100 reserved for subsidized housing. "What we are actually going for now with a developer is the actual reuse of these buildings into multi-family housing. So these existing buildings will be homes for people in the next several years… It's really cool- just the notion that this gem of a space here in Medfield is going to be preserved," says Raposa.
Tony Leto, a part-time groundskeeper at the hospital, considers any plan that keeps the space from demolition a good one. "Well, I certainly don't want to see it knocked down and plowed over," says Leto. Specifically, he envisions an expansion of the space's use as a park and center for the arts. The Bellforge Arts Center uses the hospital for cultural events and community enrichment, putting a creative spin on what some easily dismiss as a creepy landmark. In fact, the filming of three horror movies, most notably "Shutter Island," happened in this very location. 
The space fills itself with a contrast of crumbling buildings, an unsettling atmosphere, and signs of a modern invasion, including benches, porta-potties, and an elaborate mural. The juxtaposition demonstrates the fight between past and present occurring at Medfield Hospital— a constant questioning of whether to embrace its disturbing history or reimagine a new future.
The drive-in movie theater this past weekend managed to do both. Paul Comiskey, Caleb Gordon, Sara O'Connell, and Kay Hoell attended the theater on Friday night. "We're here to see some horror classics," says Comiskey. Gordon frequently attends the Coolidge Corner Theater, and heard about the event there. The group came last year and found it "really fun," so they decided to come back. Hoell says the hospital "seems like an interesting place. It's beautiful architecture." Comiskey, on the other hand, knew about the hospital primarily through the rumor of "cages in the basement" and patient mistreatment, a contrasting impression not uncommon between history and horror buffs.
15-year-old Jocelyn Grabowski went to Friday's screenings with her mom, dad, and 11-year-old sister. "I'm so excited. Hopefully, it'll be scary. That would be fun… It [the hospital] is kind of creepy. I don't know much about it, but I know I was a little freaked out that we'd be near it." Her dad, Eric Grabowski, says the family's "favorite holiday is Halloween." Although, Leto commented, "You know, I think every day is Halloween here." Hill says each night's screenings follow a particular theme. On Friday, when the Grabowskis attended, the movies revolved around werewolves, screening "Wolf Man" and "American Werewolf in London." 
In the crisp autumn air, vendors sold popcorn, hot dogs, candy, coffee, hot chocolate, and other treats. Patrons set up lawn chairs and donned blankets and pajamas. At the start and end of each movie, vehicles provided a cacophony of car horns in appreciation for the unique Halloween adventure.
---