Filmmakers Collaborative's 10th Annual Boston International Kids Film Festival Kicks Off on November 18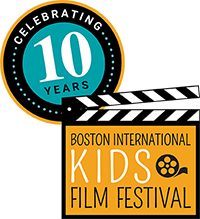 The 10th annual Boston International Kids Film Festival (BIKFF) takes place from November 18 to November 20 in the Mosesian Center for the Arts in Watertown, MA. The festival aims to show young children that making a film can be a powerful way to tell a story while also having fun. Through the weekend, they will screen both professionally and student-made films from around the world, with a focus on movies for, by, and about kids. Categories include animation, documentary, feature, international, and short films, each organized into different blocks: films that are perfect for ages 10 and under, and middle school and above, as well as sections for student-made narratives. 
According to Laura Azevedo, this year's festival director, BIKFF "is a great opportunity for kids to not only be inspired by the work of the professional filmmakers, but also to really express their creativity in ways not usually offered to them and in a way that they can share with their family and friends." 
Filmmakers Collaborative, a nonprofit organization for filmmakers of all ages, first created the BIKFF in 2013 and works closely with children and their families, introducing them to the world of independent film. Students who attended the FC academy–their afterschool and summer filmmaking program–get center stage at the BIKFF, with special blocks throughout the weekend to show off the films they created while in the program. Throughout the festival, FC will also host various workshops, stop-motion animation activities, and filmmaker roundtable discussions. 
"I am constantly impressed with the work of these young people and in awe of the bravery that they show in their filmmaking," says Azevedo. "In many ways, it's a real window to what is on their minds, and many find it therapeutic to express themselves on screen. This year our youngest filmmaker is eight years old!"
For more information and a complete schedule, visit https://bikff.org/
---