I Watch The Independent Staff Picks: Black History Month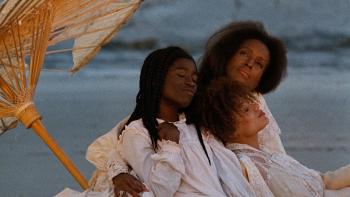 In honor of Black History Month and Women's History Month, I had The Independent staff recommend three movies written and directed by Black women. As someone new to independent film, I wasn't sure what to expect. Read on to hear my thought's on the staff picks.
"Eve's Bayou" (1997)
The film opens at a house party, where the protagonist, 10-year-old Eve Batiste (Jurnee Smollett), witnesses her father (Samuel L. Jackson) having an affair—one of many, as she soon discovers. The story uses Eve's sister Cisely (Meagan Good) as an unreliable narrator who initially attempts to manipulate Eve's memory to alter her perception of their father. Eventually, Cisely's intentions surpass intentional manipulation, and the truth becomes unclear, exemplifying the unreliability of memory.
A Southern Gothic tale, I found "Eve's Bayou" both visually attractive and narratively captivating, a great introduction to my journey toward independent film. Though I wish there were more exploration of the subplot featuring Eve's aunt Mozelle (Debbi Morgan), a Hoodoo practitioner with a reputation as a black widow, I found the main plot to be developed enough to maintain my interest. The theme of the unreliable narrator prompted me to reanalyze prior events and question if what was playing before me was how it actually happened. I am also always happy to watch any movie featuring Lynn Whitfield, one of the few actors from this list I was already familiar with, who stars alongside Smollett as Eve's mother.
"Daughters of the Dust" (1991)
The film begins explaining the history of the Gullah, an isolated people off the coast of Georgia descended from African captives, their solitude creating a unique African American culture and language. Set in 1902, "Daughters of the Dust" depicts the Peazant family preparing to leave the island for mainland America with the exception of Nana Peazant (Cora Lee Day), the family matriarch determined to stay and keep her culture alive. Nana Peazant's ideals clash with the younger generations of her family, who are desperate to get away from the lifestyle they describe as backward. Narrated by the future daughter of Nana's descendants, aptly referred to as Unborn Child, "Daughters of the Dust" explores what it means for this family to look to the future while keeping the past in mind.
Despite being set in America, this was the first I had heard of the Gullah people. Writer and director Julie Dash does a great job integrating real-life history into her storytelling, balancing education and entertainment. If you are easily distracted like me, it is easy to get lost, but I was immediately drawn back in by the film's stunning cinematography. With most of the film taking place outside, it is clear the film relied heavily on natural lighting, adding a golden quality to many of the scenes and complimenting the overall earthy color palette. On looks alone, "Daughters of the Dust" is easily my favorite pick from this list, and its rich storytelling only enhances the positive feelings I have for this film.
"Losing Ground" (1982)
The story follows Sara (Seret Scott), a college professor, and Victor (Bill Gun), her artist husband, as they leave the city for the summer. An analytic, she wishes to understand human ecstasy, a feeling she frequently sees her husband experience through art but struggles to understand herself. In line with his pleasure-seeking behavior, Victor is quickly distracted by his art and new muse (Maritza Rivera), leading Sara to cope with her husband's neglect by playing a jealous lover in her student's film thesis.
Though not as plot heavy as some of the other picks on this list, the film is at least quick and to the point, clocking in just under an hour and a half. Unlike the previous two entries, I think the beauty of "Losing Ground" lies less with its cinematography and more with its screenwriting. Though perhaps not the most unique trick, the film-within-a-film aspect beautifully and clearly illustrates Sara's internal space as she navigates her tumultuous marriage, in turn developing a freer, more expressive side to herself. The ending of this film is probably my favorite part, perfectly punctuating the end of this story while leaving the viewer wanting more.
---