Magic Mike's Last Dance Review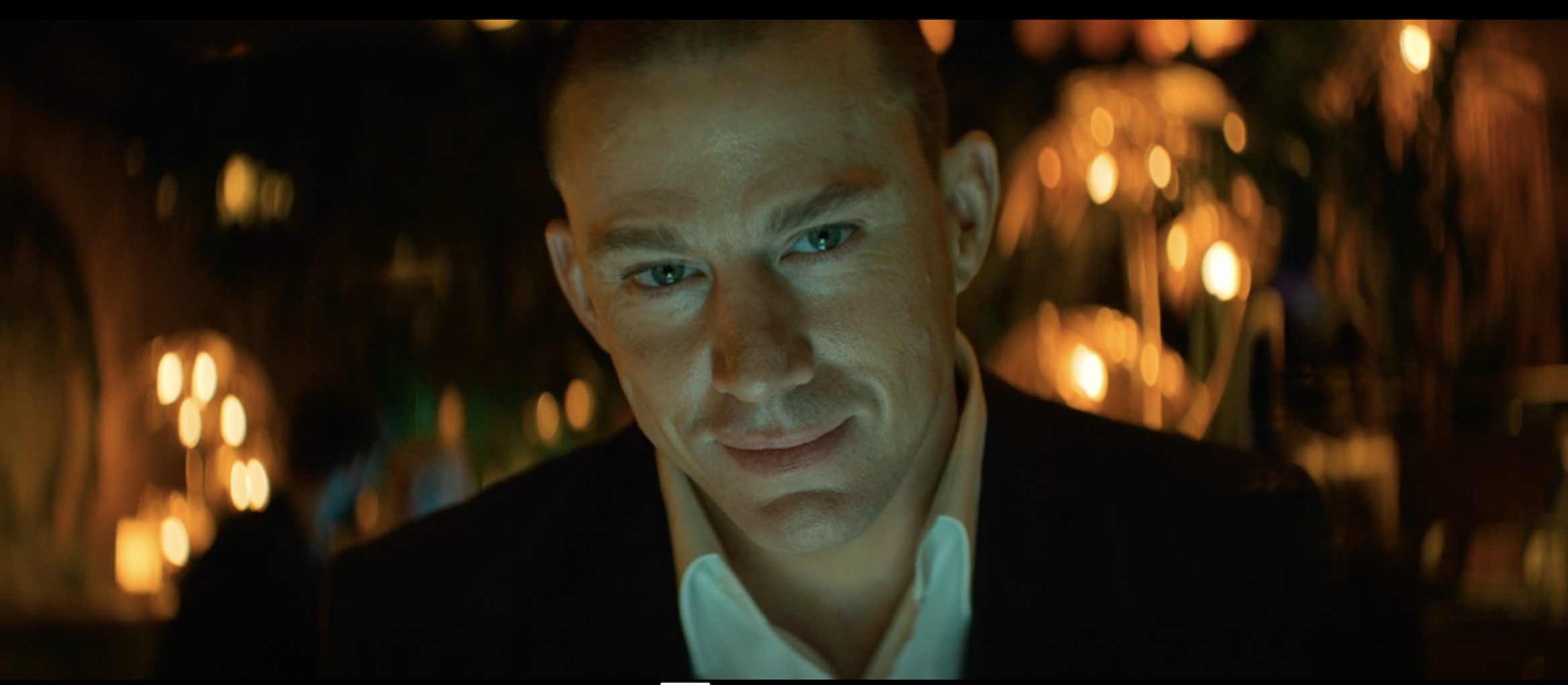 Disclaimer: I have not seen the first or second installment of "Magic Mike," but it was a Thursday night, the boy who flew across the country to visit me was with his friend in Maine, and I had nothing else to do, therefore I had nothing left to lose. 
"To bridge people together from different worlds to heal wounds when words do not suffice."
Throughout the film, we get a narration of girl who we later learn is Maxandra's daughter. She's telling a story about dance and its capabilities to connect people. To give a voice to communities that were ostracized in society through the economics of class, race, and gender. When watching this movie, I didn't expect to hear about systematic economic inequality. But truth is, this dream—Mike's "last dance"—was built on his necessity to survive and to live in a world where the rich have control.
At the beginning of the film, the narrator informs us that Mike, played by Channing Tatum, has lost his local furniture business, and the effects of the pandemic had resulted in the loss of a future outside of performing. 
While bartending at a charity event, he is summoned by Maxandra Mendoza, played by Salma Hayek, a wealthy socialite who had lost sight of "what was once there"—the desire within her to want more, to yearn for passion and belonging outside of failed marriage she is still tied to.
She is hesitant at first but then asks, "If you were to do this one last time, how much would it cost you?" 
Mike responds, "Sixty thousand…"
"How about six thousand?" 
After pondering the question, he sits her down, asks for her consent, and proceeds with his dance. 
A dance, choreographed in four-act, tells the story of a woman who is being seduced and finds herself within the seduction, she begins to take control of her body and control of the man who is seducing her. She eventually sits on the table, blindfolds Mike with what looks like a Valentino pink silk neck scarf, and eventually blurs the lines of what was supposed to be a transactional dance and the intimate sexual awakenings of a couple.
It's a hot movie, but it's a hot movie that wants to be more. One that sees past the daze of desire and tries to understand the complexities of life when money is not the answer.  I have to give it to them, the chemistry is there, the two of them become one in this dance that she describes feeling like water. 
To feel like water, to be so attuned with one another that the act of pleasure becomes ecstasy. 
The ecstasy that Maxandra feels drives her into asking Mike to pack up his life and move to London with her for the month. Here, she will change his life and fulfill his biggest desires. To become something more than himself. He is hesitant at first, understanding the power dynamics between a struggling dancer and a socialite who can toss him out at any moment. Unaware of what would follow he says yes. 
On the private jet to London, the two arrange an agreement, although they both enjoyed their time together sexually, this was strictly business. I think this was important in setting the tone, although Mike has been previously seen as an exotic performer, he is entering a new domain where the lines of sexual pleasure, arousal, and business are all crossed. 
He essentially becomes her sugar baby, she dresses him up, enhances his name, and gives him a title. She carries him around but in a way that allows for him to have agency, she lets him speak, but not too much, never really letting her guard down. 
We see this unfold through the narration of Maxandra's daughter, a character who is trying to find her place within this world Maxandra has created for her. She has everything money can buy but yearns for a deeper connection to her mother—one where she calls her Mom, and not by her name. A relationship built on trust and communication, two things Maxandra struggles with in her personal and private life. 
The daughter plays a vital role in showing perspective, her narration completes the story moving it away from one-dimensionality to explaining the complexity of characters and their roles within society.
With the film leading up to this one last dance, we are taken backstage, we see the production side of creating a spectacular, scouting, rehearsals, tech, and the unveiling of Maxandra's long overdue divorce. She sits on a complicated axis where her wealth, and title in society come from her husband, she has nothing to her name and will lose all her wealth once the divorce is settled.
But why can't a woman have it all? Why can't she choose love, wealth, and pleasure? Why must a woman choose between a rich husband or a poor man with a heart of gold? The film seemingly asks these questions. 
Because in the real world, one must choose.

The issue arises when Maxandra's husband threatens to sue for "ruining the reputation of his family"?? Honestly, just another entitled white man complaining about how a woman's reputation equates to all her worth. After this conversation, she ends her relationship with Mike.
There is a conversation that is taking place or at least a critique of the upper class. We see how the dancers find unity through movement, they are all working-class individuals from different backgrounds with dreams of being someone. There's Mike, a former exotic dancer carrying the social baggage of sex work. When given the opportunity to uplift dancers and make something of himself along the process, he feels this pressure.
When Maxandra pulls the plug on the performance, we see how Mike's character develops, he doesn't say much, but he feels everything. Feels the heartbreak, the need to prove himself, and the anxiety of putting on a show for the first time.
The film ends with an elaborate production of dancers telling a strip tease story of a woman who has to choose between two men (LOL) but meets a unicorn who grants her sexual fantasies. Mike then does one last dance with a ballerina in the rain which very much felt like an homage to "Step Up."
Dance plays an integral part in telling this story. We see the importance of movement when words do not suffice to tell someone how you really feel. 
---