2023 Boston Underground Film Festival Begins Wednesday, March 22

The Boston Underground Film Festival (BUFF) is back again this year, bringing the strange, experimental, and all-around fun films it is known for, starting this Wednesday, March 22. What started as a truly underground film festival that faced a rocky development as it constantly moved venues has become a force to be reckoned with, having found its home in Brattle Theatre (located in Cambridge, MA) since 2012.
This year, the festival offers a fascinating new line of films, including the world premier for "The Unheard," a psychological horror feature film directed by Jeffrey A. Brown. The film follows a young girl who, after going through an experimental cure for her hearing loss, suffers auditory hallucinations of her missing mother. "Sick of Myself," a film directed by Kristoffer Borgli, will also premiere at the festival. Tackling the theme of narcissism in the modern age, the film's protagonist is a woman with an inflated ego struggling to handle her partner's newfound success. There are many foreign films to explore—including ones from Norway, France, and Belgium—in all their wacky and scary glory.
The 2023 BUFF will run through Sunday until 8:00 p.m. Tickets are available on the festival's website, where you can also check out the screening schedule.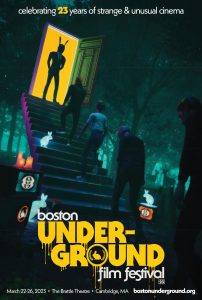 ---