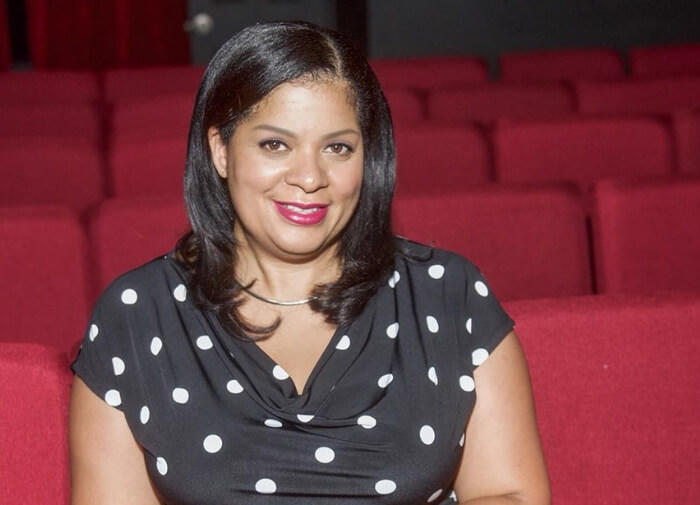 Emelyn Stuart at Stuart Cinema and Café (Courtesy of stuartcinema.com)
At the Independent, we not only champion the creators sharing their stories through film but those working behind the scenes to help usher those stories into the world. In this spirit, and in honor of Women's History Month, we profiled Emelyn Stuart—the first Afro-Latina woman to own an independent movie theater in NYC—who's using her single-screen theater and café to reimagine the framework for a struggling business model. 
As a little girl, Emelyn Stuart remembers boarding a public bus to go to the movie theater in a white neighborhood much different than the neighborhood of Sunset Park where she grew up in Brooklyn. She was moved by this experience—by both the necessity of traveling across town to see a film and by each minute spent enthralled by moving pictures on a screen. Though not privy to it at the time, she'd later find that these were the moments that would shape her life.
As an adult, Stuart has worked on Wall Street and in real estate. And in a not-so-unexpected pivot, she stumbled into the independent film industry, producing twenty projects—"Wings and Beer," "12 Steps to Recovery," and "The Turnaround," to name a few—showcasing marginalized voices. In 2013, she started Ocktober Film Festival, a "teaching festival" where attendees receive a full education in how to get their film from point A to point Z. She's become the first Afro-Latina in NYC to own an independent film house—a 50-seat theater and 10-seat café. This summer, she'll become the first Afro-Latina in NYC to own a multiplex—three screens and a full restaurant—that she's building from scratch in Sunset Park, where decades after her first trip to see "Godzilla," community members are still boarding a public bus to go to the movie theater.
—
It becomes clear early in my conversation with Stuart that she feels a responsibility to make art—its creation and consumption—a communal experience accessible to all. This responsibility hinges on Stuart's experiences as an Afro–Latina woman as well as her understanding of how the art industry operates:
It's all about other people, especially in the arts. You are dependent upon others. And if, for whatever reason, they don't feel that you're worthy or you don't fit their narrative, then you're done. That cannot be the way this works. Filmmakers should be able to make a living off of their talent. If they are, in fact, talented, they should be able to eat from that talent. I think it's the only industry—the arts—where you could be the best at what you do and have to sleep in your car.
 It was while standing on a dark street outside of a venue where she had paid to hold Ocktober Film Festival that Stuart knew she had to take control of the narrative. She describes a filmmaker's Q&A (the most important part of the festival, she points out) running slightly longer than anticipated. The lights were shut off and she was forced to usher attendees outside. It was here that Stuart decided she would open her own theater where she would be able to give filmmakers the care they deserve.
But investors weren't interested in funding a venture that would cater to artists and low-income communities. In turn, Stuart liquidated her assets to buy a warehouse in the Greenpoint neighborhood of Brooklyn that she transformed into Stuart Cinema and Café, a single-screen theater and bistro.
 That was five years ago. Since then, the doors have closed on hundreds of movie theaters across the country. But with Stuart's solution- and community-oriented approach, her film house has seen astronomical growth.
 The theater now not only hosts Ocktober Film Festival, but dozens of other film fests and events, even for big names in the industry such as SHOWTIME's original series "Billions" and Netflix's "Orange is the New Black." Her space is booked out months in advance—it's the most affordable venue in the most expensive city in the world. In fact, people are already trying to book out the new multiplex, and "we haven't even built it yet!" Stuart tells me with a laugh.
 She's implemented a system for independent filmmakers to get their work on a screen, starting with deeply discounted film run fees that can be paid off over time. Those filmmakers also get to decide how much they'd like to charge for tickets to see their movie; they can sell merchandise; they can run raffles. The point, Stuart explains, is that "now when you rent the theater to show your movie, it actually could generate revenue instead of being an expense." And more, those films, after running three times a day for a week, then meet the eligibility requirements for the Oscars—an opportunity too often not afforded to independent filmmakers, especially those from minority backgrounds.
 But beyond her contributions to the independent film industry, Stuart has created a space for community, and she's thought of ways to capture every demographic.
 Kids come by to hook up their gaming controllers to the system and play on the big screen. Her $10 lunch menu brings in a crowd of young professionals looking for a quick, cheap bite every afternoon. She's implemented $8 movie Wednesdays as well as a ticket sponsorship program so that no matter what, low-income parents have a way to provide their children the type of movie-going experience Stuart remembers having as a child.
 In 2020, Stuart had the space certified as CinemaSafe, allowing her to stay open to the public during the pandemic. During that time, she provided laptops for community members to apply for unemployment and installed DVD players in the homes of senior citizens to keep them connected to the movies. In-between film screenings, she rented out the theater to those wishing to watch livestreams of their loved ones' funerals that they were unable to travel to. They paid based on the honor system: "I said, 'Whatever you can afford, that's what you give me.' It was the saddest place on Earth, but it was so rewarding."
 Each of these decisions has not only made her services accessible to an ever-growing patronage but has generated profits beyond expectations—a result of Stuart's unique ability to couple a refined business acumen with a deeply personal understanding of what it means to be a community leader.
 Stuart has not only reimagined the template for a successful movie theater but she's created a space that brings people of all different backgrounds and races together to engage in a cultural exchange, whether through a minority film screening and Q&A or her Dominican mother's homemade empanadas and coquito in the café. Stuart's looking forward to building onto this framework through the new multiplex in the neighborhood she grew up in. And while this time she's been dealt a new problem—the banks wouldn't give her a loan—she knew better than to seek out investors. Ironically, despite the weight Stuart places on community, she also understands that some things we must do on our own, especially as women.
 Stuart is resilient, intelligent, resourceful, and perhaps a bit lucky, but I sense that she's probably right in saying that as women, we must take a chance on ourselves; we must invest in ourselves at some point instead of everyone else around us. "You have to have the power to put enough skin in the game to build your own table. And maybe it won't be a big conference room table. Maybe it'll be a little snack table, but it'll be yours." It's not a profound notion, but Stuart's story—the building of her own small independent film house empire—demonstrates the profound effect of its implementation.
 Emelyn Stuart built her table; she pulled up seats, and added leaves. And it's now at that table that everyone—the creators and consumers, alike—eats.