Go See Only In Theaters at West Newton Cinema starting April 14th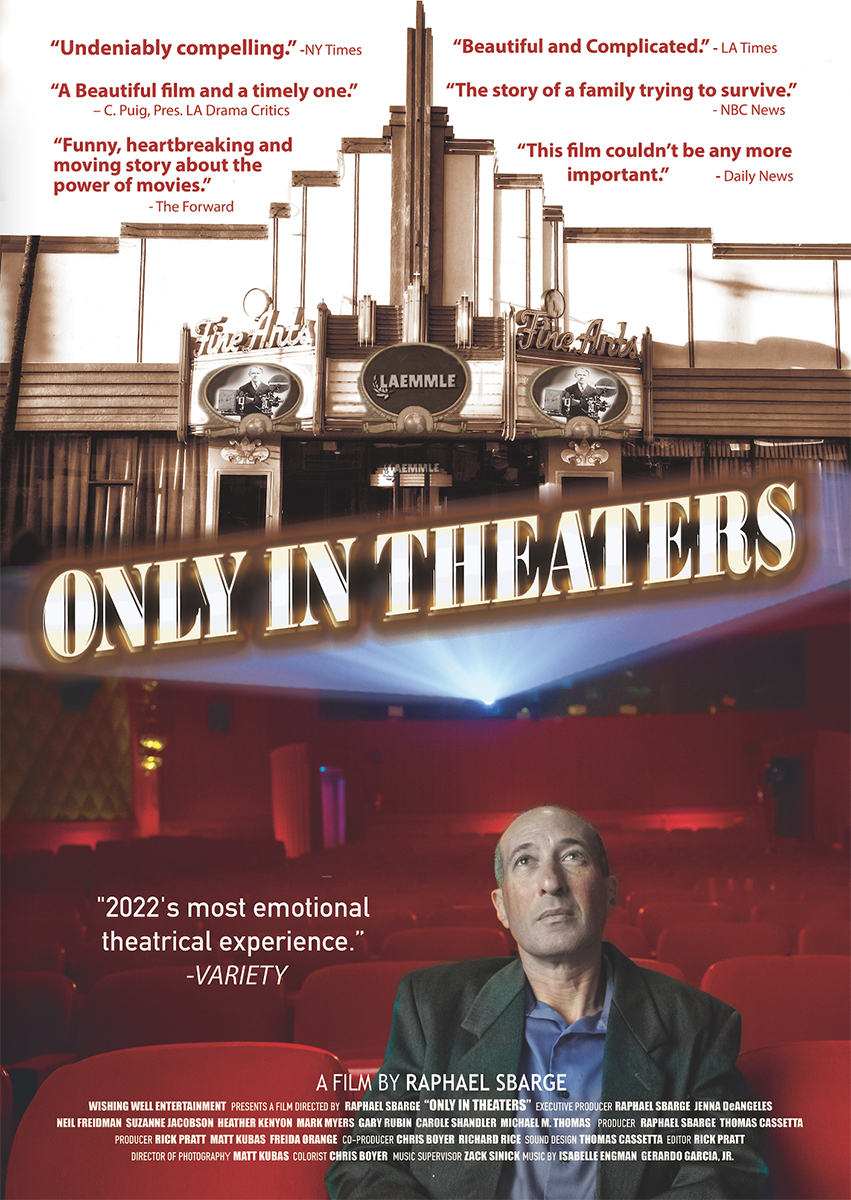 When Director Raphael Sbarge's "Only In Theaters" premiered at the Santa Barbara International Film Festival in 2021, it was a timely piece, a documentary chronicling the ups and downs of the Laemmle family business, an 85-year-old theater chain in Los Angeles trying to stay afloat—no small feat in the age of streaming. And everything seemed to be going downhill for the movie theater industry after the record-breaking, MoviePass-driven boom of 2018. Only a year later, with MoviePass bankrupt and the cost of living on the rise, theaters began closing left and right, and Greg Laemmle was forced to consider selling.
Laemmle Theatre's nine locations offer curated indie arthouse cinema and the all-time sacred ritual of popcorn, previews, and shared excitement with the strangers down the row, something Netflix algorithms only scratch the surface of. This is what "Only In Theaters" reminds us is at stake for the film community, both for movie-goers needing solace and escape from the spinning world and for independent filmmakers needing a platform for their work.
The latter reason is why Sbarge went to Laemmle Royal (one of the Laemmle Theatres' locations) nearly three years ago to talk to Greg and see if he could find a screening home for his newest project. There, he stumbled upon a wall,  a clustered expanse of framed Laemmle family memories, smiling faces behind the business—people. Sbarge had to know their stories beginning with Jewish immigrants Max and Kurt Laemmle leaving Nazi Germany, pursuing the American dream, and founding an indie film theater. This story was both attractive and familiar to Sbarge, who, himself, comes from a Ukrainian Jewish immigrant background. And when he discovered that there were Laemmle elders—owner Bob, 85, and his aunt Alyse, now 106—alive and well, Sbarge took on the project with urgency. "Only in Theaters" is a revelation, showing how closely intertwined the roots of the Laemmle family tree and those of arthouse cinema in Los Angeles really is. The strength of both has been tested time and again.
In the 1950s, the diffusion of television sets to every living room in America sparked a shift in movie-going trends. The then four Laemmle Theatre locations dwindled to one, and Max (Greg's grandfather), solo at the helm, kept it running. Somehow, he knew that even with the popularity of television, people still wanted to see films in the theater. Waves of overseas and homegrown arthouse cinema movements throughout the late '60s and into the early '90s would prove him right. And soon, Max's son, Bob, pivoting from a career in finance, would lead the business to re-expansion.
This and more, the documentary narratively shares, never shying away from the complexities of family dynamics and how they can be strained by the fact of running a business. The relationships between the founding brothers, between the founding father and his son, and between the current president, Greg, and his wife, Trish, have never gone untouched by the weight of their shared responsibilities. Yet prevails, care, concern, and wisdom between them, something that viewing audiences, no matter what their background, will relate to.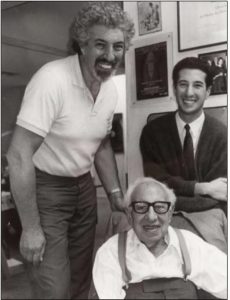 In many ways, "Only in Theaters" is an honest and subtle call to action. Interviews with critics, film historians, and writers are full of testimony about arthouse theaters as training grounds for early film education. When I spoke to him directly, Sbarge reflected on these interviews and the enthusiastic participation from industry creatives, producer Cameron Crowe and director Ava Duvernay among them,  saying, "If it wasn't the Laemmle's, it was a theater like the Laemmle's that inspired them." And it's true—that the Hollywood talent we know today would not exist without the indie film community. The consensus among this outstanding cast of interview subjects is that Laemmle Theatres is not a resource they'd want to lose.
But what can be done in the wake and rise of streaming services? Like with television in the 1950s, but on steroids, the convenience of being able to play, pause, rewind, lay across the couch, and fall asleep before the end, only to start all over again at one's leisure might be an attractive pastime for viewers. But in a brief exchange with Greg Laemmle, he portrayed the same faith in movie-goers' loyalty to the original art form that his grandfather Max had. "We had one of the highest-grossing films of all time this year," he said, referring to "Avatar: The Way of Water," "…so young people want to go to the movies, but there's an economic context to consider." Rent is going up. Both for movie-goers and for theaters, hence the shutdowns and absorptions happening all over the country. And still, there are independent filmmakers, storytellers, and artists who don't expect to be "highest grossing" anything but don't deserve for their small films, their soul art, to only make it onto small screens either.
Greg and the Laemmles are caught in the middle of wanting to provide a creative platform and a service that promotes well-being and wanting to ensure their own livelihoods. And they're not alone.  Beginning this Friday, April 14, after over 60 screenings all over the nation and with more to come, "Only in Theaters" will be at West Newton Cinema for a week, and here, it's as timely and relevant as ever. West Newton Cinema, founded by brothers David and James Bramante 44 years ago, is experiencing a reckoning similar to the one described in the film. The family-owned, six-screen, indie theater is facing off with Mark Development, a real estate corporation building a 50-unit residential housing structure nearby. They've been given the now, not-so-rare opportunity to turn non-profit (The West Newton Cinema Foundation) and raise money to save the neighborhood establishment. So, again, what can be done? Go see "Only in Theaters" at West Newton Cinemas (or wherever it's playing near you)—to support the Bramantes, the Laemmles; to support indie films and the cultural past time of going to see them on the big screen; to support a living, breathing art form and the spaces that have always housed it.
---