Grrl Haus Festival Celebrates Feminist and Gender-inclusive Filmmaking, Featuring Three Emerson Creators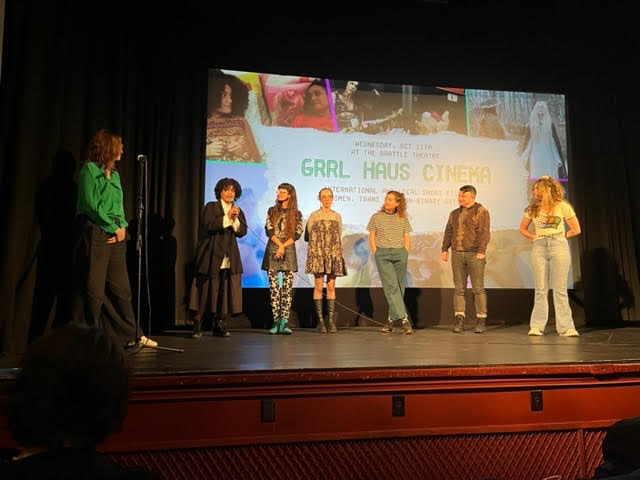 Experimentation intersects with gender inclusivity at Grrl Haus Cinema, a film program that screened their latest festival at The Brattle Theater on Oct. 11.
Grrl Haus Cinema is an ongoing film program highlighting the works of female, transgender, non-binary and gender-queer creators.
It was created in 2014 at The Brattle Theater by photographer and filmmaker Anastasia Cazabon. The program has since grown globally, landing in Berlin in addition to Boston, and screening in other countries such as Slovenia, the Netherlands and France. Grrl Haus features the works of over 400 local, national and international filmmakers.
On Oct. 11, Grrl Haus screened four short films by local New England filmmakers and seven international shorts— all low-budget, experimental, DIY and "rebellious," as Jenny Plante, one of the festival's curators, describes.
"When I was picking, I was certainly looking for [films] that had a great energy to them, that felt like they were taking a few risks with their filmmaking," she says. Questions she asked herself when curating were: "Does it feel like it's new and fresh? Does it have an artistic merit to it? Are we getting something out of this?"
Plante, who also has a film in the festival — "The Children's Menu" —, has been involved with Grrl Haus since its creation. In 2014, her film, "All of Them Bitches" was included in the festival's inaugural screening, and since then she has both assisted in running the festival and been showcased in the festival. Oct. 11 marked her first experience curating a series.
Plante says the films she selected for the 11th were all experimental in their uses of sound, editing, and structure.
"They are all very distinct filmmakers with all very distinct points of view, but they have a use of repetition of sound that I found kind of mesmerizing," she explains. "None of them had a true narrative, they stood out more than the traditional beginning, middle, end storytelling,"
One film that stood out to Plante was "Living Lessons in the Museum of Order," a film connecting the captivity of prisoners in Alcatraz with the captivity of whales in SeaWorld as well as the colonization of American land.
"It's working on a few levels," says Plante. "And I thought it was very well-made."
"Living Lessons in the Museum of Order" by Malic Amalya is experimental in its lack of a conventional narrative structure. Rather, the film is tracked through its use of sound. It employs audio recordings of SeaWorld, the commands of an Alcatraz tour, the voices of Indigenous activists who occupied Alcatraz in 1969 and sounds of the environment to shape the film. 
"It's coming from a place of critiquing white supremacy, critiquing racism, critiquing capitalism, critiquing prisons, and so I want those political positions to be present in the film," he explains.
Amalya, an experimental film professor at Emerson College, was one of three filmmakers in the festival associated with Emerson College. Alumnae Tess Meersman and Natalie Peracchio also had films screened on the 11th; "Can You Carry Me" and "Comeback," respectively.
"It's exciting to have a place that embraces DIY filmmaking," says Peracchio.
Meersman, a former student of Amalya, said he had encouraged his students to submit to Grrl Haus when she had him. Among a list of various experimental film festivals, Grrl Haus stood out to Meersman
"I saw it was Boston-based, which I thought was really cool, and I thought it was cool that it was experimental because that's super what I'm into," she remembers.
"I'm really excited to be a part of a local art scene, local feminist, queer-positive scene," says Amalya.
The festival on Oct. 11 attracted around 80 people and featured a Q&A panel of six of the filmmakers following the screening.
"Everybody was super thrilled to be there," says Plante.
Grrl Haus is an ongoing festival, hosting multiple screenings and opening multiple submissions throughout the year. The next festival held at The Brattle will be on Dec. 14, with submissions opening in November.
---