Tran Anh Hùng's The Taste of Things is independent film's most delicious treat yet at IFF Boston 2023.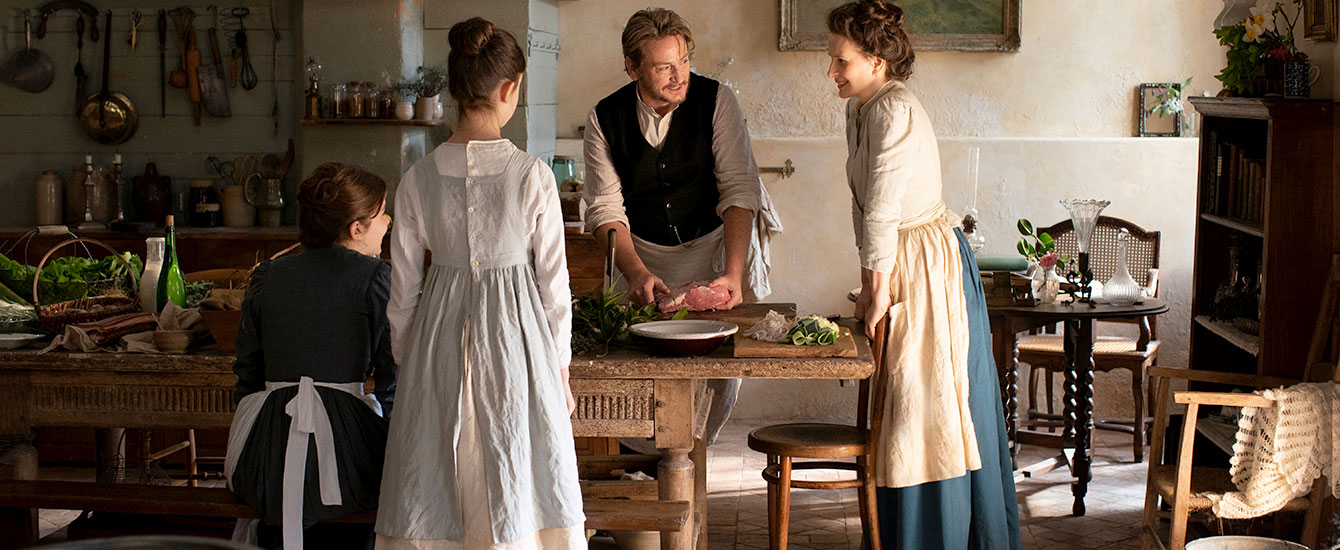 This past Sunday, Independent Film Festival Boston (IFF Boston) partnered with The Brattle Theatre near Harvard Square for their annual fall film festival. Included amongst the award-nominated contenders screened in the program was French director Tran Anh Hung's culinary delight, "The Taste of Things."
The film is an adapted screenplay, based on French author Marcel Rouff's 1924 novel, "La passion de Dodin-Bouffant, Gourmet." Set in late 19th century France, the plot follows Eugenie, (Juliette Binoche) a decades-long cook for gourmet chef Dodin (Benoît Magime), and their brewing romantic tensions which have previously been subdued under the guise of passionate professional relations. As their youth draws to a close and middle age is imminent, the two must reconcile with their emotions and attempt to find harmony amidst their conflicting desires— sexual attraction and culinary passion.
The film already garnered lots of attention among indie film circles after its Best Director win at the Cannes Film Festival, and after it earned a spot as France's entry for the Best International Feature Film at the 96th Academy Awards. The Brattle's sold-out screening buzzed with eager anticipation and an insatiable appetite for all things French and food. And boy, were they satisfied.
The Baked Alaska might be mouthwatering and the sauces appetizing, but the savory goodness of this film lies between its two love interests. Eugenie and Dodin's palpable chemistry and burgeoning love (probably brought forth by the in-real-life romantic relationship between the two) give Hung's narrative flavor. Cooking as an act of love is only made real because of Magime's painstakingly earnest eyes and Binoche's infectious smile. But more than the food and the attraction is the conjunction of the two, how they intertwine and give life meaning.
Similarly to that of "Babette's Feast" (1987), or the somewhat recent "Pig" (2021), "The Taste of Things" graciously bestows its viewers with an abundance of gastronomical erotica, highlighting both the sumptuous food and characters of its narrative with swaths of golden light, sizzling swirls of steam, and a pastoral French countryside landscape.
The dialogue is undoubtedly French and aware of it; throwing in remarks of intellectual wit, romantic rapport, perfectly-paced sarcasm and utilized silence for comedic timing. This only grounds the film's dramatic moments more, showcasing the intermingling of humor and grief, wit and love, teasing and affection. It's evident that both actors and director alike knew when to show restraint, as seen in certain lingering moments of silence. The closing scene of dialogue, in particular, exemplifies this, letting the final words settle in your stomach as you digest the film in its wholeness.
There is no question why France chose "The Taste of Things" as its Academy contender; the film eats, sleeps and breathes French. Sensual, candlelit conversations over foie gras and a glass of Merlot? Alas, I digress. But its overarching, overwhelming "French" vibe strengthens the narrative. Two lovers uniting over pastry dishes and broths would not be believable in an American setting, but the windswept, Victorian era of France creates a beautiful vehicle for this story. The passion is visceral and tantalizing, and the cultural context propels the passion from the screen onto the viewer's lips.
Hung's tender embrace of a film seeps itself in nostalgia, an unearthed, distant memory of domestic comfort and the beauty of a home-cooked meal. While classified as a romantic drama, in its most unadulterated essence, "The Taste of Things" is truly about food in all its semantics; how it connects us with the ones we love, how cooking forges passion and how sex and food are synonymous.
Hung's cinematic study in gastronomy might as well be a study in domesticity and its simple pleasures. The film's beauty is not just in its heavenly lighting, cottagecore-drenched production design, or its sensual close ups of Pot-au-Feu, but rather in its profound realization made sound by its screenplay: food is love.
A home-cooked meal, an exquisite glass of wine and sex with someone you love are perhaps a luxury to some, but to the French and Hung, what it means to be human.
---
---
Regions: Boston