The Independent's Guide to Film Distribution, Second Edition
NOW ON SALE!
Buy the Book
For max profits to benefit The Independent, buy print copies on Create Space or e-books on Kindle.
About the Book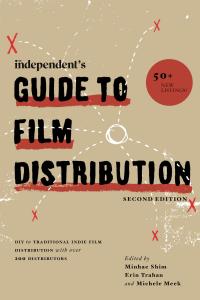 The Independent's Guide to Film Distribution, Second Edition, edited by Minhae Shim, Erin Trahan, and Michele Meek updates the definitive directory of independent film distributors with bonus advice and resource articles by experts in the field. Here you will find the contact and acquisition details of more than 200 US distribution companies that acquire independent media – documentaries, narrative features, experimental films, shorts, and animation.
The Second Edition offers an of-the-moment overview of DIY to traditional indie film distribution, featuring:
50+all-new company listings
Contributions from Peter Broderick, Michael Donaldson, Jon Reiss, Jerome Courshon and other experts
In-depth interviews with leading independent distributors such as Sony Pictures Classics, Oscilloscope Laboratories, Drafthouse Films, as well as profiles of FilmBuff and Film Sprout
Hear book editors and book contributor and distribution expert Peter Broderick discuss How to Navigate the Changing World of Indie Film Distribution in a free e-chat archived here.