Alex Karpovsky's "Woodpecker": The Perfect "Ficumentary"?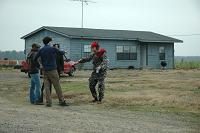 Filmmaker Alex Karpovsky is sure to leave reviewers scrambling for a dictionary in an attempt to define the hybrid genre of his latest film, "Woodpecker".
His style expands on the distinct technique of his first feature, "The Hole Story", which earned him a spot in Filmmaker magazine's 2006 "25 New Faces of Independent Film" and on last year's short-list for the "Someone to Watch" Independent Spirit Award. His first film spawned from his real-life pursuit of a television pilot and explored a mysterious hole that opened up in the ice during the deep freeze of winter in Brainerd, Minnesota.
But of course, the heart of the film lies less in the exploration of the hole and more in the alternate meaning Karpovsky creates for it. Using a directed yet unscripted plot, the semi-autobiographical storyline turns the exploration inward, leaving the fictional Alex to explore his own life and meaning, stylistically interweaving documentary and narrative elements to create a blurred line between reality and fiction. It leaves you wondering, did Alex Karpovsky just check himself into an institution?
Karpovsky says his style is greatly influenced by the early Albert Brooks film, "Real Life", which explored media intrusion on the life of an American family. Brooks stars as himself in a scripted mockumentary. Critics, in their reviews of "The Hole Story", often compare Karpovsky's style to that of Brooks, as well as Werner Herzog and Ross McElwee, all directors whom Karpovsky says he admires. A review by Denise Taylor for the Boston Globe says, ""The Hole Story" is neither feature film, documentary, or mockumentary. Perhaps it's time to start talking about ficumentaries."
His second feature-length film, "Woodpecker", follows a character-driven plot similar to his first film. "I think I'm trying to make a portrait of a character slowly unraveling again," he says. "But this time, more honest, personal and, hopefully, poetic."
The film, which is under tight wraps until Karpovsky premieres it at SXSW this month, explores the fanatical world of bird watching in small-town Arkansas. It follows a comedic and peculiar pair of bird enthusiasts on the hunt for the ivory-billed woodpecker, declared to be extinct in the 1940s. Locals claim they have recently spotted the mysterious bird, but no concrete proof exists, dividing the town into believers and non-believers. The concept of the film is based on fact and is filmed on location in Brinkley, Arkansas, yet the plot and characters are preconceived.
Borrowing from the style of his first film, Karpovsky extends the central theme of a pliant reality, creating continuity from genre to plot. "I wanted to construct a parallel between how a subject is perceived and the film is perceived," Karpovsky says. "I want people to wonder if the film is real or not real. I want it to fly in twilight of uncertainty."
The supposed sighting of the bird calls into question a predetermined truth. Was it really the ivory-billed woodpecker or do birdwatchers want so badly to see the bird that their minds are easily tricked by the sun gleaming off the wings of a crow?
"People often see what they want to see," he says. "What their fears, dreams and hopes dictate that they should see. They have a very strong power to manipulate our reality and bird watching is an interesting place to explore that theme."
Karpovsky says he is drawn to the power of human interpretation and how context can manipulate perspective. In the film, he aims to blend the documentary and narrative style in a way that makes the viewer question truth, speaking both to the realness of the film and the existence of its subject, the ivory-billed woodpecker. "We think these things are fixed, but I don't think that's the case," he says. "It's very malleable and subjective and open to interpretation. [The film] dives into the underpinning for our desire and need for hope and for an objective reality."
In preparation, Karpovsky went to Arkansas a few months before filming, to learn about the unique subculture and distinct style of bird watching. "I went there to try to understand why they enjoy six hours walking through the woods trying to find things," he says. "And coming back with no evidence of what you did that day–unlike hunting or painting or sculpture. There's none of that sense of visceral or material accomplishment."
At first claiming that they're "weird people with a weird sense of style," Karpovksy admits he's been drawn to the world of bird watching since the completion of the film and enjoys learning about birds and the subtleties of the sport.
As in The Hole Story, Kapovsky takes an interest in a small town rural backdrop. He says he's never been the type of filmmaker to be able to embrace the energy of the big city. "I'm very much interested in American landscape and the background of natural America," he says. "I try to take advantage of it when I can. I think you can see characters more clearly. They're not washed out in the haze. Drama is more crisp and everything is more pronounced."
After playing the lead in his first film, Karpovsky is noticeably absent from the two-character cast of "Woodpecker". From the beginning, he knew he was not right for the character and set out to find someone he could trust for the lead in his second film. It was at the Sarasota Film Festival that he found Jon e. Hyrns. During a screening of the documentary, "Johnny Berlin", which followed Hyrns as a porter on a refurbished overnight train, Karpovsky "fell in love with him."
The challenge faced by Hyrns lies in playing a lead that almost single-handedly holds up the plot of the film. The storyline centers on Johnny Neander's quest, as an amateur birdwatcher and poet, to be the first to find the mysterious bird, but the backbone of the plot delves into how his hopes and fears creep into his perception of the woodpecker and his quest to find it. "Even though I didn't know him at all, I felt he would get it," says Karpovsky. " I knew he would understand that though the character is searching for a woodpecker, he's also searching for something else."
Though he didn't take on a role in "Woodpecker", Karpovsky kept busy in between production, playing the male lead in a new film by Andrew Bujalski, as well as voicing several characters in the upcoming Grand Theft Auto IV. He's also in postproduction on a feature-length documentary, "TJ & Dave", which follows TJ Jagodowski and Dave Pasquesi, a long-form improv comedy duo, where he was able to explore new directing styles and explore multi-camera techniques.
Woodpecker will make its world premiere this month at the SXSW in Texas, followed by screenings at the Wisconsin, Sarasota, and Atlanta film festivals as well as the Independent Film Festival of Boston. Though, there's no scheduled showing in Arkansas, Karpovsky would like to have a screening for the small town of Brinkley where he shot the film. "I think they'll get a kick out of it," he says.
After running the festival circuit, Kapovsky hopes to do a small theatrical release in 20 or 30 cities. "I know that it works on a fundamental level," he says. "I'd like to have the opportunity to have it find an audience."
With a handful of DVD extras already shot, and an inside glimpse into the world of bird watching, Karpovsky hopes to find "Woodpecker" a DVD audience as well.
His next film, a story about a young man trying to find the funds to get a nose job, is underway. He has most of the script written and hopes to shoot this fall in Newton, MA where he grew up. Though he says he's too old to play the lead character, he'd like to take on a supporting role in the film.
Of course, the final question to be answered concerning "Woodpecker": Does the ivory-billed woodpecker really exist?
"My cameraman was absolutely convinced he saw it and was mortified he missed an opportunity to tape it," Karpovsky says. "It looked like he saw a ghost. The next day he woke up at 5:30 am on our half-day off (I'd been working the crew pretty hard) to go back to that spot to try and videotape it."
He was unable to spot it again, but a news report the day before says there was a possible sighting a half-mile from the spot where they were filming.
Related links:
A look back: The Independent's coverage of the "Blair Witch Project" from 1999.
Information on the True/False Film Festival, in Columbia, Missouri, which specializes in films that play with notions of fact and fiction.
Visit the official "Woodpecker" website.
Read more about "The Hole Story" here.
---
---
Regions: Arkansas