The Doc Doctor's Anatomy of a Film: "Plagues & Pleasures on the Salton Sea"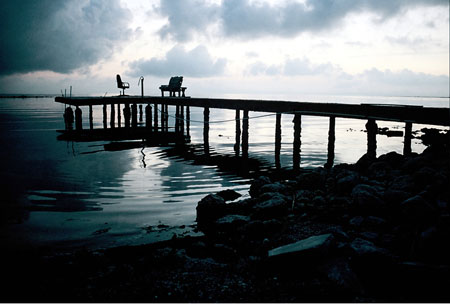 About this column: Many filmmakers ponder in anguish, How do other people—celebrated people—do it? Am I taking too long to make this documentary? Does everybody spend as much money as I am spending, or am I spending too little? And when filmmakers share their lessons learned in interviews in the glossy trade magazines, their tales seem to follow the arc of otherworldy heroes rather than real documentary makers, i.e. human beings like you and me. So each month, the Doc Doctor will go out into the world (this real world) of filmmakers who are successful and find out how they made it. The "Anatomy of a Film Column" is a chance to learn from filmmakers' hits and misses in real life examples. —Fernanda Rossi, story consultant a.k.a. the Documentary Doctor
Case Study No. 7
Plagues & Pleasures on the Salton Sea, directed by Chris Metzler and Jeff Springer
Running time: 73 minutes
Film Vitals
Logline: Through the perceptions and misperceptions of an eclectic group of eccentrics, the strange history and unexpected beauty of the Salton Sea is revealed. What was once called the "California Riviera" is today an ecological disaster.
Location: Shot by two sunburnt guys at the sunny Salton Sea in Southern California, edited up north in a dark bedroom in foggy San Francisco.
Length of shoot: Four years, on and off. The filmmakers travelled to the sea every few months and shot for a week or two at a time. They kept costs low by sleeping in their car, crashing on interviewees' sofas, or camping out on the Salton Sea shoreline.
Length of editing: Four years; the film was edited concurrently with the filming.
Length of time from pre-production to picture lock: Four years from the first day of shooting through the film's festival premiere.
Length of time in distribution: Two years on the festival circuit and one year in theatrical distribution.
Money Talk
Total budget: $35,000
Source of funds: The film was self-financed, with some grants awarded after its premiere. Most of the money raised went to postproduction expenses and licensing a single video clip. The clip itself was furnished free of charge, but there were SAG, WGA, and other fees to be paid.
Distribution costs: $25,000
Filmmakers' History
Chris Metzler and Jeff Springer's film careers have taken them from the depths of agency work to coordinating post-production for awful American movies seen late at night in Belgium. Working on projects together, they frequently crisscrossed the country with the aid of caffeinated beverages. Consequently they started to make music videos together and after winning a Billboard Magazine Music Video Award, they stumbled upon the Salton Sea story and started shooting.
Film school: Yes. Both went to the University of Southern California.
Other studies: Metzler earned a B.S. in Business Administration and Springer also minored in American History, both at U.S.C.
Beyond academia: Frequent backpacking trips around the world, odd jobs in and out of film, and watching movies at the Laemmle Theatres in Los Angeles.
Survival strategy: Occasionally, the partners would drive down to Los Angeles and crash on friends' couches, in order to take lucrative producing/editing commercial gigs in the Southland, while also doing documentary work (camera and editing) for themselves and for other documentarians in San Francisco.
Previous films: Leonard & the Mountain and Long Division: The Next Big Threat to Democracy, plus two short documentaries broadcast on domestic and international television.
Smart Moves
By far, the filmmakers' biggest break came when they landed John Waters, the legendary counterculture filmmaker and self-styled "King of Trash" to narrate the film. It came about almost by accident. The filmmakers had long ago identified Waters as the ideal narrator. When they mentioned this at a film festival, they were told by somebody that Waters just happened to be on the board of the organization running the event. The introduction was made and Waters agreed to participate. Metzler and Springer also credit their success to flexibility. During filming, they took time off from shooting and editing to travel. It helped, they say, to not make life all about filmmaking. It also enabled them to remain friendly, while also being tirelessly persistent with distributors, festival programmers, and entertainment journalists.
Never Again
When the film was accepted at Slamdance International Film Festival, Metzler and Springer rushed their cut and alas…today they wish they had waited and not worried about missing an opportunity. After the festival, the filmmakers decided to take the risky step of re-editing it all over again. "Screening the good-but-not-great unfinished film likely resulted in us having to spend more time getting the film picked up and distributed properly," Metzler says. "There is a reason why patience is called a virtue." Not having a functional website at the moment of the premiere was another faux pas. And above all, they forgot to bring sunscreen with them when they were heading out to the desert.
Film's Successes So Far
The film had its world premiere at Slamdance, and slowly became a cult hit – a rare thing for a documentary. In the process it screened at more than 200 film festivals worldwide and won 35 awards for Best Documentary along the way. The directors decided to pursue a strategy of theatrically self-releasing (they handled both booking and publicity) in more than 100 cities. The film enjoyed extended runs in Los Angeles and San Francisco. The filmmakers appeared at many screenings and sold limited edition DVDs directly to audiences. TV domestic sales were handled by The Cinema Guild, it premiered on The Sundance Channel's GREEN programming block. International sales were handled by Roco Films. The press was not short on praise. After the success of a self-released limited edition DVD and the film being offered as a selection in the Ironweed Films DVD-of-the-month club, an enhanced DVD was released by Docurama to the home video market in the US and Canada.
Most Memorable Moments
One big surreal trip of four years: two sunburned guys, one melted camera, 120° heat, 75 percent humidity, dust storms, earthquakes, beautiful sunsets, flooded towns, air boat rides, bombing ranges, amputees, meth addicts, swinging seniors, naked Christians, mooning Hungarians, infatuated 11 year-olds, toxic muck, and a whole lot of cash – spent, not found! And of course, recording voiceover narration with John Waters in his local neighborhood in Baltimore.
Will Relapse?
"We never went into treatment and probably never will, as we plan to pass out in the gutter Edgar Allen Poe style, drunk and drowning in documentaries," Metzler says. However now they plan to use lots of interns!
Doctor's Credentials:
Story consultant Fernanda Rossi helps filmmakers craft the story structure of their films. She has doctored over 150 documentaries, fiction scripts, and fundraising trailers including the 2007 Academy Award-nominated Recycled Life by Leslie Iwerks. In addition to private consultations, lectures, and seminars, she has served as a festival juror and grant panelist. Ms. Rossi also writes the bimonthly column "Ask the Doc Doctor" published by Film Arts magazine, and is the author of the book Trailer Mechanics: A Guide to Making your Documentary Fundraising Trailer.
Related Links:
Visit the film's official website.
Watch the film's trailer.
Read Fernanda Rossi's recent "Anatomy" columns on The Longing and I Was a Teenage Feminist.
Meet the Doc: Fernanda Rossi will be presenting her signature workshops on structure and trailers in Denver on May 17 and 18, and will be speaking at the Boston Media Market on Friday, May 30. For details check Documentarydoctor.com.
---
---
Regions: California