Borat's Aftermath: A Romanian Town Seeks Damages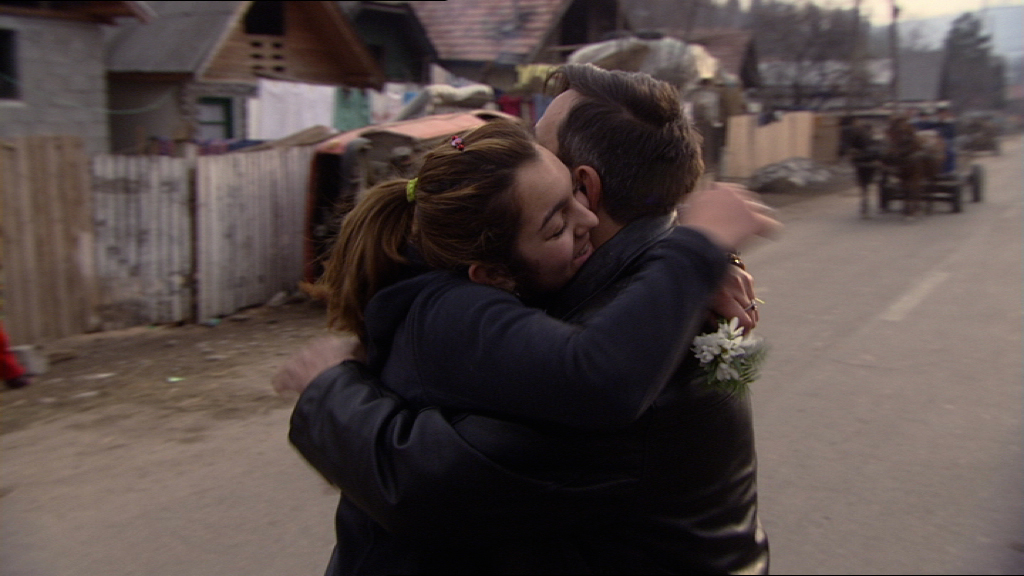 I had the pleasure of seeing Carmen Meets Borat at the International Women's Film Festival in Seoul, and was deeply moved. Carmen tells the story of a young Romanian woman with big dreams but who lives in a poor town. Moviegoers may recall her village, Glod, as a stand-in for Kazakhstan in Sacha Baron Cohen's Borat: Cultural Learnings of America for Make Benefit Glorious Nation of Kazakhstan.
Dutch director Mercedes Stalenhoef documents local life before and after the Borat crew descends upon Glod and changes its residents' lives forever. I met up with Stalenhoef at Silverdocs 2009 and asked her about the making of the film, financing, distribution, and her other work.
Randi Cecchine: How did you become involved with this story?
Mercedes Stalenhoef: I met Carmen, a 17-year-old Glod resident, on my holiday in Romania. She was working in a bar and found out that I could speak Spanish. She told me she wanted to leave for Spain to find a job, a handsome, rich husband, and a better life. The contrast between her dreams and her daily life touched me, so after my holiday, I returned to Romania to get to know her, her family, and her village. When I asked them if they would like to be filmed for a documentary, they were very enthusiastic. My [original] idea was to focus on Carmen and see if she could find happiness in Spain. Then, out of the blue, Sacha Baron Cohen came to Glod to film for the film Borat. They filmed three days and paid the people in Glod about three Euros each. Nobody spoke English, so they had no idea what the film was about. It was only while watching subtitled excerpts from Cohen's completed film that they realized they'd been made to stand in for a village in Kazakhstan, all the while being ridiculed.
Upon Borat's release, lawyers quickly arrived in Glod, promising untold riches if the residents sued 20th Century Fox. The result, rather than money, was jealousy, anger, and further humiliation.
RC: How long did you shoot the film?
Stalenhoef:Three years, which is typical for me. I'm interested in the process for people to find their path and their goal in their lives, and that takes time to capture.
What is beautiful about Carmen Meets Borat is that [the audience] can follow Carmen becoming more wise and mature. If you are young, you want to go your own way, but that is [often] difficult because your parents want to protect you. Carmen's parents don't want her to get hurt. They don't want her to go to Spain because they think if she goes to Spain she'll meet bad things, like prostitution.
RC: How did you change your approach when Borat came to town?
Stalenhoef: In the beginning, I didn't want to include Borat in the film because I thought it wasn't interesting since there was almost no impact for [the people of Glod], but this changed fast because all the press and people coming to Glod. Then the lawyers came to sue on behalf of the town for 30 million dollars, and Carmen's grandfather became one of the plaintiffs, so [Borat] suddenly had a huge impact on her and her family.
People changed because of the money. It worked like a catalyst; suddenly the whole village was involved with making improvements, and it influenced Carmen. At a certain point she thought, "I'm not going to Spain because it'll be beautiful here. We'll make all kinds of beautiful things and I won't need to go because things will change here." The disappointment was incredible when [the villagers] found they wouldn't get anything.
RC: What happened with the case?
Stalenhoef: The case was dismissed in April of 2008 because the lawyers did not bring sufficient evidence to court. There were many lawsuits filed by people represented in Borat, and Cohen won all of them.
The people of Glod might still have a chance to win. There are some problems in the way Cohen made the film in Romania. People told me they didn't have any clue what kind of film it was, and filmmakers need to give people good information so they can decide for themselves if they want to be part of your film. It is especially problematic if people don't speak English.
[My] film raises numerous questions about the ethics of filmmaking. Although what happened in Glod was an extreme case, it could serve as an example in a forum to address issues of exploitation, power, and representation in documentary filmmaking.
RC: Has Sacha Baron Cohen seen your film?
Stalenhoef: I'm sure he has. We sent it to 20th Century Fox, and it was also broadcast on BBC. My film was sent to the Oscars, and he was in the jury.
RC: I enjoyed the storytelling style, especially the use of Carmen's voiceover.
Stalenhoef: We recorded 40 hours, and each time we went, we also recorded audio interviews with Carmen. With audio, she was relaxed with herself…maybe with the camera she talks in a different way.
RC: How did you decide where to shoot?
Stalenhoef: The bar and the shop were the perfect locations. Everyone comes to the shop and talk about things they have in mind. So you go to the shop, and turn on the camera, things just happen. Or I would go with Carmen to her grandmother, and then you just go with the flow.
It is important to use the things you meet in a creative way. For example, in the beginning of the film, [Carmen] is washing things in a river, and a red scarf is close in the frame. I thought it was really beautiful. You could also film a blue shirt or another thing, but the color red represents so many things, including love. I worked with the same cameraman, Erik van Empel, with all the films. He feels what I'm looking for, we talk about it, and he knows things like why I want to film the red scarf instead of the blue clothes.
RC: Can you talk about the editing process?
Stalenhoef: I edited with a very good editor, Gys Zevenbergen, for seven weeks. He's brilliant, and he knows what I'm looking for. For example: We filmed the red scarf with an idea, but the way that he edited it, our idea became poetic and beautiful with his understanding of rhythm.
RC: You've been working with this team for a while. Is it typical in the Netherlands to have this kind of ongoing relationship with shooters and editors?
Stalenhoef: If you have good experience with camera or editor you'll ask [to work with them] again; you know you have the same thoughts for creativity, which is really important.
RC: Have the characters seen the film?
Stalenhoef: I always show the film to the people in it before I finish the film. In July of 2008 I went to Glod to show the film, [but] not the whole village saw it. If other people want to see it, they can see it after, but the main characters and family should be the first ones to see it. They can comment on it, and if they have a problem with some parts, I'll change it. But they were really happy and proud.
RC: What was your budget?
Stalenhoef: Around 350,000 Euros.
RC: How did you raise the funds for the film?
Stalenhoef: The film started as a low-budget film but after Borat came, the story became very interesting for an international audience. So my producer Pieter van Huystee advised me to not only seek Dutch funding. We attended the Toronto Hot Docs film festival to pitch the film, and soon a lot of co-producers were interested, such as the BBC, IKON, YLE, SBS. I think that pitching is a good way to find co-producers.
RC: In general, how are Dutch filmmakers financing their projects?
Stalenhoef: In the Netherlands we are a bit spoiled because we have good film funding for theatrical and broadcast.
Film Fond wants you to make a film for theatrical release. It needs to be shown in the cinema, be feature length, and they want to be sure that it'll be interesting for a general audience. They mind most that it is in theaters in the Netherlands, but they also want it to go outside. If the quality is good enough to go to Dutch cinemas, then it should be shown in other countries.
We also have a really good festival. My film premiered at IDFA in Amsterdam, and I was selected for Joris Ivens Awards, which is great because it's the biggest festival for documentaries in the world, you have the opportunity to show it to many people. And with Docs for Sale, mine was in the first place.
A lot of documentaries in the Netherlands won't look for co-producers abroad because in the Netherlands, you can get OK money. My producers did; because of Borat we had to film more than we planned.
RC: How hard is it to get funding?
Stalenhoef: To get the money you have to apply, but a lot of people do. Your project should be interesting, otherwise they won't give you money. It is competitive and difficult to get projects funded. If they do [end up] paying in the Netherlands, then you can have quite a good budget.
I make films about people who are not famous. For Carmen it was quite difficult to get funding because people asked "What can she do?" I would say that she has nice dreams. A lot of things would be more interesting to people. Why should they watch a girl in Romania who is dreaming? It was difficult to explain why I was so fascinated by her.
I made a trailer and it helped a lot. When people saw her and her village, then they were interested. Suddenly they thought, "Oh wow, this is a beautiful story!"
RC: Can you talk about the distribution of the film?
Stalenhoef: After premiering at the International Documentary Film Festival Amsterdam (IDFA), it has been in theaters in the Netherlands. It was in a lot of festivals: Hot Docs in Toronto, St. Petersburg, it was the opening film in Warsaw, Poland, True/False Film Festival, Italy, Tel Avi, Stockholm, the LA Film Festival. We have also been on TV in England, Australia, Finland, Netherlands, Belgium, and some other broadcasts are in process.
RC: What are you working on now?
Stalenhoef: A film about Karsu Donmez. Her family is from Turkey but she lives in Amsterdam. She's 70 years old, and she's a singer/songwriter. Her voice is amazing. She dreams about being famous, and she will be because she's really incredible! She sings jazz, she's called the "Turkish Nora Jones."
RC: What are your dreams? Are they coming true?
Stalenhoef: It's nice if audiences like my film, but if you can make the film the way you like, I think other people will like it, too. You don't have to meet the expectations of other people.
---
---
Regions: International