10 to Watch in 2010… Plus Five Runners-Up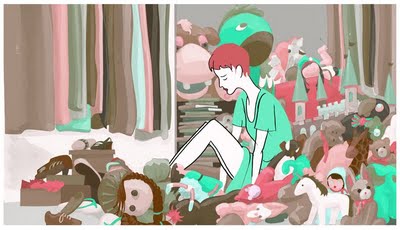 Choosing The Independent's 10 to Watch is like trying to predict the future, or the stock market, or the weather in New England. The films on this list are in all stages of production and the filmmakers range from seasoned professionals to debut artists. So you might wonder how we named this particular group. How, exactly, does one go about predicting what 2010 has in store? Well, the truth is, we can't. And this list isn't really meant to predict anything, rather to bring attention to these 10 filmmakers, not because we think they're going to be the next big thing (which they very well could be), but because we think they are bringing something important to the independent table. We pored through hundreds of names — nominations received on our site, suggestions from filmmakers, festival directors, and producers, grant lists, festival line-ups, you name it, and let me tell you, it's hard to narrow down. It's a collaborative effort and discussion…and at the end, we offer you our 10 (in no particular order).
Dash Shaw for the animated feature Slobs and Nags
Location: Brooklyn, New York
Dash Shaw never intended to follow the path to filmmaking, but his career in animation led him there. Shaw graduated from New York's School of Visual Arts in 2005, where he studied cartooning and illustration. Since 2005, Shaw has completed two successful comics, the Bottomless Belly Button, which follows a six-day family reunion and was supplemented with short animations through the Web; and BodyWorld, a weekly Web-based comic about a botanist who discovers a plant that when smoked, gives him telepathic abilities. BodyWorld won Publishers Weekly "Graphic Novel of the Year" honor in 2008. Most recently, his latest story collection, The Unclothed Man in the 35th Century A.D., premiered as a five-part animated Web series on IFC in December, 2009. His talent has caught the eye of John Cameron Mitchell and Howard Gertler, who will be producing his latest venture, the feature-length animation Slobs and Nags, which was recently accepted into the Sundance Screenwriters' Lab. Slobs and Nags is due out…well, he's drawing as fast as he can.
Read The Independent's interview with producer Howard Gertler about Dash Shaw here.
Learn more about Slobs and Nags and Dash Shaw at www.dashshaw.com.
Gary H. Lee for the animated short Hector Corp.
Location: Los Angeles, California
For Gary H. Lee, animation was self-taught — and he was a quick study. Hector Corp. might be his first film, but he already has a standout resume. At age 19, Lee was recruited by LucasFilm to work on Star Wars Episodes II and III at the Skywalker Ranch, making him the youngest on the animation team. After several years of working for LucasFilm, Lee was anxious to work on projects of his own. He left LucasFilm to develop his idea for Hector Corp., but sought work at DreamWorks Animation when he found he needed more capital to complete the project. At DreamWorks, Lee contributed to several films, including Kung Fu Panda, Over the Hedge and Monsters vs. Aliens. Lee completed Hector Corp. in late 2009 and already the film has won the "Best Vortex and Fantasy Award" at the Rhode Island International Film Festival and "Best Short" at both the Hardacre Film & Cinema Festival and Dragon*Con Independent Film Festival and "Best Multi-Media Short" at the Moondance International Film Festival, with many screenings to come in 2010. Now, with the completion of Hector Corp., Lee is already at work on his next idea, which, for now, remains under wraps.
Read The Independent's interview with animator Yong Duk Jhun about Gary H. Lee here.
Learn more about Hector Corp. and Gary H. Lee at www.hectorthemovie.com.
Tara Wray and Josh Melrod for the documentary feature Cartoon College
Location: Barnard, Vermont
Without knowing much about filmmaking, Tara Wray and Josh Melrod made Manhattan, Kansas. The autobiographical documentary about Wray's relationship with her mother, which Wray directed and Melrod produced, premiered at SXSW in 2006 and walked away with an audience award. Now, with a little more experience under their belts, the recently married couple just completed their second film, Cartoon College, which they co-directed, about the students at The Center for Cartoon Studies in White River Junction, Vermont. The project received grants from the LEF Foundation, Chicken & Egg Pictures and the New Hampshire Charitable Foundation. Wray and Melrod have begun the process of submitting the film to festivals, and expect Cartoon College to work the festival circuit throughout 2010.
Read The Independent's interview with Tara Wray and Josh Melrod here.
Learn more about Tara Wray and Josh Melrod and their film Cartoon College at www.cartooncollegemovie.com.
Laura Dunn for the documentary feature Forty Panes
Location: Austin, Texas
The subject of Laura Dunn's first documentary called to her as an undergraduate at Yale University, where she was awakened by the labor strikes on campus. The Subtext of a Yale Education examines the corporatization of higher education. The film won "Best Documentary" at the 1999 National Student Film Festival and toured at 40 universities nationwide as part of the Michael Moore sponsored McCollege Tour. Dunn kicked off her career in a big way with Subtext, following it with the short film Baby, which won the World Population Film and Video Festival in 1999; Green, which won the 2001 Academy Award for "Best Student Documentary;" and the documentary Become the Sky, which again, was nominated for the 2002 Student Academy Award. Most recently, Dunn received a 2008 Independent Spirit "Truer Than Fiction" award for her first feature-length documentary, The Unforeseen, with Robert Redford and Terrence Malick as executive producers, and she is now at work on her second feature-length documentary, Forty Panes, a documentary inspired by the life and poetry of Wendell Berry, which was awarded a grant from the Sundance Institute Documentary Fund.
Read The Independent's interview with cinematographer Lee Daniel about Laura Dunn here.
Learn more about Forty Panes and Laura Dunn at www.twobirdsfilm.com.
Musa Syeed for the narrative feature Valley of Saints
Location: New York, New York
Musa Syeed knew from a very young age that he wanted to be a filmmaker, and he's been steadfast on that path ever since. After mastering the craft of camera tricks and special effects as a kid, Syeed attended New York University to study film. After graduation, a Fulbright Fellowship landed him in Cairo, where he continued to study film as he traveled the world. His first documentary, A Son's Sacrifice, which he produced with friend and fellow NYU graduate Yoni Brook, follows a son who takes over his father's halal slaughterhouse in Queens. The film took home "Best Documentary Short" at the 2007 Tribeca Film Festival, an "Audience Award" at SilverDocs, a national broadcast on PBS and was used by the United States State Department for improving relations with the Muslim world. Syeed took to co-directing with Brook in their second documentary, Bronx Princess, about a teenage girl who travels to Africa to reunite with her royal father. The film won "Best Documentary Short" at the Big Sky Documentary Festival in 2009 and was broadcast nationally on the PBS P.O.V. series. Syeed is now in post-production for The Calling, a four-hour documentary for PBS that follows Muslim, Christian and Jewish Americans who have decided to enter the clergy. He is also at work on his first narrative film, Valley of Saints, an eco-thriller set in Kashmir's Dal Lake, which was awarded a $100,000 grant from the Alfred P. Sloan Foundation.
Read The Independent's interview with filmmaker Yoni Brook about his frequent collaborations with Musa Syeed here.
Learn more about Valley of Saints and Musa Syeed at www.musasyeed.com.
Robin Hessman for the documentary feature My Perestroika
Location: Brooklyn, New York
Robin Hessman has always been drawn to film, but it was her curiosity about Russia that really drew her into making My Perestroika. The film follows five Russians from their Soviet childhoods to their adult lives in post-Soviet Russia. It was a year after the Berlin Wall fell that Hessman travelled to Leningrad, where she studied and got a summer job at LENFILM. After the continuing Cold War sent her home, she eventually made her way back to Moscow a year later, where she lived for eight years, spending five of them at the All-Russian State Institute of Cinematography in their directing program. While there, she made several short films — one of which won a Student Academy Award — and worked for the Children's Television Workshop where she produced the original Russian language Sesame Street, Ulitsa Sezam. When she returned to the States, Hessman produced the Peabody-Award winning documentary Tupperware!, and co-produced the biography Julia! America's Favorite Chef, which aired on PBS. Hessman started My Perestroika in 2004 as a Filmmaker in Residence at WGBH Boston. The film premiered at the 2010 Sundance Festival as part of the US Documentary Competition and will air on PBS in 2011, marking the 20th anniversary of the collapse of the USSR.
Read The Independent's interview with filmmaker Senain Kheshgi about Robin Hessman here.
Learn more about My Perestroika and Robin Hessman at www.myperestroika.com.
Kareem J. Mortimer for the narrative feature Children of God
Location: Nassau, Bahamas
Kareem J. Mortimer got his first taste of film at the age of 17, when he wrote and produced the Bahamas Games documentary in 1998. He went on to study film at the Miami International University of Art and Design, and graduated in 2001. Since then, he has returned to his home in Nassau, Bahamas and directed five films, four of which he wrote in addition to directing. His short film, Float, won five international awards and distribution in North America, Germany, and Austria, and his hour-long documentary The Eleutheran Adventure took home the audience awards at both the Miami Gay and Lesbian Film Festival and the Bahamas International Film Festival. His latest film, Children of God, is his narrative feature debut. The story follows two individuals, a gay artist struggling in a homophobic town and a conservative woman in a failing marriage, who both go to the island of Eleuthera to escape the city life. Children of God premiered at the Bahamas International Film Festival in December and will continue to screen at festivals throughout 2010.
Read The Independent's interview with producer Steven Beer about his mentee Kareem J. Mortimer here.
Learn more about Children of God and Kareem J. Mortimer at www.childrenofgodthemovie.com.
Charlotte Glynn for the documentary feature Rachel Is
Location: Brooklyn, New York
Charlotte Glynn knew she wanted to be a filmmaker at the age of 12, when she helped her mom, a writer, work on a script about Fannie Lou Hamer, a civil rights activist. That realization led her to pursue her dream in Los Angeles at age 17, but the West Coast was not for her, and when she moved back east, Glynn opted to study film at SUNY Purchase. It was there that she completed the short film Rachel Is, about her sister, who has special needs. After graduating in 2002, Glynn directed the narrative short, Dangers of a Broken Car in 2003 and co-founded the Circuit 3 Collective, an open studio for experimental film, in 2007. Now a graduate student at the Columbia University film production program, Glynn expanded the short Rachel Is into her first feature-length film, which received a grant from The Fledgling Fund. Glynn is now at work on a narrative film and plans to continue her studies at Columbia.
Read The Independent's interview with Jane Bernstein about her daughter Charlotte Glynn here.
Learn more about Rachel Is and Charlotte Glynn at www.jacktarfilms.com.
Gayle Ferraro for the documentary feature To Catch a Dollar
Location: Boston, Massachusetts
For Gayle Ferraro, filmmaking is her medium, but her true passion lies in human rights. With masters degrees from Harvard University in public administration, and Boston University in mass communication, Ferarro pursued a degree in human rights law at Oxford University, before beginning her film career. Her first film, Sixteen Decisions, in 2000, took her to Bangladesh where she told the story of a young woman trying to pull herself and her family from poverty through a loan from Muhammad Yunus' Grameen Bank. Her second film, Anonymously Yours, followed four girls in Burma involved in sex trafficking. In her third film, found her in India, exploring the dying holy city of Varansi in Ganges: River to the Heaven. Ferraro's latest film, To Catch A Dollar: Muhammad Yunus Banks on America, returns to the subject of her first film, Sixteen Decisions, by bringing Grameen Bank to Queens to help American women stuck in poverty. The film received a Sundance Documentary Program/Skoll Foundation Stories of Change grant and screened at Sundance in 2010.
Read The Independent's interview with editor Keiko Deguchi about Gayle Ferraro here.
Learn more about To Catch a Dollar and Gayle Ferarro at www.tocatchadollar.com.
Heather Courtney for the documentary feature Where Soldiers Come From
Location: Austin, Texas
Before film school, Heather Courtney worked for refugee and immigrant rights organizations for eight years. She has carried her work for social justice over to film after getting her MFA in film production from the University of Texas, Austin, in 2000. Courtney completed her first film in 2001, Los Trabajadores/The Workers, which documents the lives of immigrant day laborers, and went on to win the "Audience Award" at SXSW, an International Documentary Association award, and national broadcast on PBS. In 2006 she produced Letters from the Other Side, a story about immigration told in video letters from the women and children left behind in Mexico, which was funded by Independent Television Service (ITVS) and a Fulbright Fellowship. Her latest film, Where Soldiers Come From, also funded by ITVS, brings her back to her hometown in Northern Michigan, where she follows a group of young soldiers before, during, and after their National Guard service in Afghanistan. The film recently won a Sundance Grant for post-production; Courtney will be working on it throughout 2010.
Read The Independent's interview with filmmaker/professor Paul Stekler about Heather Courtney here.
Learn more about Where Soldiers Come From and Heather Courtney at www.newday.com/filmmakers/Heather_Courtney.html.
RUNNERS UP
Hilari Scarl for the documentary feature See What I'm Saying
Learn more about See What I'm Saying and Hilari Scarl at www.seewhatimsayingmovie.com
Dean Peterson for the narrative feature Incredibly Small
Learn more about Incredibly Small and Dean Peterson at www.incrediblysmall.com/Home.html
Greg Pak for the animated short Mister Green
Learn more about Mister Green and Greg Pak at www.pakbuzz.com/entries/001987.shtml
Ryan Gielen for the narrative feature Two
Learn more about Two and Ryan Gielen at www.ryangielen.blogspot.com
Matt McCormick for the narrative feature Some Days Are Better Than Others
Learn more about Some Days Are Better Than Others and Matt McCormick at www.somedaysthemovie.com
Do you think we missed someone? Or maybe you just think we're right on the money. Either way, leave a comment, and let us know what you think!
---
---
Regions: International