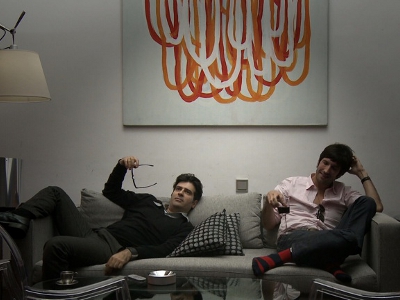 The Man Next Door plays on fears of proximity.
The Man Next Door (El hombre de al lado)
(Mariano Cohn & Gastón Duprat. 2009. Argentina. 103 min.)
Nobody loves movies about the neighbor-from-hell more than a New Yorker, because we live with so many of them. This one's a keeper. Imagine you're residing in a drop-dead showplace actually designed by the famed Swiss/French architect, Le Corbusier. (The house here is in Buenos Aires and was filmed entirely within.) Imagine waking to the CLUNK…CLUNK…CLUNK of wall demolition a few feet away. It's the next door neighbor who's knocking out a huge hole to install a picture window "so I can get a few rays of sunlight" and look right into your glass-enclosed rooms. Uh, huh.
The poor guy waking up to this nightmare is himself a chic industrial designer (Rafael Spregelburd) with a pouty wife and teen daughter; he's bright but hasn't a clue how to approach his brutish, swinish lout of a neighbor—an intense, gravel-voiced giant with a tricked-out van and a mentally vacant uncle who brings the bewildered architect a jar of marinated boar and a metal statue chiefly composed of shotgun shells. Getting-to-know-you gifts. Holy moly. This brute is played by Daniel Araoz, a splendid actor who will remind you of Wes Studi in one of that actor's foulest, most dangerous moods.
If you enjoyed Isabelle Huppert losing it in Home, where she literally walls her family into their country home when a superhighway starts rolling through their front yard, you'll pay close attention to how directors Mariano Cohn and Gastón Duprat ratchet up the misery index in The Man Next Door. This is a shaggy-elite story with the usual Not-In-My-Backyard urban provisos, but it's also a boldly styled class conflict. There's a surprise ending that resolves too many issues too quickly, but it's not an ending that whores out the story. The next time you're ready to give up on 311 and dial 911—any night now, you say?—catch this Argentinian number instead.
The Man Next Door screens Wed. March 31st at 6:15 pm at The Muesum of Modern Art and Thurs. April 1st at 9 pm at The Walter Reade Theater. Visit the New Directors/New Films festival site here. Find The Independent's complete list of ND/NF films here.