Best of New Directors/New Films: Beautiful Darling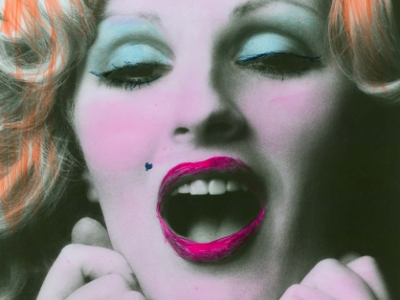 Beautiful Darling: The Life and Times of Candy Darling, Andy Warhol Superstar
(James Rasin. 2010. USA. 86 min.)
The defining artifact that seems to have launched the persona, transformation, and life journey (1944-74) of a Long Island boy named James Slattery was a letter from Kim Novak. It's a generic response to a fan, but it's feeling and sincere, and Kim signed it, including a glam headshot. The photo was Slattery's gateway to becoming the transsexual Candy, a manqué-cum-actress who would travel the No Wave scene, boiling nightly at Manhattan's premiere punk venue, Max's Kansas City on Park Avenue South, and migrating a few blocks south to Union Square and Andy Warhol's Factory.
In James Rasin's knowing and affectionate documentary of Candy's short life—filled with most of the major truthtellers of the era like Fran Lebowitz, John Waters, and especially Jayne nee Wayne County—Candy enjoys the singular distinction of performing in Tennessee Williams' Small Craft Warnings (to good reviews) plus being forever immortalized in Lou Reed's gritty "Walk on the Wild Side" and "Candy Says." She's a genuine beauty ("man enough to be a woman" as Jayne would say of herself in her own excellent autobiography), and some insiders as well as the public believed she was female.
Beautiful Darling's sensitive anchor is its producer, Jeremiah Newton, now a loving, SAGE-worthy caretaker of her memorabilia but also Candy's once-upon-a-time doting and star-struck, pencil-thin companion. Better than anyone, Newton understands how the image Candy yearned for became indelibly imprinted on her body and soul. Near the end of her short life Candy's belly bulged; she believed it was because she was pregnant and not because she was growing a tumor that would end her days at Cabrini hospital. Unflinchingly she accepted it all—the adulation (and later abandonment) by Warhol, the portraiture by Cecil Beaton, Richard Avedon, and Robert Mapplethorpe, her brief fame that burned brighter and far longer than the 15 minutes Warhol promised his speeding celebrity circle.
Beautiful Darling isn't as loud as its downtown counterpart docs Squeezebox and Blank City, but with its poignant refrains of "gonna watch the bluebirds fly over my shoulder, gonna watch them pass me by, maybe when I'm older," it has a bigger heart.
Beautiful Darling screens Fri. April 2nd at 9:15 pm at The Museum of Modern Art and Sat. April 3rd at 6 pm at The Walter Reade Theater. New Directors/New Films festival site here. Find The Independent's complete list of ND/NF films here.
---