Best of New Directors/New Films: The Father of My Children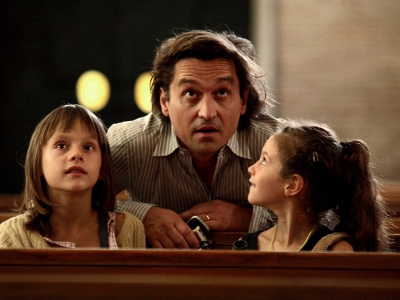 The Father Of My Children (Le père de mes enfants)
(Mia Hansen-Love. 2009. France/Germany. 110 min.)
For a long, long time in Mia Hansen-Love's heartbreakingly beautiful tribute to the French indie film producer Humbert Balsan, the camera holds tight on the actor (Louis-Do de Lencquesaing) playing Grégoire, the maverick producer. Grégoire is brisk, casually but handsomely dressed, well-organized, quietly persuasive; he has the gift of many executives of giving each person his rapt, undivided attention, even when both his cell phones are ringing. Though Grégoire smokes a lot and drives too fast, he agreeably pays the final speeding ticket that invalidates his license. At home he's a companionable husband to his pretty, attentive wife and a splendid dad to his older teen daughter and two younger sisters; he's a cultural historian and charming educator to the children, and they adore him. At their stylish country home he easily multitasks, shifting focus between his girls, his wife (who reminds him they haven't had a real vacation in ages) and his constant travails, mainly financial, of current features in production.
In the cluttered offices of Moon Films in Paris, which are piled high with scripts and festooned with one-sheets of what look like appealing movies, we watch Grégoire deal with a testy director on one shoot and an incoming Korean company on another. Hansen-Love, the director of this fastidious portrait, conveys a clear, concisely detailed canvass of a man happily in love with his family and the business and craft of indie filmmaking, a producer who's feeling financial pressures and pinches but appears to be on top of things.
He's not on top of things. His staff and advisers are open and frank with him about the unpaid lab bills and skyrocketing production overages. Through it all, Grégoire retains the kind of unending patience, confidence, and optimism that's always been a hallmark of successful producers—and he's not hesitant about acknowledging his two backup resources: Moon Films' catalogue of prior feature films, and his wife's money, neither of which he says he'll touch. As often happens in real life—indeed, as happened in real life to Humbert Balsan, who produced Claire Denis' L'intrus and was involved in Lars von Trier's Manderlay as well as Béla Tarr's severe neo-noir The Man From London (shown at last fall's New York Film Festival)—the tipping point between good intentions and bad decisions comes fast. It takes us by surprise and it overwhelms Grégoire, who's suddenly in a black hole with banks, investors, creditors, and vendors that he can't talk, borrow, or negotiate his way out of. Balsan died by his own hand in 2005, and art-imitates-life here, too.
The death of the producer halfway into Hensen-Love's warmly likeable movie hits us hard. You may experience something of the shock you felt the first time you watched Janet Leigh die in Psycho. It's not because of the method, which is quick and barely shown, but because the lead character who's anchored the picture suddenly and permanently removes himself, and the people we're left to grieve with are the ones we only know as acquaintances—Grégoire's wife Sylvia (Chiara Caselli) and three daughters (one of whom, Alice de Lencquesaing, is the real-life daughter of her actor father). For a while Sylvia tries to carry on the productions of her husband and dig out of the mountainous debt he accumulated, but it's a lost cause. She and the older daughter also have to sort out a hidden piece of Grégoire's life. Eventually the business—the office, desks and chairs and file cabinets—is liquidated. The youngest girl carries out a few of her dad's business cards. As mother and daughters ride in a cab and perhaps begin to turn the page toward their continuing lives, a piece of soundtrack music you've heard all your life accompanies their unspoken thoughts.
In the press notes from IFC Films, the distributor of The Father of My Children, Hansen-Love references the late Eric Rohmer, who once quoted Stendahl on the "slightly abrupt clarity" that he believed was a hallmark of French art. Truffaut's Day for Night exhibits that clarity in its bursts of glorious detail abounding the shooting process, and Fellini's 8 1/2 enlarges the details to Barnum-size dimensions. But The Father of My Children is a darker, deeper cautionary note on how movies get made and don't get made in the 21st century. One of the film's curious strengths is that while Grégoire's computer dominates his cluttered desk and he's always doing business on a mobile device, the picture has a remarkably timeless, pre-Internet aura. Grégoire's daily priorities are raising money, resolving conflicts, and supporting a ticklish, difficult director. The ensemble cast superbly defines a production office with a 24/7 commitment to keeping Moon Films afloat and viable even when everyone realizes the workflow is not sustainable without major infusions of cash.
Hansen-Love, who knew Balsan well and wanted him to produce her first film, All Is Forgiven, praises Balsen's "exceptional warmth and invincible inner beauty," but she's also conscious of what she describes as "the economic and moral suffocation due to the constant pressure that comes from taking risks in a context that is relatively unfavorable economically and culturally." This pressure, says Hansen-Love, can result in "the conflict that can occur between light and darkness, strength and vulnerability, the desire to live and the urge to die."
Heady observations from a 29-year-old director examining her second feature film. But then she probably knew, writing for Cahiers du Cinema for several years, that, as she affirms, "the cinema can't be anything other than a quest for light, which is a quest for the invisible."
The Father of My Children screens Thurs. March 25th at 6:15 pm at the Walter Reade Theater and Sat. March 27th at 8pm at The Museum of Modern Art. Visit the New Directors/New Films festival site here. Find The Independent's complete list of ND/NF films here.
---