Best of New Directors/New Films: The Red Chapel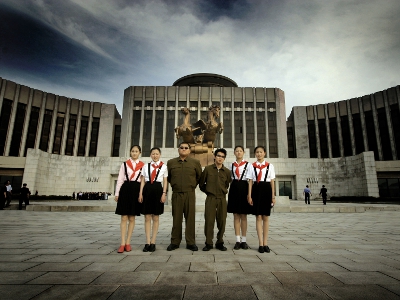 The Red Chapel
(Mads Brügger. 2009. Denmark. 87 min.)
Repression. Imprisonment. Extermination. North Korea's shameful secret is its network of hidden rural prisons, where over a quarter million dissidents have been locked up to rot and die.
Last year's Yodok Stories, which premiered at the Tribeca Film Festival, was a closeup look at one escapee, a musical theater director, who creates a chillingly stylized re-enactment—a kind of South Korean Miss Saigon. He tours with the production to alert his people to the dangers and sufferings just north of their border. The Red Chapel takes another huge step forward—this time it's a Danish comedy duo with historical roots as a Communist spy cell in Nazi Germany known as Rote Kapelle. With them, The Red Chapel plays show-and-tell by stripping a simple and childlike comedy routine, line by line and bit by bit, into a cynical piece of Communist propaganda, laying bare the deadly machinations of Kim Jon-ll, the "Dear Leader," and his totalitarian regime.
The two young Danish/Korean performers (one is developmentally disabled and uses a wheelchair) can't quite imagine the finished film will reveal, but gradually let their simple performance, which isn't much to begin with, be "adjusted" into state mode by an older female guide. This woman is a modern-day Tokyo Rose, a propagandist of the first order. Polite and patient with a brainwashed, robotic manner, she's a real-life Manchurian Candidate,, and she's even scarier than the gigantic state rallies that director Mads Brügger confronts with his tiny troupe and crew of brave filmmakers. Brügger knows what he's doing from the very beginning. He realizes that anything he's allowed to film in Pyongyang must conform to a rigid ideology. Partly that seems to be his plan—to let the state dumb down the comedy routine into familiar Communist platitudes—so he can later safely add his own narration to confirm what we're watching.
Brügger's in the absolute eye of the storm and wants to show the final, awful breakdown of a cultural visit—he does. His success is mirrored in the press note for this stirring and eye-opening transformation. The note is an email from the North Korean Embassy to the CEO of the National Broadcast Company of Denmark, and it's a howl of protest. "He betrayed us and sold the footage for the propaganda against our Republic as soon as he came back," yelps the embassy. "How dare a human did like that. How could he spit at the people's faces, who helped him sincerely. So you Danish journalists should damn him…"
Ha! The double-crossers think themselves double-crossed, when in fact Brugger and his little band of entertainers and artisans have given us the most powerful piece of accurate reportage since The Cove.
The Red Chapel will be shown Sat. April 3rd at 8 pm at The Museum of Modern Art and Sun. April 4th at The Walter Reade Theater. Movie website here. New Directors/New Films festival site here. The Independent reviews additional ND/NF films here.
---