Best of New Directors/New Films: The Evening Dress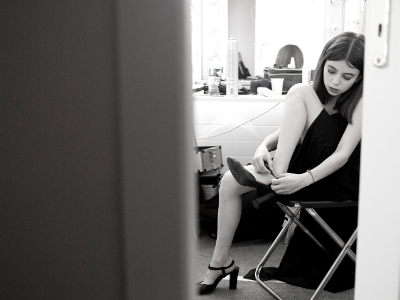 The Evening Dress (La Robe du soir)
(Myriam Aziza. 2009. France. 98 min.)
You can count on one hand the recent films that get adolescent sexual awakening right. If you narrow that to female adolescent sexual longings, only a few stand out. Water Lilies, made in France in 2007 about a girls' synchronized swim team, takes pride-of-place. Next is the Argentine XXY (2007) about an intersex 15-year-old grappling with a sexual essence. To this distinguished short list add Myriam Aziza's intimate drama of the 12-year-old Juliette (a sublimely natural Alba Gaia Bellugi) who feels herself irresistibly drawn to her French teacher Madame Solenska. This buoyant, slimly attractive, middle-age woman is played with supreme confidence by the Portugese folk singer who bills herself as Lio.
Juliette lives in a mundane housing development outside Paris with her two brothers and single mom. Director Aziza films the children in the contemporary Albert Camus school, where students are lively and attentive. Juliette's class has the usual sexual curiosities, and Madame Solenska unhesitatingly turns remarks on menopause, oral sex, and even "teacher's tits" into grammar exercises. Juliette becomes fascinated with Solenska; she's thrilled when the teacher loans her a personal copy of The Lacemaker with its cover illustration of a nude young woman with her back to us, facing the sea. At home, Juliette studies the inscription on the title page from perhaps the teacher's lover, its smudged pages, a single hair caught in the book's spine, a hint of the teacher's scent. The girl applies eyeshadow and tries on her mother's bra, dress, perfume, heels… trying to picture her own adulthood.
Back in class, Juliette is angered when Madame Solenska gives special attention to Antoine (Leo Legrand), a cute and precocious boy. When Antoine rides his bike to her apartment for after-school help with his homework, Juliette follows him repeatedly, keeping watch on her windows and even hiding in a closet next to the elevator on her floor so she can see Antoine leave. She convinces herself they're having an affair, though the movie is very circumspect and ambiguous about this. There are no smoking guns, and even Juliette's older brother says he's being "coached" by Madame Solenska as well.
Poor Juliette. We watch her dreams turn into nightmares. In class when Madame Solenska teases Juliette not to be ashamed of her body, the girl blurts out her suspicions and quickly finds herself suspended for several days and rejected by her classmates. So she takes a train to visit a friendly relative. In a touching and quiet scene on a deserted beach, Juliette faces away from us, removes her top and walks to the water's edge, a stunning reprise of the cover art on that Lacemaker novel she's hidden away. Juliette is in process… and we sense she is transitioning into a truly troubled teen. Many more revelations follow, some painful and near-tragic, and best left for the viewer to discover.
The Evening Dress, filmed in CinemaScope and gorgeous color, is a coming-of-age movie of rare artistry and integrity; it has the ache and melancholy of youth, coupled with a feminine sensibility that acutely captures how infatuation can suddenly shift to an awful desperation. We trust the director as we once trusted the instincts of a young Francois Truffaut in his beginning films with Jean-Pierre Leaud. Aziza fully honors that trust.
The Evening Dress screens Wed. March 31st at 9:15 pm at The Museum of Modern Art and Tue. March 30th at 6:15 pm at The Walter Reade Theater. New Directors/New Films festival site here. The Independent reviews additional ND/NF films here.
---