Best of New Directors/New Films: Bill Cunningham New York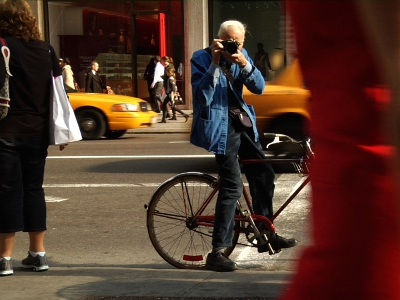 Bill Cunningham New York
(Richard Press. 2010. USA. 84 min.)
"I let the street speak to me." At 80 and still pedaling a Schwinn bike (his 29th, the other 28 rode off without him), the New York Times style photographer knows Manhattan sidewalks and the women and men walking them better than anyone. Midtown strollers are aware of his catbird-seat corner at Fifth Avenue and 57th Street, because this is where he's been documenting the crazy-quilt of city fashion for over half a century. And so the anticipation for Richard Press's pioneering doc of Bill Cunningham's legendary life has run high; the mindset has been oh God, this is one treasure that's gotta be done right. Press delivers: Bill Cunningham New York is a rich, comprehensive, deeply satisfying portrait of one of the sweetest reasons New Yorkers wouldn't live or work anywhere else.
There are innumerable nuggets of discovery, and here are just five. (1) Bill is not just a splendid photographer, he's his own layout man, endlessly piecing together the tiny mosaics of photos that form his two columns, "On the Street" and "Evening Hours." (2) For decades Bill lived in Carnegie Hall Studios on 57th St. in a tiny apartment crammed to the ceiling with a lifetime's worth of files and file cabinets, permitting himself only a spartan single bed in one corner of a work area in which to sleep. (3) Bill usually eats alone and makes it his business not to dine with the throngs of movers-and-shakers he's met and photographed. (4) On Sundays Bill sits in the city's great churches, quietly reflecting on his continuing good health and work ethic. (5) Bill calls nearly everyone "kid" or "kiddo" because we all are.
Press's documentary divides itself into two roughly equal halves —outdoors covering street fashion, indoors covering benefits and galas. The tributes pour in, and they're genuine—Anna Wintour, Tom Wolfe, fashion maven Patrick ("Dandy" ) McDonald, Annette de la Renta, Kenny Kenny, Details magazine founder Annie Flanders, publisher Arthur Sulzberger Jr., a surprise 80th birthday cake presented by Times photo editor Melissa Bellinelli and the staff. The film is chockfull of the credo that's forever guiding Bill's eye: On the street, it's never who you are, it's what you're wearing. If New York is eight million stories constantly reinventing themselves, how they dress is part of the invention, the magic, the look of the season, and of the moment. Bill's Nikon and the rolls of film in his blue jacket pockets capture it fresh.
The one segment of Press's film that follows him outside his native habitat is a sojourn to Paris. The Ministry of Culture presents him with the Chevalier of the Order of Arts and Letters for his contribution to the arts. But Bill's there to cover a fashion show, too, and we see him almost being turned away by the guards at the building entrance because they don't recognize him. A supervisor swoops in and takes Bill by the arm, sternly admonishing the guards, "THIS IS THE MOST IMPORTANT MAN ON EARTH!" And on that day, at that show, make no mistake, he is.
Bill Cunningham New York will be shown opening night, March 24th in two theaters at the Museum of Modern Art and March 25th at The Walter Reade Theater. Visit the New Directors/New Films festival site here. Find The Independent's complete list of ND/NF films here.
---