Best of New Directors/New Films: Samson and Delilah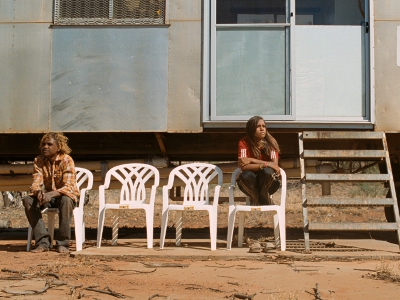 Samson and Delilah
(Warwick Thornton. 2009. Australia. 101 min.)
Jeff Bridges can teach you a sad thing or two about chronic alcoholism in Crazy Heart. And if you'd like a primer in the despair of speed and heroin, look no further than Julian Schnabel's artful filming of Lou Reed's Berlin concert. But petrol sniffing? Well, there's an exotic form of substance abuse. You'll observe gasoline huffers in The Wild and Wonderful Whites of West Virginia, a rollicking doc about a family of redneck train wrecks shown at last year's Tribeca Film Festival. But the last guy on earth you'd expect to find with his nose stuck in a tin can full of petrol is Aboriginal teen, Samson (Rowan McNamara), the unlikely protagonist of Warwick Thornton's fully realized Samson and Delilah, a hardscrabble portrait of life lived down-and-out in the bush.
Samson vegetates in a broken down shack across from a teen girl (Marissa Gibson), whom he's vaguely interested in when he's not too stoned. This is not a shanty town or village; it's a collection of dirt-floor residences and residents in central Australia who are running on empty. Oddly enough, in the midst of this primitive ruin, there's an instrumental rock trio and they're pretty good; Samson likes to play loud, and when the others won't let him, he smashes one of their guitars to pieces and is rewarded with a beating so severe he starts sniffing day and night to kill the pain.
This movie is going nowhere, you think, but the couple steals a car and makes their way out of the desert to a modern mall, where they throw their blankets under a bridge. They're both in sores-and-scabs mode, begging at sidewalk café tables and trying to shoplift food staples. The girl begins sniffing, too. Samson is semi-conscious mostly with a blanket pulled over his head, and Delilah is crossing a highway when she's struck so hard by a speeding car that the theater practically shakes. Would you believe me if I tell you this movie has a happy ending?
Stories as morose as Samson and Delilah aren't supposed to work. But director Thornton is firmly in charge of his extraordinarily gifted amateurs, his tight music score (songs by Tom Waits and Charley Pride top an inventive soundtrack), his razor-sharp shooting and cutting, and his belief—however fragile and tentative—in the redemptive power of love. The chances of an addicted couple recovering through their love for each other aren't very high. But it can happen, and it happens here, and you believe it. It's money and effort well spent to find your way to this surprising and moving drama.
Samson and Delilah will be shown Thurs. March 25th at 9:15 pm at The Museum of Modern Art and Sun. March 28th at 8:30 pm at the Walter Reade Theater. Visit the New Directors/New Films festival site here. Find The Independent's complete list of ND/NF films here.
---