Best of New Directors/New Films 2010: Shorts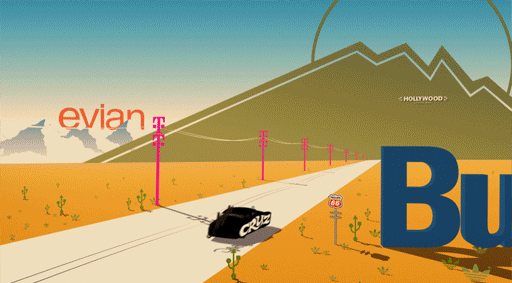 Best of 11 Short Films from New Directors/New Films
Logorama
(H5: François Alaux, Hervé de Crécy, and Ludovic Houplain. 2009. France. 17 min.)
And you thought only Chuck Workman could give us a fast-cut world of colliding, spiraling images we somehow retain. Advertising's even faster, more vivid, more memorable, because the 2,500-and-counting corporate logos that fill this animated chase caper/shootout/earthquake through Hollywood are as instantly recognizable as three-second clips from Gone With The Wind and The Wizard Of Oz. Maybe more so, because we see many of these logos every day, which is different from watching a timeless film in the dark once a year. Maybe we don't watch logos but when we see them in this setting we remember them anew. If they're products or companies we buy and patronize, they reinforce our brand choices. If they're for a competitor, we wonder if the competitor is better, or dig our heels in with loyalty to our chosen brands. C'mon now, aren't marketers and what Rob Walker calls their "murketing" the real cultural fabric of our lives in a digital, viral world? They're not? You don't believe Don Draper when he sits on the edge of the bed and tells some dish on Mad Men to just trust him, it's gonna be great?
The cutting and unexpected edge of Logorama is its rudeness. Who'd expect Bib the Michelin Man and his stacked-up-tires-partner to out-motormouth the foul-talking John Travolta and Samuel L. Jackson of Pulp Fiction? We're not used to corporate logos using four- and twelve-letter obscenities, the Jolly Green Giant covering his privates, or Mr. Clean lisping with a gay lilt. 
Logorama has all the bad language of Pulp Fiction wedged against Roger Rabbit's impossible chase scenarios, giving way to  2012's sudden earthquake dropaways.  Your ears turn purple from all the swearing as your eyes keep taking in more and more and more and more advertising content.  It's kind of like the  Budweiser "Swear Jar" online commercial which also has a string of what The New York Times used to call "barnyard epithets," except that in the Bud commercial they're bleeped and here they're not. Advertising is supposed to surprise you but not shock you.  
Did the French filmmakers who made Logorama actually work harder, longer, and more artistically than all the other shorts makers of 2009, thus deserving their Oscar for Best Short Subject? Well,  Pauline Kael once called Universal's 1974 Earthquake in Sensurround "belly-busting hard work," and it, too, won an Oscar:  a special achievement award for visual effects.  This may be worth thinking about. 
Logorama is showing Sat. March 27th at 2 pm at the Museum of Modern Art and Mon. March 29th at 8:15 pm at The Walter Reade Theater. It precedes the feature The Happiest Girl In The World.
Quadrangle
(Amy Grappell. 2010. USA. 20 min.)
Our responses to the confessional documentary can differ as markedly as how we relate to confessional poetry, literature, and non-fiction. Yet docs are usually viewed once, often in mixed company or with an audience of strangers, and there's a remove between a large screen image and the printed page we hold in our hand. Amy Grappell, a Brooklyn native and NYU film grad who lives and works in Austin, shapes a clear and unsentimental history of how her parents met another couple in the 70s and began a four-way love affair, eventually swapping partners, remarrying and living together in one communal house. The film is narrated by two members, forty years later, and draws upon a trove of rich, evocative archival photos and film clips. Everything worked for a while and then nothing worked at all, leaving the rueful memories of divorce and the usual scarred children. Quadrangle is Amy's Bob & Carol & Ted & Alice (1969) in real time, a way of working through the wonderment, confusion, and pain of her childhood, and you won't take your eyes off the screen. Make that "screens."
Grappell constructs her interviews in a new way every indie film-maker should pay attention to. The older couple gives their present-day recollections on side-by-side split screens. But the director has reduced the screen size of these narrations to extreme letterbox aspect ratios. This separates the present day telling from the historical clips, shown full size. It's a subtle shift, but it gives us one of letterboxing's hidden benefits—the ability to intimately peek through a mail slot at goings-on. (The editor is Aaron Raff, a visual effects artist, and he's cropped the letterboxed images to about 4:1, making them even closer to an actual mail slot.) In 20 minutes Raff and Grappell assemble the essence of four fragmented lives with intelligence and objectivity; it's a preview of what could make a persuasive feature film on this group marriage experiment, which is exactly what Grappell and her producer Chris Krager are now developing.
Quadrangle is showing Tues. March 30th at 9 pm at the Museum of Modern Art and Wed. March 31st at 6:15 pm at The Walter Reade Theater. It precedes the feature Dogtooth.
Looking At Animals
(Marc Turtletaub. 2009. USA. 25 min.)
If you're going to make a short and have the funds and persuasiveness to involve a major screen personality, you can't get much better than Will Patton. Like Willem and Parker, Will has graced and carried any number of indie efforts that seem to have been made for the viewing pleasure of maybe six people, but he's always unpredictable, a chameleon, an actor who's mastered the art and craft of doing more by doing less, and he's achieved this at a remarkably early age.
Patton plays an animal photographer, and a stunning opening sequence shows him getting up-close-and-almost-personal with a snarling black panther that doesn't look happy at being stalked. The photographer mounts his collection of framed wildlife photos on the walls of his modest suburban home, a leafy, quiet neighborhood that's rendered with immense, loving fidelity by director Marc Turtletaub. Patton also has a lawn collection of animals he carefully arranges. He's an odd duck puttering about, and we're uncomfortably close to being in David Lynch territory. Little by little Patton takes an interest in the middle-age woman living a few houses down the block with her teenage son. She's a pleasant psychic who gives phone readings, and her kid is a disturbed loner who slips notes under people's doors telling them everything they're doing wrong.
Patton spies on them, and eventually starts to insinuate his way into their home…and they begin to accept him and his behavior. Looking at Animals has a delicate, edgy tonality poised on the brink of reality/fantasy, and Patton helps create a Twilight Zone character rooted in the present. At 25 minutes, Looking at Animals is about the length of a Twilight Zone episode, and Rod Serling would have loved it.
Looking at Animals is showing Fri. March 26th at 9 pm at the Walter Reade Theater, and Sun. March 28th at 1 pm at the Museum of Modern Art. It precedes the feature 3 Backyards.
Visit the New Directors/New Films festival site here. Find The Independent's complete list of ND/NF films here.
---