Tribeca 2010: Melanie Schiele on "Delilah, Before"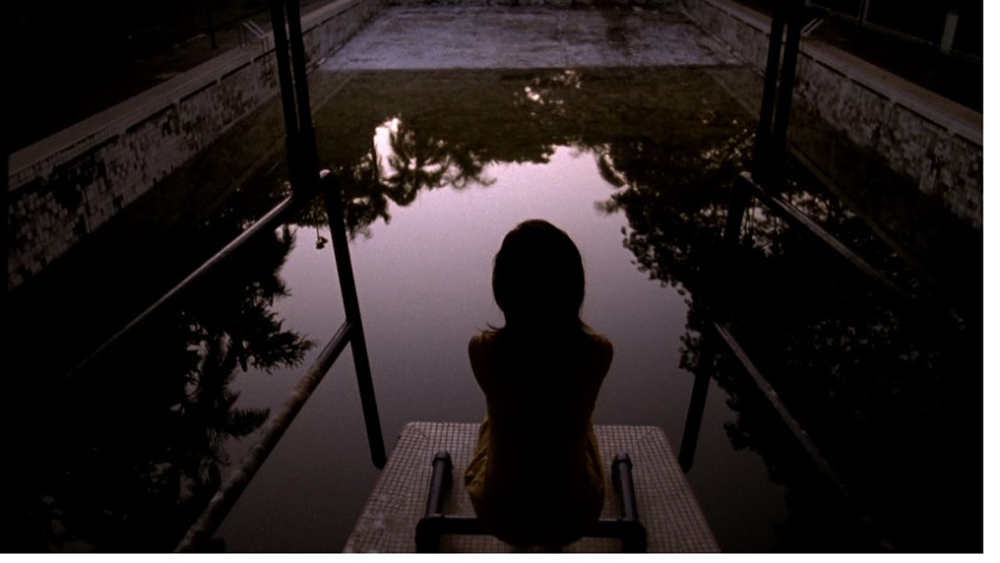 After working in various capacities as writer, director, producer and cinematographer on over 20 student shorts as part of New York University's Tisch Asia in Singapore, Filmmaker Melanie Schiele makes her directorial debut with the short Delilah, Before. The film captures a turning point in the lives of three generations of women as a young mother struggles to confront her own mother about resuming custody of her two-year-old daughter. Her film, inspired by talking with mentors and inhabitants of a women's mentoring facility in Singapore, is a study in the power of the unsaid as the women portray their conflict through a series of quiet, tense scenes. Here, Schiele talks about the NYU Tisch Asia program and the making of the film which screens this week as part of the 2010 Tribeca Film Festival.
I'm interested to hear about your experience with the NYU Tisch Asia program – tell me a bit about what led you to the program and how you've found the experience there.
I had received my BFA from NYU for screenwriting and knew I wanted to harness the skills I had developed there into a more hands-on approach. I began freelancing within the industry, but I was still searching for that one elusive opportunity that would provide me with creative freedom and newfound artistic challenges. My brother, Jordan, picked up a press release about NYU's new MFA film program that was being founded in Singapore. Suddenly, it was as if the stars had aligned. The timing and opportunity had finally arrived.
I've been living in Singapore for three years now. I have crewed with innovative filmmakers from China, Germany, France, Australia, Korea. Anyone present when the program began back in 2007 can attest that being the first, the "pioneers" as they often refer to us, was not without its challenges, but that's exactly why I came. I'm from New York originally, one of the most inspiring places in the world, but it is still familiar ground for me personally, and as an artist, I think it is crucial to push yourself into unfamiliar terrain and see how that informs your storytelling and your aesthetic. Sometimes, that is what leads to your most fruitful work. I am completing the program and participating in Tisch Asia's historic commencement ceremony this May, and my brother is also now a filmmaker at Tisch Asia. I suppose he saw all the fun I was having. He is among my most trusted colleagues, and we continue to collaborate on each other's film projects.
What inspired you to make this story?
Delilah, Before is inspired by a personal experience I had with a women's mentoring facility in Singapore that aims to rehabilitate former convicts after a difficult transition from the inner confines of prison to an externally strict, sometimes unforgiving society. I encountered young women – essentially my peers – who had experienced the heartache of having their family members shun them. I witnessed their underlying desire to make amends, to prove to others that they were indeed worthy individuals who had real integrity, value, and were willing to ultimately change for the better. This desire to be loved and accepted in the face of human flaws is at the heart of Delilah, Before which is a fictionalized account of a young woman returning home to reclaim her child after a hinted past of rebellion. It is definitely a mother-daughter story on multiple levels as it explores the small pleasures and pangs of parenthood and the complexity of self-worth.
I loved how you provided no explicit backstory – we could pick up on the family dynamics through the few scenes. I found the pool scene and the final scene particularly moving. Can you tell me a bit about your decisions in crafting these?
Thank you very much for the compliment. In the development of the script and in the final throes of editing, I realized that the story had to be streamlined for the short format and not laden with too much backstory or exposition. The key intention was to economically but thoughtfully establish the central conflict of two women at odds for a similar cause rooted out of residual love and bitterness. I often get asked about the impetus for my film's title. Delilah is a burgeoning woman who needs to assert herself and bravely face the future; in order to do that, she needs to willingly confront the consequences of the world from which she once came. I wanted there to be a little mystery in terms of her past but also be able to show the unquestionable longing Delilah has for the future.
In terms of craft, I set a priority to give both female lead actresses breathing room in their performances in that each character has a clear need but difficulty vocally expressing it, particularly the grandmother who is a very proud woman. She knows she has to let go of her daughter and allow her to grow up in addition to letting her grandchild go but it is the most painful and lonely experience for her imaginable. I think mothers secretly dread letting their children go off into the world. I'm sure fathers experience this too but a mother's love is a unique kind of love.
This film was also a great lesson in the craft of editing. I typically shoot my entire script even if there is a scene I instinctively predict may end up on the cutting room floor. You need to have options in the editing room and in addition to rediscovering the emotional through-line, what I have learned to really work towards is pace. Pacing can make or break a film. Many of the positive responses I have received for Delilah, Before have been defined by the film's demonstration of the power of the unsaid, those subtle but life-changing silences between characters. In crafting the swimming pool scene, I had originally written a big blowout between both mothers vying to be with the little girl. We shot it, reviewed it, and it just didn't feel consistent with the way the rest of the film was unfolding. I didn't want this to be a film with a lot of bells and whistles. This is an intimate film, where as an audience member, my hope is for you to experience the heartache of each character in a state of conflict that is not easily if ever fully resolved. In regards to the final scene, I am particularly proud of the performances because the actors' every facial movement within their respective close-ups is riveting. Every flinch, every pained smile…you can recognize what's at stake for them and I recall fighting back tears as I was watching them perform the scene. They were so tuned in. I think we may have even gotten it in one take.
How was your experience shooting in Singapore?
The film was shot entirely in Singapore with Singaporean lead actors including newcomer Melodie Lee and well-established professional Serene Chen. It was a terrific experience to shoot in a variety of locations that lent themselves to strong visual storytelling – from the opening sequence of Delilah visiting the expanse of an abandoned swimming pool with dead floating leaves to the cramped, conflict-ripe setting of the family's home.
How was it working with a young child on the set?
Tough but joyful. I worked with a two-year-old child who was astute but whereas professional actors can deliver the same activity several times and understand the dynamics of direction, these methods are far beyond the comprehension of a small child. Fortunately for me, Serene Chen, who plays the grandmother in the film, is actually the real-life mother of the little girl played by Ella Tan. Serene was incredibly gracious and patient in that she wore both hats of mother and actress on set. She was able to assist me in tapping into her daughter's routines so that I could fully prepare myself and my A.D. to schedule scenes a certain way before any tantrums came on. Ella is wonderful though and very receptive to what people present to her. Everything you see onscreen is her authentic response.
How long did it take you to create the film in total?
From script to screen, I would say ten months. I spent a lot of that time honing my script during intensive workshops with Tisch Asia faculty and classmates. From a writer's perspective, I have always kept myself open to critiques but have also maintained a certain level of filtration with feedback so as to preserve my original intentions and prevent the possibility of the story running away from me.
How has your experience at Tribeca been?
It's been a wonderful homecoming. I premiered my film for friends, family, and new faces last weekend, and as the lights went down and the picture was about to begin, I grew a bit emotional. Tribeca is such an influential NY festival and to have the opportunity to showcase my work here after growing up in this city is a childhood wish fulfilled. I've been attending film and industry events every day of the festival that are flooded with people itching to make more films happen and I can't wait to see what the future has in store for all of us.
I saw you have a few projects upcoming – another short and a feature. Can you tell me about each of these?
First up is another short film I've written and plan to direct called Rockaway. The story is about a sexually abused teenager fighting eviction from the haven of her late grandmother's house in Rockaway, Queens, New York. Desperate to hold on to her one place of security, she resorts to using sex to acquire money but at a potentially self-destructive cost.
I am also working towards getting my first low-budget indie feature underway about a New Zealander furniture craftsman facing the pressures of his crumbling marriage and terminally ill child in the sweeping South Island landscape. New Zealand is probably one of my favorites places on the planet. There is a community there that is very receptive to filmmakers and the breadth of locations is jaw-dropping.
I am equally excited about both projects and am currently seeking investors and grants opportunities. I am aiming to shoot the first project – Rockaway – this November in NY. A great homecoming indeed!
---
---
Regions: Asia & Pacific