Tribeca 2010 Critic's Choice: "The Killer Inside Me"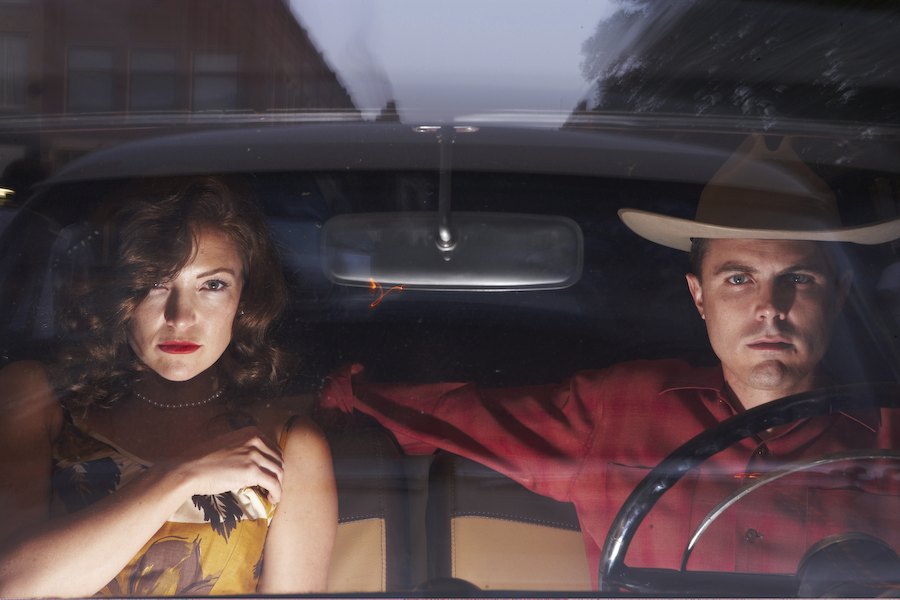 The Killer Inside Me
(Michael Winterbottom. 2010. USA. 109 min.)
Deep into Michael Winterbottom's indelibly accurate rendering of Jim Thompson's most important novel, is a defining scene in an Oklahoma jailhouse. Sheriff Lou Ford (Casey Affleck, as soulless a killing machine as any lifelong Thompson fan could wish for) is trying to cheer up the jailed teenager, Johnny (Liam Aiken), the son of a Greek restaurant owner in Central City. It's 1952 and Lou is running his mouth in the boy's jail cell, summing up the arguments that will push him over the edge so he can slit Johnny's throat and add another layer of protective alibis to the murders he's piling up.
Lou is rattling on about the ways that men pleasure themselves in society and then have to pay the price. Part of him is the taker, but part of him wears the badge, and as usual Lou is of two minds about the matter. "You ask me why I stick around, knowing the score, and it's hard to explain. I guess I kind of got a foot on both fences, Johnnie. I planted 'em there early and now they've taken root, and I can't move either way and I can't jump. All I can do is wait until I split right down the middle."
Thompson, the son of an Oklahoma deputy sheriff, wrote The Killer Inside Me along with over a dozen more of his most coherent paperback originals in one of his few sober streaks from 1952-54. His publisher, Arnold Hano of Lion Books, had an eye for original crime novelists like David Goodis and David Karp, but Thompson was the author Hano nominated for the National Book Award in '52. He lost.
More intuitively than any other director who's tackled Thompson (including the fearless Maggie Greenwald who sawed away on The Kill-Off 20 years ago), Winterbottom understands that the author's inimitable gift was winding up law enforcement agents who are part goofballs, part homicidal maniacs, and turning them loose on the other characters. The major players here are all police or authority figures (Ned Beatty, Elias Koteas, Tom Bower, Simon Baker, Matthew Maher, plus Bill Pullman as a criminal lawyer) and the film is acutely sensitive to how police officers protect their own even as they intuit their own precarious situations.
Thompson went deeper into the psyche of the killer with a badge even though he never wrote for pulp magazines. Never. While Hammett, Chandler, Erle Stanley Gardner, and Cornell Woolrich were fashioning hardboiled tales of suspense for pulps like Black Mask and Dime Mystery, Thompson was honing his skills re-creating rural holdups, murders, and kidnappings as a true-crime reporter for slicks like Master Detective and Daring Detective. Hardly anyone realizes this. True crime narratives evolved into reality-based crime: '60s fiction like Capote's In Cold Blood and Mailer's The Executioner's Song. In Thompson's true crime reportage, he becomes the voice of the law officer, "as told to Jim Thompson."
Many film directors have stared at the blurb by Stanley Kubrick on the cover of early printings of The Killer Inside Me that reads, "Probably the most chilling and believable first person story of a criminally warped mind I have ever countered." Winterbottom is the first director who really gets it. And so his boldness in translating Lou Ford's murders line for line and kick for kick, is unprecedented. Casey Affleck's eyes are as empty as those of the mammoth, magnificent Alaskan bear in Herzog's Grizzly Man that's about to attack and eat the documentarian who's been trailing him for months.
Jessica Alba and Kate Hudson are Lou's two principal lovers and victims. Alba is the standard, too-much-past-too-little-future transient who packs a licensed gun, while Hudson is the more respectable town girl. Both are whiners and both are in the middle of conversations with Lou when he hits them in the stomach so hard that vital organs are broken forever. Winterbottom choreographs the brutality neat and clean; there isn't a gasp or a clutch that isn't in the book. This has prompted a fair number of complaints in early screenings. The issue point here shouldn't be how long both women suffer but rather their credibility conveying an intense passion for their killer, which both actresses do well. It's the kind of part Shelley Winters practically made a career of in the '50s, and both Alba and Hudson follow an honorable screen tradition.
Several other contributing creative partners should be mentioned, and one is producer Chris Hanley. The Killer Inside Me has a long and convoluted legal history, in part because a 1973 Fox adaptation with Stacy Keach nearly killed Thompson and all but wrecked the Thompson franchise. Hanley has been tracking down Thompson originals for decades (this writer sold him a number of paperback first printings), and he produced the Thompson story This World, Then The Fireworks along with well-reviewed indies like Buffalo 66, The Virgin Suicides, American Psycho, and Trees Lounge. Hanley was exactly the right producer to have nailed the book, because he knew exactly how it should and shouldn't be made.
A tip of the Thompson hat to Hanley, and one to Melissa Parmenter's musical score, which is usually building a soft, insinuating rug under some scene that signals more dire trouble. The Killer inside Me is above all else a suspense drama that builds into a portrait of hell; Thompson did this in a number of novels like The Getaway but both the 1972 Sam Peckinpah version (Ali McGraw, Steve McQueen) and Roger Donaldson's 1994 remake (Kim Basinger, Alec Baldwin) totally ignored Thompson's fiery finale. In Thompson's world, men and women go insane, children are repeatedly abused sexually, personalities split themselves and sometimes implode, the carnage is unimaginable.
The character of Lou Ford has become a cultural icon in part because Thompson kept reinventing him in novel after novel, and filmmakers have never stopped chasing him. In Pop. 1280, filmed by Bertrand Tavernier in 1981 as Coup de Torchon, with Philippe Noiret and Isabelle Huppert, the locale changes from rural Texas at the turn of the century to French Equatorial Africa in the '30s, Noiret plays another police chief stockpiling local bodies; he's being trailed by a Pinkerton detective who he nearly bores to death endlessly explaining a metaphor about fitting posts in holes even if they crush families of rabbits living in the holes.
One final example of how Thompson's themes and movie scenes endlessly circle themselves. In 1995 Stephen Frears hired the late Don Westlake, perhaps the most respected 20th century crime writer since Raymond Chandler, to adapt The Grifters. Westlake guested New School classes in New York City (where, amazingly, Jim Thompson has been taught in literature classes since the mid-1980s by worldclass experts including Geoffrey O'Brien, editor-in-chief of the Library of America, and Robert Polito, the award winning author of the Thompson bio, Savage Art). Westlake's work on The Grifters was protected by executive producer Marty Scorsese, which may have helped his screenplay garner an Oscar nomination. John Cusack acts a small-town grifter who's been hit so hard in the stomach by a baseball bat that he's sick and bleeding internally through most of the movie. His mother (Angelica Huston) bets for the mob but sometimes enrages the boss (Pat Hingle) who grinds out cigars in her palm (like Casey Affleck does to a bum in Winterbottom's movie). Near a bloody conclusion Huston offers her body to her son.
…Have you had enough of this?
If you're going to see only one Jim Thompson movie in your lifetime, you might as well give it your best shot and see the one that gets this guy right. There's only one Killer Inside Me and if he was alive today, Jim Thompson would be knocking back shots with Michael Winterbottom at Musso & Frank's in downtown Hollywood, trying to figure out where the hell Winterbottom's been for 60 years.
---