Tribeca 2010 Critic's Choice: "Cairo Time"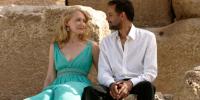 Cairo Time
(Ruba Nadda. 2009. Canada/Ireland/Egypt. 89 min.)
We've all logged time in the stranger-in-a-strange-land movie, but rarely with the intense pleasure that accompanies watching Patricia Clarkson discover Cairo. Clarkson works more modestly and with more cumulative emotional impact under Syrian/Canadian writer-director Ruba Nadda than she's ever demonstrated in a long, distinguished career. There's a unified female sensibility at work here—Christine Vachon of Killer Films is an executive producer, and Vachon can be counted on to deliver the production values of an Ismail Merchant or a Cubby Broccoli. Clarkson, Nadda, and Vachon make Cairo Time a deep, reflective look at marriage ties and how they can be slowly, sorely, inexorably tested in a world class city filled with uncertainty and mystery.
Clarkson plays Juliette, a writer for an edgy fashion magazine, who arrives in Cairo to meet her husband, a UN official who's been delayed in Gaza, setting up refugee camps. The husband sends his former security guard, Tareq (Alexander Siddig, a Sudanese native), now the well-liked proprietor of a Cairo tearoom. We learn that Juliette and her husband have grown children who she's mostly raised (the daughter has eloped, hurting her mother) and that like many executive's wives she's learned to be patient, self-sufficient, and quietly independent. But he's promised her a vacation, and when his days and nights away turn into weeks, she begins to explore Cairo—and her heart—with Tareq.
It's a simple premise, and like any great city you may have discovered at your leisure, you begin to examine Cairo—and Juliette—with care. Like her sometime guide Tereq, she's slim, mildly curious, impeccably polite. Her wardrobe (by Brenda Boer) exemplifies the careful elegance we once took for granted in Paramount dramas costumed by Edith Head. There's not much chemistry between Juliette and Tereq for a long time, until her loneliness and frustration over her husband's absence begin to fester. Clarkson's co-star is really Cairo, a metropolis in cultural transition—bustling, peaceful, tangled with traffic and packed alleyways, cheek-to-jowl with the silent splendor of the Pyramids of Giza. After the young local men have sniffed her out—literally—and decided she's of little interest, Juliette is alone with the city and Tereq. The one time she ventures out on her own—trying to travel by bus through the White Desert to Gaza to surprise her husband—she finds herself in danger as an American, and is quickly escorted back to her luxury hotel suite by the dutiful Tereq. Will Juliette be reunited with her husband? Will she slide into the willing arms of Tereq? Watch and see.
Patricia Clarkson is a veteran screen performer (Married Life, Far From Heaven, Pieces of April, The Station Agent, Goodnight and Good Luck) who's often a second lead or ensemble player; she can be aggressive when she's fighting for screen time. But she's at ease here from the get-go; Clarkson seems to trust her director's instincts (as do we), and she makes Juliette into a fully realized woman who's aware that while the pyramids of Egypt may be unchanging, her own life is sliding by. It's the kind of acting once done by Maria Schell, Eva Marie Saint, Grace Kelly, and especially a luminous French actress of the 40s, Michele Morgan, who Ms. Clarkson most closely resembles here. It's a gem of a performance.
---