How an Innovative Web Doc Secured Traditional Distribution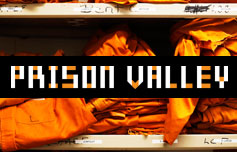 Prison Valley, a multimedia prison reform project, tells the tale of Fremont County, Colorado: a tiny patch of the Southwest packed with 13 prisons and a local economy that revolves around the incarceration of 7,735 people—many of whom are the county's own residents. Yet it began as an idea for an audio slideshow, in a Parisian bar in December 2008. Helmed by French journalist David Dufresne and photojournalist Phillipe Brault, over the next 16 months, Prison Valley would morph from a "traditional" documentary into a "web" documentary, a book, an iPhone app, and an exhibition in Paris. Ultimately it found its way onto broadcast television.
Dufresne and Brault visited Cañon City, Colorado in Summer and Fall 2009, where they talked to locals and prison employees, shot footage, and photographed the town. They soon decided that releasing a traditional doc wouldn't do justice to what they had witnessed. In order to get people to engage with the subject matter, they needed a more interactive form—a web doc.
Attracting hype for its quality of interactive features, Prison Valley has started making ripples in the world of digital journalism. According to the journalism/technology blog 10,000 Words, "There are a million and one video documentaries on the web, but Prison Valley sets itself apart by utilizing the full computer screen rather than an embedded video." (See also Gaza/Sderot, also produced by Prison Valley backer Arte TV, and Journey to the End of Coal).
Described by the filmmakers as a "road movie on the web," viewers are asked to sign into Twitter, Facebook, or make an account on the film's site in order to hop on board. The viewing experience unfolds much like the open road: the film starts with a car rumbling down Skyline Drive in Cañon City, making its way down to the valley of prisons below. Within the first few minutes, there are opportunities to turn off the main drag and take detours into additional interactive content, such as background stories on characters and additional information and news stories about prisons in America. Visitors on the site can see the names of others who are watching at the same time, encouraging a sense of community and discussion.
Here's the project timeline, starting with the filmmakers' return to France after their trip to Cañon City:
October 15, 2009: The "pre-website" launches, inviting people to sign-up and start the conversation about prison reform.
October 19, 2009: The filmmakers participate in a new media workshop organized by France's Centre National du Cinema, which had given Dufresne and Brault a new media grant earlier that year. On their blog, they describe the questions that inspired the workshop and gave Prison Valley its backbone: "How do we tell a story differently because the technology is there and because it's high time…we changed the rules? How do you keep the feverish energy and rigour of journalism, but do something different with them because there's no choice in the current journalistic crisis? How do you interest viewers in a story about the prison industry in the United States?"
November 2009: The doc in its traditional form starts the festival rounds, appearing at the International Documentary Film Festival in Amsterdam and the Sheffield Festival.
December 2009: In Paris, the committee of "The New Media, Film and Television Project Development Fund" awards the filmmakers a production grant that they use for the web doc (Arte and web producer Upian co-produce).
December 26, 2009: News channel France 24 airs The Rise of the Web Documentary, featuring Prison Valley, on its site.
March 15, 2010: The filmmaking team finishes up what they designate "the two main stages in the life of a web documentary": sound mixing and color grading.
Mid-March 2010: Arte TV, one of the film's producers, decides to offer Dufresne and Brault a distribution deal. In the above-linked email interview with 10,000 Words, Dufresne explained, "Arte [a French-German TV channel] will broadcast the movie during prime time and it will be followed by a debate on imprisonment. Other European TV channels are interested in the movie part of the project."
April 8, 2010: Press screening in Paris.
April 21, 2010, 7:17pm: Prison Valley finally goes live. Within a few hours of its online release, 1,000 people are watching the doc.
May 2010: Instead of taking a break after the online release, Dufresne and Brault continue to crank up the conversation on prison reform, with live chats, opportunities for audience members to talk with characters from the film, and sessions with the International Observatory on Prisons and the French Secretary of State.
June 2010: Prison Valley snags the Bellaria Film Festival's first "Best Crossmedia Program" award.
June 12, 2010: Prison Valley broadcasts on Arte.
Prison Valley may not appear in searches on RottenTomatoes or MetaCritic, and its IMDb entry may look as scanty as any student short still waiting for five votes in order to get a star rating. But that makes the web doc's achievements all the more exciting: 1,000 people tuned in the first day it went online, and the makers have used the Prison Valley hype to start conversations with high-up government officials. In the end, Prison Valley was able to secure a mainstream form of distribution not in spite of but because of its pioneering usage of the web as an arena for marketing and community-building. Combine that with impeccable journalism and a beautifully-shot film, and you've got a multimedia model that offers filmmakers new insights into telling a story in many different mediums at once.
---
---
Regions: Colorado