Behind the Scenes with Six Masters of Design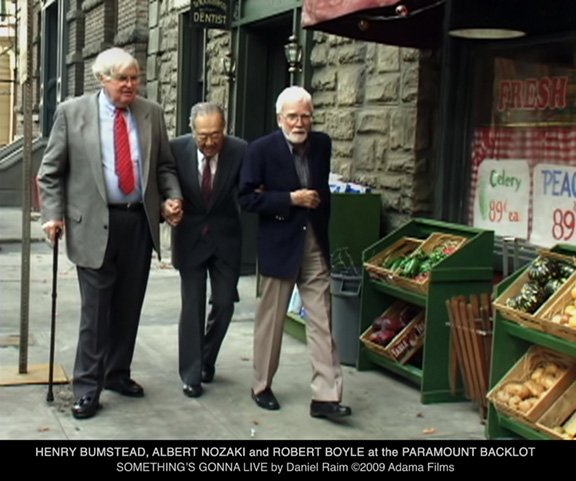 Chances are you didn't know who decided to make Jimmy Stewart a stamp collector in Alfred Hitchcock's Vertigo, but it was the production designer, Henry "Bummy" Bumstead. You might also have forgotten who aged the wood in the bleak gallows from which the convicted killers in In Cold Blood are hanged, but that was another production designer, Robert Boyle. And though you surely remember the Martian machines that leveled City Hall in George Pal's original War of the Worlds,, it may have escaped you that the art director responsible for the design and creation of these miniature wonders on invisible wires was Albert Nozaki.
Bumstead, Boyle, and Nozaki are three of the six key subjects of a new feature documentary by Daniel Raim, Something's Gonna Live (produced by the distinguished director Norman Jewison, who used Boyle as production designer on Fiddler On The Roof and The Thomas Crown Affair.) It's a warm and affectionate appraisal of the film work by six artisans who garnered 25 Oscar nominations mostly in the second half of the 20th century. Like its 1993 predecessor, Visions of Light (directed by Todd McCarthy, Arnold Glassman, and Stuart Samuels), which concentrated on Hollywood cinematographers, Raim's doc goes deeper behind the scenes to explore the contributions of the art director/production designer, as well as a storyboard artist (Harold Michaelson, who sketched the key scenes of The Birds) and two leading directors of photography, Conrad Hall and Haskell Wexler. The title of the film is taken from a quote by Wexler, the one remaining subject still alive and working.
The centerpiece scene of Raim's relaxed tribute is a tour of the Paramount back lot by Boyle, Bumstead, and Nozaki, who all started there in the 1930s as draftsmen and assistant art directors. The three men maintained a close friendship until their deaths at 91, 91, and l00; Boyle passed away this August. Bumstead was the production designer for more than a dozen Clint Eastwood films through Flags of Our Fathers and Letters From Iwo Jima and won Oscars for To Kill a Mockingbird and The Sting. Boyle received an honorary Oscar in 1998. Paramount's ace effects wizard Gordon Jennings won the Oscar for War of the Worlds, but Nozaki designed the machines whose rays incinerate a priest as well as a city.
All three, including Nozaki, whose sight faded after his retirement in 1969, are shown as alert and filled with endless curiosity about the art of moviemaking, whom leading directors hired again and again. They aged up with their employers in an era when loyalty counted and ingenuity was rewarded. Part of Boyle's rationale for his longevity is that while pictures shot in New York or London had a particular look and necessary ambiance, Hollywood productions were first and foremost products of the imagination and thus were open to contributions by all.
Craftspeople also wore more hats—while the Oscar and screen credit label is still "production designer, " and in most credits "art director" refers to the production designer's assistant, these men did the jobs of both, as well as sketching, scouting locations, furnishing and decorating sets, and generally staying a scene ahead of the director. Nozaki, who art directed everything from films noir (The Big Clock) to spectacles like The Ten Commandments, comments on Paramount's elaborate studio lake, a prop for Bob Hope to paddle through on an Italian gondola in 1954 in "Casanova's Big Night" (shortly after Arlene Dahl and Fernando Lamas rowed the same waters into a Georgian waterfront in the 3-D Sangaree).
Boyle and storyboard artist Michaelson revisit the Bodega Bay locations for Hitchcock's The Birds and the attack from what Hitch called "God's point-of-view" down on the town and the schoolchildren. We watch how a composite of the aerial attack is assembled, as the birds, then the flame and smoke from a burning gasoline station are rotoscoped and matted together, with Hitchcock intercutting long shots of the growing catastrophe with close-ups of Tippi Hedren struck dumb with horror. In analysis the scene loses none of its power.
And we see how lucky accidents sometimes happen on sets. Boyle and the late Conrad Hall discuss how a rain-swept window next to Robert Blake's face in In Cold Blood (1967) reflected a curtain of tears running down Blake's face. It's the kind of scene that's shown often in film classes, but here we read it anew as a collaboration between set designer and cameraman. And you thought directors were the bottom-line auteurs.
Mostly, they still are. The best documentary on the making of a feature film this critic has ever viewed is Charles Laughton Directs 'Night of the Hunter,' a two-and-a-half hour doc shown once at the Tribeca Film Festival in 2004, where its producer, UCLA film preservationist Robert Gitt, removed his own guiding voice-over and personally narrated it live. It's all of the outtakes of all the scenes of Laughton's first and only work as director, edited so you get a burning sense of his meticulous and sometimes maniacal passion in working with Robert Mitchum, Shelley Winters, Lillian Gish, and assorted child actors, doing take after take and building their roles into the chilling terror that infuses this poetic nightmare. Shot by Stanley Cortez with art direction by Hilyard Brown and set decoration by Alfred E. Spencer, it will finally be released in a two-DVD set by Criterion on November 16th.
Something's Gonna Live won't replace Charles Laughton Directs 'Night of the Hunter,' but it honors Haskell Wexler's belief that great work endures as the legacy of its creators. It's one to watch for.
---