NYFF Critic's Choice – "Carlos"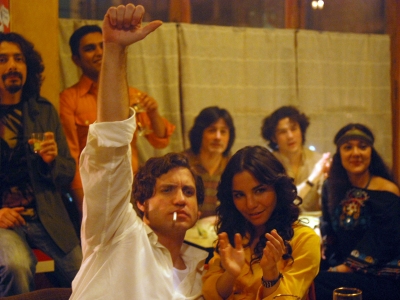 The Independent's senior film critic Kurt Brokaw offers his picks from the 2010 New York Film Festival, which runs September 24th through October 10th. For a complete list of his selections, click here.
Carlos
(Olivier Assayas. 2010. France/Germany. 319 min.)
Scarface or Che? You have only six hours to decide.
How much of yourself are you willing to give a movie? An hour and a half? Three hours? Would you surrender much of a day (nearly six hours with intermission) to watch Olivier Assayas's Carlos, an epic biopic of the 20-year reign of Ilich Ramirez Sanchez, arguably the 20th century's most infamous international terrorist? If you commit, Assayas's fierce, sprawling and savagely accurate history of the Marxist assassin and bomber will richly reward you.
Sanchez (an indelible performance by Edgar Ramirez) is identified here as Carlos and not as "Carlos the Jackal," a name you might recall from the films Day of the Jackal (Edward Fox) and The Jackal (Bruce Willis). Carlos was trained in a Cuban camp in sabotage, weaponry, and guerilla warfare. "Weapons are an extension of my body," he boasts. Joining the murderous Popular Front for the Liberation of Palestine (PFLP) in 1970, with links to the equally militant Italian Red Brigade, Carlos rapidly carries out car bombings outside French newspapers, an assassination attempt on a Zionist Federation leader, a devastating grenade attack on a French restaurant, and even a try at destroying El Al jetliners at Orly airport with a portable rocket launcher. When police detectives trap him in a Parisian safe house, he unhesitatingly shoots them all.
We pay close attention to Carlos through these tense scenes as he sows seeds of destruction because he's not a one-dimensional criminal like the brutes in Gomorrah, Elite Squad, or Munich. He's a master strategist, endlessly weaving his way in and out of escalating chaos, and always staying a step ahead of his pursuers. Actor Ramirez, who starts this mayhem as little more than a fast-stepping side-burned youth and gradually shape-shifts into a drunken, swollen grouch with testicular cancer, is a cunning performer. He's always on point, and he blends the patient dedication of an anarchist with the lightning wits of a killing machine. But he's not a soulless monster like Anthony Hopkins's Hannibal, nor is he Al Pacino's Tony Montana, forever reaching beyond his grasp for the world in Scarface. Hugo Chevez has described the real-life Carlos as a "revolutionary fighter," and, like Che Guevera in Steven Soderbergh's four-hour Che, he never doubts the rightness of his cause and his actions. He becomes a huge irritant to a lot of governments around the globe, but to his followers, both male and female, he's a rock star. (All of the female performers, notably Nora von Waldstatten as his wife, are salutary and persuasive.)
There's a long, chilling centerpiece—the takedown of an entire OPEC conference in Vienna and the abduction of 42 multinationals onto a DC-9 headed first for Baghdad, then Tripoli, then Algiers. We watch Carlos's collapsing scenarios turn into a $20 million dollar payday with grudging admiration for his nerve and resourcefulness. These scenes also showcase some of Olivier Assayas's meticulous casting of more than 100 major speaking roles—a pantheon of heads of state, police, and government officials, with actors often closely resembling their actual counterparts in the spare but effective news clips inserted by Assayas into occasional scenes.
Carlos is 62 today and imprisoned for life in France. While Assayas's film is clearly labeled as fiction, the whereabouts of most important characters (dead, vanished, hiding, occasionally living more or less normal lives) is provided in the closing credits. This is a major work by a major artist. It's clear, concise, and powered by razor-sharp shooting and cutting that never calls attention to itself. Most of the violence is discreet, and most of a dense musical score follows suit, except for a few staccato bursts by seminal 70s punks like The Dead Boys. Like Che, Carlos should be seen in its entirety on a big screen.
IFC is distributing Carlos, a French-German Sundance Channel presentation. It will be shown once at the 48th New York Film Festival in Lincoln Center, on Saturday, October 2nd at 11:00 am. You'll be out in time for dinner.
---