NYFF Critic's Choice – "Certified Copy"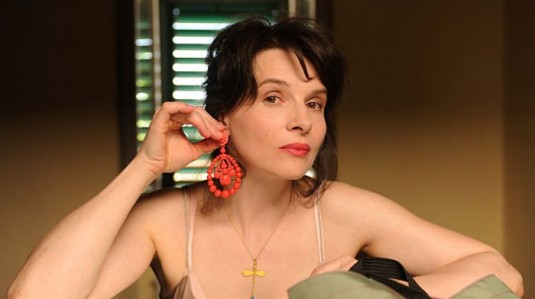 The Independent's senior film critic Kurt Brokaw offers his picks from the 2010 New York Film Festival, which runs September 24th through October 10th. For a complete list of his selections, click here.
Certified Copy
(Abbas Kiarostami. 2010. France/Germany.106 min.)
Sometimes a copy of a marriage can be better than the original.
Working in her most audience-friendly mode, Juliette Binoche begins this mischievous tale of two marriages at a reading in Tuscany by the English art critic James Miller (William Shimell). She's burdened by her teenage son who's more interested in texting than listening to the author's critical musings from his book on the value of originals vs. reproductions. The next day James visits her gallery and she offers to drive the married academic through the region, ending up in the town in which, as it happens, she once spent her wedding night.
In lesser hands than the 70-year-old Iranian writer/director Abbas Kiarostami (eight of whose films have shown at Cannes) and his veteran producer Marin Karmitz, Certified Copy could evolve like countless romances-in-bloom from Brief Encounter through Before Sunset. But Kiarostami has a neat, original twist and he serves it up in ways guaranteed to prompt our curiosity. As Julianne and James share the mutual frustrations and disappointments of their marriages and their parenting, each begins to gradually assume the attitudes and mindsets s/he uses with his/her unseen spouse. Each becomes, if you will, a "certified copy" of the other's marriage partner.
And so the earlier, fresher years of their marriages are brought into focus as they drift closer toward each other. James is clearly not the sharpest academic pencil in the box, and he knows it, and Juliette is no longer the beautiful urban sophisticate of her youth, and she knows that, too. Marriage has worn them both down, though by no means out. In the courtyard in which they're having lunch, a wedding party is celebrating a marriage, and one observer, overhearing Julianne's travails, suggests that she "put her hand on her husband's shoulder," thinking James is her husband. Juliette does; it's a gentle and right touch. All this is tracking us toward an inevitable visit up a winding staircase to the room Juliette and her husband occupied on their wedding night.
Now 46, the radiant Ms. Binoche is beginning to take her place in the pantheon of enduring French actresses—Michele Morgan, Jeanne Moreau, Danielle Darrieux, Simone Signoret, Nathalie Baye, Catherine Deneuve, Emanuelle Beart, Stephane Audran, Isabelle Huppert. Binoche doesn't hesitate to reveal her vulnerability mixed with longing, propriety, custom. There's a poignant scene, among the finest in her career, in which she dresses for dinner for her newfound friend, and everything looks wrong. Her lipstick's too bright, her earrings droop, her slip and its straps are awkwardly revealed. Staring at herself in a mirror, she shifts her gaze directly into the camera; it's a breathtaking moment of revelation. Perhaps unable to any longer please her husband, she wants to please his copy, and herself, and us. It's a transitional moment for Binoche, an abiding farewell to her youth, and Kiarostami's camera enfolds and enshrines her.
Her acting partner in this movie, William Shimell, is a trained baritone opera singer, and mostly he wisely yields the screen to her (helping pave the way for her Best Actress award at Cannes). Shimell looks a lot like the actor David Strathairn, who probably would have given Binoche a better run for her money.
Certified Copy is about the tentative, tantalizing approach to a possible affair, which invariably makes a better movie-movie than sitting through the aftermath of an affair that doesn't work or that works and wrecks lives. This 48th New York Film Festival has one of those, too, the Romanian Tuesday, After Christmas, which is predictably wrenching and hasn't the surprising charm and empathetic novelty of Certified Copy. This one's a win-win movie-movie for any couple looking to spruce up their married lives.
---